Dunkin' Donuts Is Testing "Donut Fries" & The Pictures Will Make You Salivate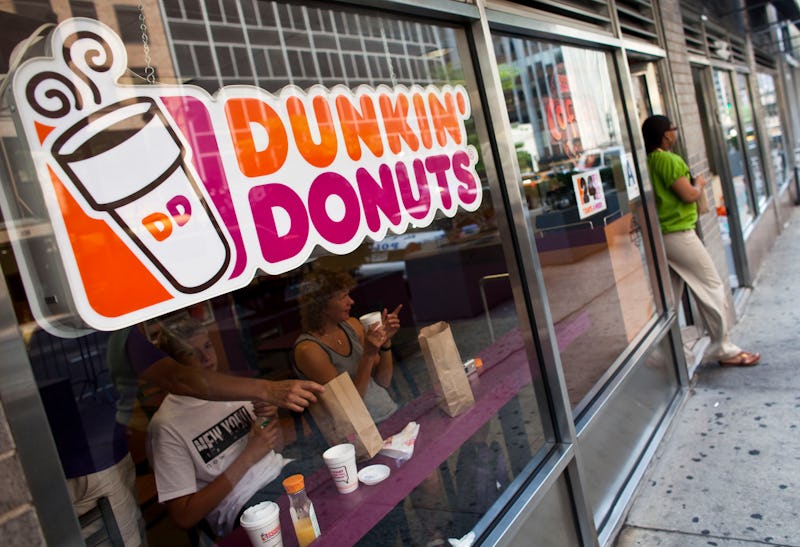 Ramin Talaie/Getty Images News/Getty Images
Now that Taco Bell has changed the French fry game with the advent of their (soon-to-go-on-hiatus) Nacho fries, other chains are batting around the idea of sticking their own twist on fried potatoes on their menus. And apparently one doughnut-and-coffee standby has a real innovation on their hands — Dunkin' Donuts is reportedly testing "Donut Fries", which I'm fairly certain are just churros, but, hey, I won't fight it.
As reported by Grub Street, over the last few months Dunkin' has been making an effort to refine its doughnut selection, having declared last year that it lost its "doughnut mojo," a phenomenon the chain attributes to putting too many doughnuts on its menu. In August, Dunkin' considered dropping "Donuts" from its name, apparently in hopes of tricking people into forgetting they ever sold doughnuts in the first place, and in October, the company said it would simplify its doughnut offerings from 24 to 18 different kinds at a number of outlets nationwide.
And now, they've potentially got a new plan underway. Per Grub Street, Redditors in Boston discovered a new $2 snack menu, with offerings including: 1) Munchkin Dippers, 2) Ham & Cheese Rollups, 3) a Gluten Free Fudge Brownie, 4) Pretzel Bites with Honey Dijon, 5) Waffle Breaded Chicken strips, 6) Warm Cookies, and 7) Donut Fries. What are Donut fries, you ask? Grub Street says they're basically like long, thin doughnuts, dusted with cinnamon and sugar. They look rather tasty, though certainly they'd benefit from a frosting dip, a la Domino's Cinnasticks:
FEED ME.
Dunkin' Donuts is a Massachusetts-based brand, hence why they're only offering these Donut fries and the rest of their "Gotta Have $2 Snacks" menu at "a small number" of Boston stores, per a statement from a company rep. A local NBC affiliate reports that the Boston stores gifted with these gems include 265 Franklin St. in Boston's Financial District; 588 Washington St. in Quincy, and at an outpost at Logan Airport, should you live in or be flying through Boston anytime in the near future. Dunkin' is clearly trying to show off its culinary prowess:
"The snacking menu features several new sweet and savory items that pair perfectly with Dunkin' Donuts' signature beverages and are ideal for an energizing afternoon break," the company said in a statement. "The test is designed to gather valuable feedback from consumers, franchisees and their employees to help inform future decisions about a possible national rollout," a press rep told NBC Boston.
Note that while the fries got decent reviews, the Redditor who originally spotted the $2 menu didn't offer up many other raves. "I tried the pretzel bites and they were great but they use Kens honey Dijion sauce and should use kens honey mustard instead," @rsoxgal36 wrote. "I also tried the Donut fries and those need a dipping sauce but they were good. Lastly I tried the waffle breaded chicken and that was gross because they were way too greasy. The batter is the same batter used in the pancake bites that they used to have."
Some Redditors bemoaned the menu expansion, noting that they were perfectly satisfied with Dunkin' Donuts's old standby menu featuring only bagels and doughnuts. It does seem like Dunkin' is straying a bit from its original iteration: "Most of these items are more obscure than the stuff they just took off the menu to make it more simple," wrote one Redditor.
Still, as a semi-fan of Dunkin's coffee (in my opinion it really is better than Starbucks's, though if I'm going to get a fancy coffee drink, I'm going with the Green Mermaid), it seems like more diverse snack bites will bring in more customers — plus, I mean, you can't go wrong with Donut fries.