Dunkin' Donuts Just Made A Major Name Change — But It's For Good Reason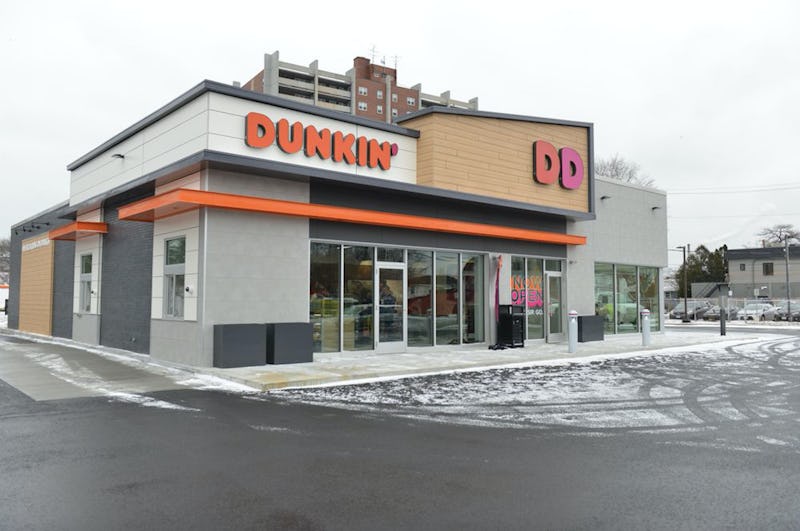 Dunkin' Donuts
If you've been following Dunkin' Donuts in the news lately, you know that there's been talk that the beloved coffee-and-donut shop was planning to change its name to just "Dunkin.'" They've already gone through with the name change at over 30 locations in the Boston area. Today, the rumors are no longer just that. It's official: Dunkin' Donuts will be changing its name to "Dunkin.'"
According to a press release in Dunkin's newsroom, in January 2019 the chain will begin to drop the "Donuts" part of their logo from "ads, packages and signage at new and remodeled stores, as well as its social media accounts." It's a brand new world. The transformation isn't just limited to the name, either — it's part of the company's larger plan to become a "beverage-led" destination that focuses on a wider variety of coffee, tea, and food items (don't worry, they'll still carry donuts).
Dunkin' Donuts already has a concrete plan for what the new Dunkin' locations will offer customers, and honestly, it sounds pretty amazing. The company released a news statement about the first-ever Dunkin' location Quincy, MA, where they revealed several major features of their rebranding initiative.
One of the biggest changes to current Dunkin' Donuts shops you usually see around is its new focus on modern design. "The special interior design uses lighter colored materials, an open layout and natural light to create an approachable, positive and energetic environment," the chain explained in the statement. The new locations will also be equipped with a "faster-than-ever drive-thru experience," which will use an On-the-Go drive-thru lane that allows DD Perks members who order ahead via Dunkin's Mobile App to skip the line and head straight to pick up their orders. Last but certainly not least, Dunkin' locations will be putting beverages first: premium coffee innovations will mean that the company's signature cold beverages will be available to customers through an "innovative tap system serving eight consistently cold beverages such as coffees, iced teas, cold brew coffee and nitro infused cold brew coffee."
"Our new branding is one of many things we are doing as part of our blueprint for growth to modernize the Dunkin' experience for our customer," explained Dunkin' Brands CEO David Hoffmann in a recent statement. In an age where there's an endless amount of cool, chic-looking coffee shops on every corner in larger cities, it's no wonder that Dunkin' Donuts is aiming to become as contemporary and competitive in the field as possible. "We do not plan to make any decisions regarding the branding until later this year," the company told Bustle in a statement just weeks ago. It seems that they've come to a decision, and now long-time customers have something entirely new to look forward to.
If you live in the Massachusetts area, you may be able to hit a Dunkin' shop today (please tell us all how you liked it). If not, keep an eye out for Dunkin' locations in your city in the coming year — I don't think you'll want to miss out on this.