Dunkin' Is Releasing A Holiday Donut Literally COVERED In Hershey's Kisses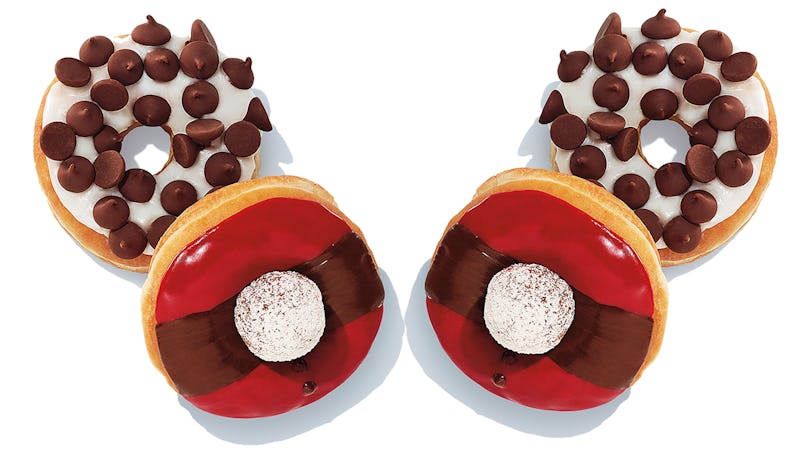 Dunkin'/Bustle
There's a nip in the air, a light dusting of snow on the ground, and every fast food restaurant is bringing out their most over-the-top sweets. That can only mean one thing: the holiday season is officially here. To celebrate, Dunkin' has just unveiled their holiday menu, and it's got everything from holiday-spiced bacon in breakfast sandwiches to donuts topped with even more donuts. 'Tis the season, after all.
Starting Monday, Nov. 19, Dunkin's holiday menu will be available at participating locations for a limited time. In other words, these sweets are here for a good time, not a long time. So, indulge while you can. There are Cinnamon Sticky Bun Coffee and Lattes, inspired by the breakfast treat. The flavor features "cinnamon with a hint of frosting." You can also sip on the new White Chocolate Coffees and Lattes, which incorporate a combination of white chocolate and vanilla flavors.
You know what goes well with seasonally sugary coffee drinks? Literally anything. For example, a bagel topped with Dunkin's new Cinnamon Cream Cheese Spread. Looking to go the slightly more savory route? (And I do only mean 'slightly'...this is Dunkin', after all.) Sink your Christmas chompers into a Holiday Spice Bacon Breakfast Sandwich. What makes the bacon "holiday spice"? Well, that would be the brown sugar, cinnamon and nutmeg spice it's baked with.
Now, onto the star of the show: the seasonal donuts. Dunkin' heard you liked donuts. So, they put a donut on your donut. It's called the Dear Santa Donut, and it has icing decorated to look like Santa's red suit and a powdered Munchkins donut hole treat right in the middle.
If you're looking for a more modest donut, you probably also won't be into the Hershey's Kisses Donut. As the name suggests, it is a donut covered with mini Hershey's Kisses. It's like they went back into the past, took a sneaky peek at your childhood Christmas list, and said, "Well, I don't know if I can bring Skip-its back or make Jonathan Taylor Thomas fall in love with you...but we can put more sugar on your sugar which is a pretty close third!"
Though Dunkin' has removed 'Donuts' from its name, donuts are clearly still much their game. The name change, which took effect in late September of this year, coincided with a rebranding that reflects their wider array of menu items. As a press release from the company stated, "Dunkin' Donuts has been on a first-name basis with its fans long before the introduction of its iconic tagline, "America Runs on Dunkin'." " So, they're still the Dunkin' Donuts we've come to know and love. It's just like they went to college and said, "Actually, I only go by Dunkin' now."
The seasonal bacon breakfast sandwich and cream cheese spread aren't Dunkin's first or only forays into non-donut menu items. Earlier this year, Dunkin' released sneakers. Like, actual sneakers. Not donuts they encouraged you to put on your feet. (Although, donuts would make for super comfy slippers. Don't @ me.)
As a collaboration with Saucony, Dunkin' released Kinvara 9 sneakers, which were inspired by the shoes sported by Boston Marathon runners. For $110 and a limited time, you could buy white sneakers decorated with the brand's iconic orange and pink sprinkle design. The shoes' insoles features photos of iced and hot coffee. So, you would literally be...running on Dunkin'. (Puts donut-shaped sunglasses on.)
Unfortunately, the Dunkin' sneakers are no longer available available for purchase. So, you'll just have to settle on cozying up to a cup of Cinnamon Sticky Bun coffee and burying your face in a donut topped with another donut.