So, Uh, Ben Higgins Had A Parasite The Entire Time He Was On 'The Bachelor'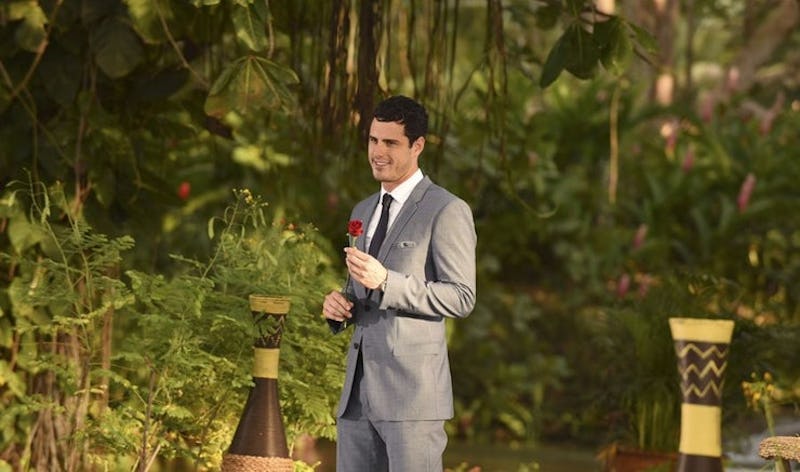 Matt Dunn/ABC
Aside from juggling the task of dating 26 women, Bachelor Ben Higgins also had to deal with having a parasite during his season of the show. But the thing is, he didn't even know it. Ben shared this news for the first time in a post on his blog, Mahogany Workplace.
"Wait… You didn't know I had a parasite on The Bachelor?" Ben started his post. "I've never talked about it publicly. But I want to share the story with you because it shows how much I believe in love and relationships… even when it doesn't work the way I plan."
Ben did not get the parasite during one of his exotic dates on the show, though. He was actually infected before he started filming while he was in Honduras ahead of his friend Jordan's wedding. "Before the wedding he invited about 50 of the wedding guests to go serve the villages in Honduras where he met his beautiful bride, Carol," Ben wrote. "The rural villages where Humanity and Hope United work have developing infrastructure. So parasites are part of the injustice we fight because they take away so much human potential."
What did this mean for Ben's time as the Bachelor? A lot of pain and discomfort. Ben explained, "Strongyloides is a parasitic roundworm I likely picked up by touching contaminated soil. It first causes symptoms like swelling, itching, and bloating, but it can also lead to tissue damage, ulcers, and sepsis." That sounds very uncomfortable on top of the stress that comes along with being a regular person who was thrown into the spotlight of staring on reality TV.
The former reality TV star admitted, "My stomach was in knots for months and there was nothing I could do about it. To complicate matters, I was dating 26 women at the time, so I wasn't surprised that my stomach felt uncomfortable sometimes." It had to be difficult to know if his body was responding to the stress of the Bachelor journey or if there was actually something else happening to his body. Unfortunately for Ben, after filming he found out it was the latter.
Once the show wrapped up, Ben was engaged to Lauren Bushnell, and he settled into back into his normal life, he still had the same symptoms that could no longer be attributed to the stress of filming. Ben shared, "Four months after I finishing filming I realized something was really wrong and saw a doctor."
After seven months of pain, Ben was diagnosed and his parasite was treated with "two strong bouts of anti-parasite medicine", but it wasn't exactly a happy ending. Ben lamented, "Unfortunately, like every failed relationship, this one left a scar. I still can't drink beer or eat anything with eggs."
Ben feels a lot better these days aside from being unable to "brunch or drink a brew with [his] friends." Even so, it seems like he learned a major lesson since he wrote, "I know what it's like to live with a constant stomachache. I know that millions of people have to live with the same pain, but no hope of fixing it. I know that I will forever be a better advocate for those who are hurting."
Ben has been a very avid and vocal volunteer for the Humanity and Hope United Foundation in Honduras for the past few years. According to the organization's website, it is a "non-profit working to assist underserved villages in remote parts of Honduras. We partner with the people of each village to achieve sustainable change, focusing on the needs of individuals rather than a single issue or approach."
As much as Ben suffered with the parasite, it seems he's actually viewing the experience as a positive. Instead of being discouraged from going back to Honduras, this parasite has helped him put things in perspective and be able to truly empathize with the people he is trying to help.