Dylan Farrow Is Tweeting A Magazine Story Detailing The 90s Investigation Into Her Alleged Abuse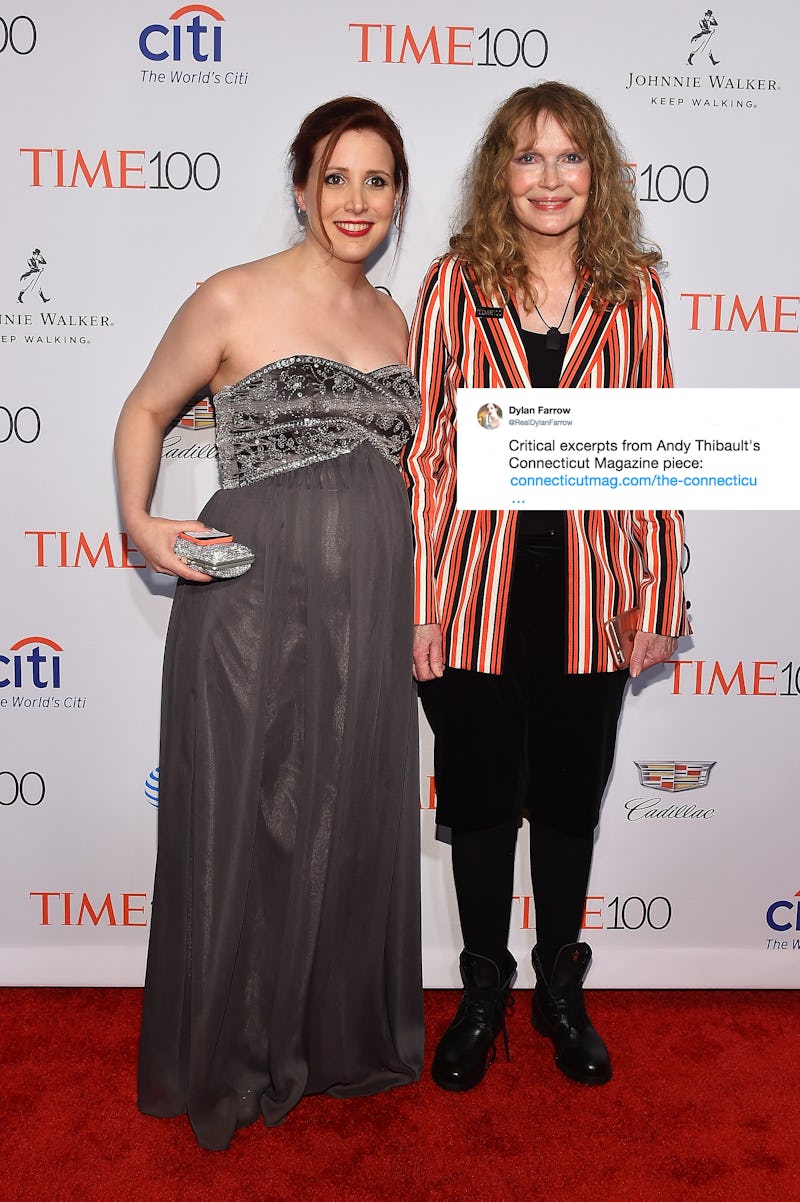 Getty Images/Twitter
In a seven-part tweet series Tuesday afternoon, Jan. 30, Dylan Farrow backed up her claims against Woody Allen with a Connecticut Magazine story written by Andy Thibault, originally published in 1997. The article — of which Farrow shared "critical excerpts" (as she put it) with her Twitter followers — details the early '90s investigation into her sexual abuse claims against Allen, her adoptive father. Farrow alleges that Allen molested her during her childhood, a claim that has periodically resurfaced over the last two-plus decades. Allen has repeatedly denied all allegations against him. (Bustle has reached out to Allen's reps about her latest string of tweets, but did not receive an immediate response.)
Now, just two weeks after Farrow gave her first-ever televised interview detailing the assault allegations against her adopted father ("I want to speak out, literally," she'd said), she seems pretty determined to share her side of the story. Allen responded to her televised interview with a statement to CBS in which he pointed out that her claims were "thoroughly investigated" and that no charges were brought against him. "I never molested my daughter — as all investigations concluded a quarter of a century ago," his statement read, in part.
But, in a dense string of tweets Tuesday, Farrow provided her followers with a handful of excerpts that shed a bit more light on the investigation into her allegations against Allen. The first "critical" tidbit concerned Allen's behavior during the course of the investigation itself: "Woody Allen would rebuff efforts by Connecticut state police and Paul Williams of New York to interview him," the excerpt reads, continuing on to say that the director attempted to establish a set of "preconditions" with state police ahead of any interviews.
Farrow's sexual assault allegations against her father first came to light in 1992, when she was 7 years old. At the time, Allen vehemently denied the allegations, calling Farrow's claim "an unconscionable and gruesomely damaging manipulation of innocent children for vindictive and self-serving motives" during an Aug. 1992 interview with the New York Times. A several months-long investigation followed, helmed by Litchfield County's then-state attorney in conjunction with the Child Sexual Abuse Clinic of Yale-New Haven Hospital. By early 1993, the investigation concluded that Farrow had not been sexually assaulted.
However, the Connecticut Magazine piece suggests that, in reality, Allen's denial might have been a bit less steadfast to law enforcement officials than it seemed to the public. In a quick follow-up tweet to her original, Farrow included another excerpt from the story, which claimed that, following a three-and-a-half hour interview with state police in Jan. 1993, Allen's statements were regarded as "inconsistent."
The Connecticut Magazine story came four years later, in 1997. And while it predominantly serves as an in-depth profile piece about Frank Maco (Litchfield County's state attorney, at the time), a significant portion of it delves into his leading role in investigating the charges against Allen. The story, which offers a pretty comprehensive look at what was going on behind the scenes during the investigation, includes fragments of depositions and interviews with several of the investigation's key participants.
The remaining excerpts featured in Farrow's tweet series predominantly serve to question the legitimacy of the Yale study, which Maco had commissioned with the intentions of determining whether Farrow was a "viable witness" capable of testifying in court. According to the Connecticut Magazine story, Maco later said that enlisting the Yale team was the "biggest mistake" he made during the case.
And, finally, Farrow's tweet series concluded with an excerpt that provides, in bullet-point form, an analysis of Yale's report (which ultimately concluded that "no abuse had taken place"), as well as several court documents. Infusing bits of commentary by Dr. Diane Schetky, an associate professor of psychiatry at the University of Vermont and co-other of a textbook on child sexual abuse, the findings of that analysis basically boil down to a handful of potentially egregious conflict-of-interest issues and some speculated foul play at the hands of both Allen and the Yale psychiatry team.
Farrow's tweets come on the heels of Diane Keaton's comments earlier this week in defense of Allen. "Woody Allen is my friend and I continue to believe him," Keaton tweeted Monday, Jan. 29, continuing on to urge her followers to watch Allen's 1992 60 Minutes interview, in which he debunked Farrow's claims, calling them a "total non-event."
Over the last 20 years, as Farrow has periodically revisited the abuse claims, Allen has repeatedly denied them. Whether Farrow's tweets will change that is anyone's guess. But at least the internet is now privy to a resource that might help in shaping their own thoughts about Farrow's claims.
If you or someone you know has been sexually assaulted, call the National Sexual Assault Telephone Hotline at 800-656-HOPE (4673) or visit online.rainn.org.