Dylan Sprouse Chopped His Hair Off & It's Like The 'Suite Life' All Over Again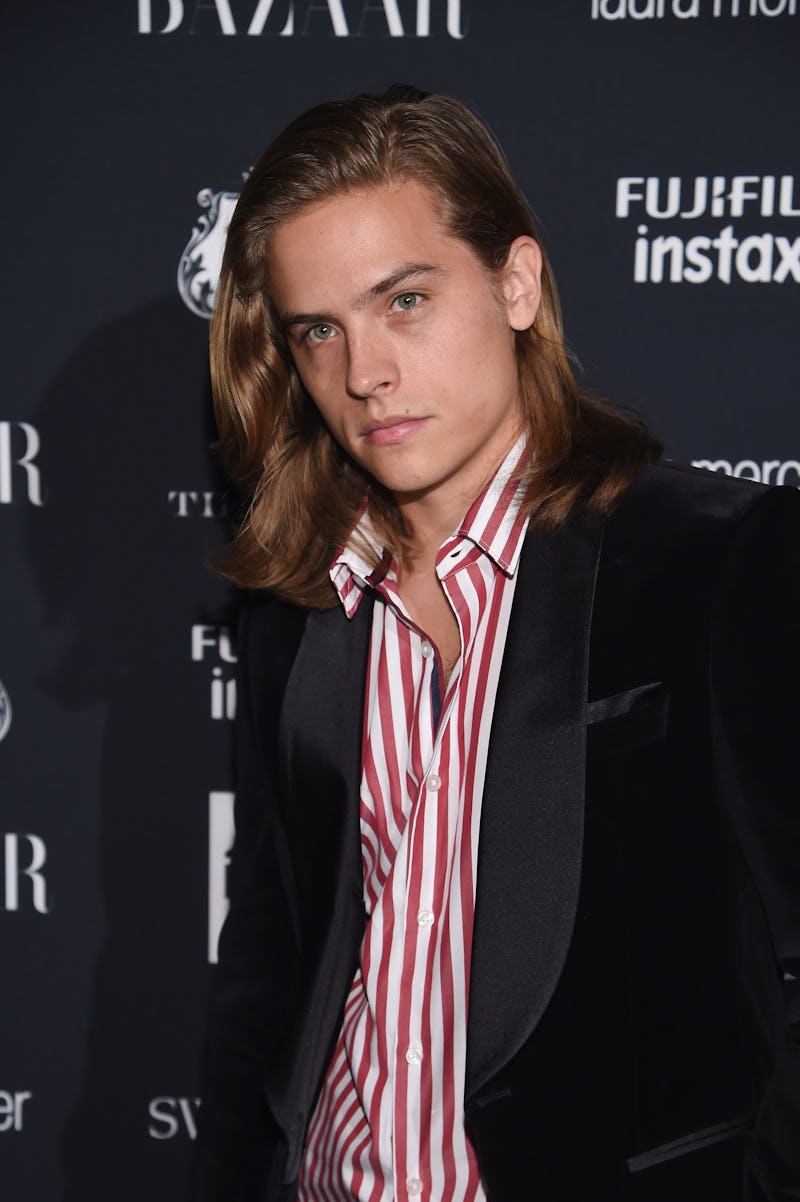 Dimitrios Kambouris/Getty Images Entertainment/Getty Images
Famous Hollywood twins don't come around very often. Sorry to disappoint, but Lindsay Lohan is the only member of the Annie and Haley duo in The Parent Trap. Thankfully, though, there's Dylan and Cole Sprouse who've been with millennials since they were kids. Now, Dylan Sprouse's new short hair is taking you right back to your younger year and giving you major flashbacks to days marathon watching The Suite Life of Zack and Cody on Disney channel.
According to Teen Vogue, Sprouse lobbed off his lob recently and just in time for his 26th birthday celebration. While that may not seem like a big deal, Sprouse's long hair has become kind of a look for the actor. For some, it's one of the major ways to tell him apart from his brother, Riverdale star Cole Sprouse. Don't wrry. You can still tell them apart. Dylan's hair is still a bit shorter than that of his brother Cole.
If you're thinking that Sprouse did a major chop, you'd be right and wrong. There's no buzzcut involved in this story, but Sprouse's hair, which was several inches long, is now only about two inches from his scalp. Honestly, though, it looks kind of amazing, and it'll definitely make you remember that fresh faced, ultra blond kid from Suite Life of Zack and Cody.
Sprouse himself didn't take to Instagram to show off his new look. That's not really his thing. Currently, his Instagram is dedicated to a single celebratory post about he and his brother's birthday and a photo grid illustration. It's his rumored girlfriend, Barbara Palvin, who let the world see Sprouse's new look.
In a photo celebrating Sprouse's birthday, the pair are pictured looking straight into the camera, and his long hair is totally gone. While the photo is cute because of their alleged relationship, it's also pretty notable for that chopped hair of his.
It seems, too, that Sprouse had kind of already debuted the shorter hair at an event for the Grand Finale of video game Overwatch. The only problem? You can't really see it. Sprouse wore a cap during the low-key event, so even if his hair was cut at the time, there'd be no way for fans to have even known. Now, thanks to Palvin, the world can see his shorter hair in all of its glory.
Of course, some fans will miss Sprouse's long, beach ready waves. In fact, they've already taken to Twitter to say so.
On the other hand, though, some are kind of digging the new shorn look from Sprouse.
While this probably won't turn out to be a Harry Styles level #hairgate event, opinions seem to be split. Regardless of if you'll miss his long hair or not, Sprouse's new shorter 'do looks great, and to be honest, it's kind of giving him a twinning moment again with his brother Cole. Could there be a Jughead twin coming to Riverdale? Probably not, but hey, fans can always dream, right?