E-Cigarettes Could Expose You To Toxic Metals Like Arsenic & Lead, A New Study Found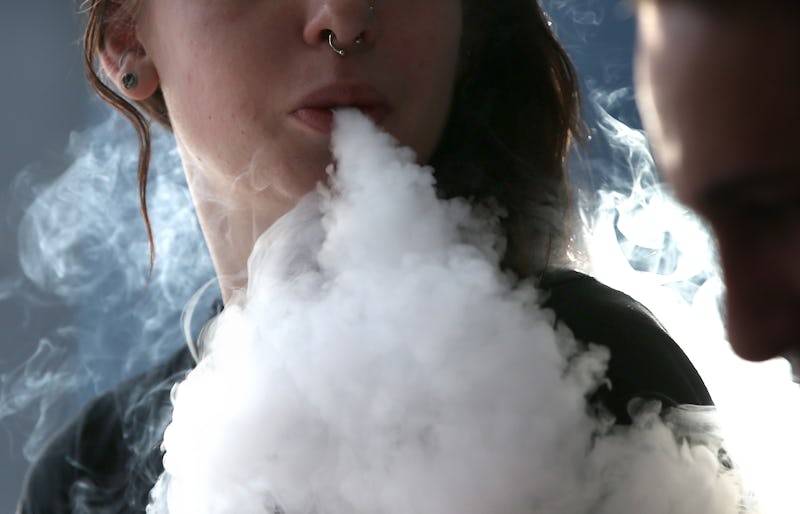 Justin Sullivan/Getty Images News/Getty Images
Vaping has been touted as a safe alternative to smoking cigarettes in recent years, but scientists have warned that they don't yet know the health effects of e-cigarette usage. That could be changing: A new study from researchers at Johns Hopkins Bloomberg School of Public Health says e-cigarettes could expose you to toxic metals like arsenic and lead. The study, published Wednesday in journal Environmental Health Perspectives, analyzed vaping dispensers, tanks and vapor from 56 frequent e-cigarette users. They found levels of nickel, chromium, lead and manganese higher than what's considered safe for public consumption. "Our findings suggest that using e-cigarettes instead of conventional cigarettes may result in less exposure to [cadmium] but not to other hazardous metals found in tobacco," the study says. "Due to potential toxicity resulting from chronic exposure to metals in e-cigarette aerosols, additional research is needed to more precisely quantify metal exposures resulting from e-cigarette use and their implications for human health, and to support regulatory standards to protect public health."
If you vape, you may not need to worry yet. The study's authors caution that more research needs to be done on e-cigarettes and harmful metals. "We've established with this study that there are exposures to these metals, which is the first step, but we need also to determine the actual health effects," says the study's senior author Ana María Rule, PhD, MHS, in a press release from John Hopkins University.
But the levels of lead and other metals found in vapor samples is a reason to pay attention as researchers continue to investigate vaping. The study says that e-cigarette heating coils are made of nickel and chromium, which may explain how they end up in e-cigarette liquid, although Rule says in the release that she doesn't "know yet whether metals are chemically leaching from the coil or vaporizing when it's heated." But researchers aren't sure where the arsenic and lead found in the analyzed samples came from — the press release calls it a mystery.
According to the release, unsafe levels of the metals detected can cause lung and liver damage, along with damage to the immune and cardiovascular systems. "It's important for the FDA, the e-cigarette companies and vapers themselves to know that these heating coils, as currently made, seem to be leaking toxic metals — which then get into the aerosols that vapers inhale," Rule says in the release.
E-cigarettes were introduced in the U.S. about a decade ago, according to Oxford University Press, and they've risen in popularity since. Regulatory agencies around the world have wrestled with how to handle e-cigarettes since their introduction — in 2016, the U.S. Food and Drug Administration began to regulate the devices. Beginning in August, the agency will require all vaporizers and e-cigarettes to include a warning about nicotine addictiveness. The study's authors recommends that regulatory agencies like the FDA test for metals in e-cigarettes.
So what should you do if you're an e-cigarette user? Per The Guardian, vaping is still considered safer than traditional cigarettes, so it's important to consider your options if you're trying to kick a smoking habit, but this new study adds to the growing scientific opinion that e-cigarettes aren't harmless, and the potential side effects extend could extend beyond a user's physical health. A study from the Centers of Disease Control and Prevention found that 40 percent of adults are comfortable vaping with kids in the room and have few worries about secondhand vapor.
E-cigarettes haven't been around for long, which makes it hard to analyze the long-term effects of vaping, but scientists are working to figure out just how damaging the habit is, if at all. If you're concerned about the effects of vaping, it's worth keeping an eye on this study and others like it.