Halloween Costumes For You And Your Pet That Will Be Super Instagrammable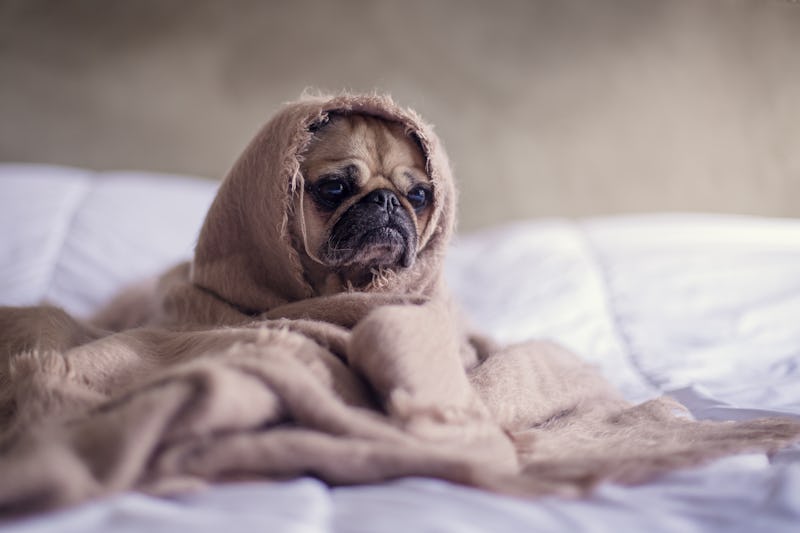 Unsplash
You may be in the initial planning phases of your Halloween costume — if not, don't sweat it, you still have plenty of time. But what about your furry best friend and partner in crime? Halloween isn't just for humans, after all — and if you have a dog, cat, gerbil, guinea pig, or any other adorable furry BFF, it's time to start thinking of the best Halloween costume ideas for you and your pet.
One of my favorite traditions that never fails to get me in the Halloween spirit, is taking my furbabe — a handsome little black pug named Bear — to the annual Howl-O-Ween Boo Bash (yes, this is a real thing, and it's awesome) event in my neighborhood. Bear loves it, probably way more than I do — but every year it leaves me stressed about what we're going to wear. That's right, I said "we're," because dressing up is mandatory, and there are prizes on the line. Also, in case you haven't heard, pug people don't play when it comes to all things pug parties, and the Boo Bash is no exception. People and their pugs go all out, and the last thing I want is for Bear to feel left out in the dog run when it comes time for the Best Halloween Costume Contest this year.
So, I started to do a little digging to see what our options are and lucky for us, Target.com, Etsy and Amazon have a ton of ideas that are both easy to pull off and pretty affordable.
Minions
Pretty much everyone loves those bumbling and adorable little yellow minions — and it's actually a fairly easy costume. You can buy the whole thing on Amazon.com for both you and your pet, or you can DIY it with a pair of goggles and overalls. Personally, I think the overalls are way cuter, plus you can wear them on other non-Halloween occasions which is a big time bonus.
You'll need: Minion Bob Arms Pet Suit, $15, Amazon | Minion Stuart Knit Cat Headpiece, $13, Amazon | Hollister Denim Short Overalls, $55, Hollister
Unicorn Twins
You probably can't get any more on trend than unicorns right now, and lucky for you, there are plenty of ways you can go here. Amazon surprisingly doesn't have too many options to choose from in this magical realm, although there are these cute little headpieces from for your furry little loved one for $16.95. Also, for the cat peeps out there, this full body unicorn cat costume on Target.com is pretty amazing and only $4.99.
You'll Need: Adult Unicorn Costume, $28, Amazon | Unicorn Cat Full Body Costume, $35, Target | Unicorn Headband, $3, Target | Unicorn Dog Costume and Cat Costume, $17, Amazon | Kigurumi Dream Unicorn Costume, $79, Urban Outfitters
Star Wars
This is a classic costume idea that never gets old. Whether you're Luke Skywalker fan or Princess Leia diehard, there are enough characters and costume ideas to choose from — plus who doesn't want to wield a lightsaber? When it comes to your pooch you can find a ton of ideas on Amazon, although my personal favorite is this doggy Chewbacca costume for your pet and Princess Leia for yourself. French braid buns, yes please!
You'll Need: Star Wars Collection Pet Costume, $20, Amazon | Sperry Star Wars Women's Slip-On Sneakers, $75, Macy's | Star Wars Softspun Boatneck Top, $31, Gap | Star Wars The Force Awakens Rey Starkiller Base Electronic Light, $20, Target | Secret Wishes Star Wars Princess Leia Costume, $26, Amazon
Game Of Thrones
So this is a fun one because it requires a bit of wig work, unless you have the long platinum blonde hair naturally — in which case you're pretty much all set. If not, don't worry. The best, and most cost effective Khaleesi wig that I could find is on Ebay for $19.99. Tuning your furry little love baby into a fire breathing, white walker dragon is also easy — or if you want to play it safe, a direwolf look can go a long way with your little fur ball.
You'll need: Golden Blonde, $17, Ebay | Inspired By Game of Thrones Song of Ice and Fire Vintage Stark, $7, Amazon | Daenerys Dragon Necklace, $45, Etsy | Dragon Dog Costume Set, $13, Target
Wizard Of Oz
This is perfect for anyone looking to costume a family of pets. You can find an adorable lion costume on Amazon for $15, Dorothy — replete with ruby red slippers and of course the wicked witch dog costume for $20. Of course, if your dog is anything like mine and dressing up in anything too complicated isn't an option, Toto is always the perfect option for them and there's no outfit required!
You'll need: Wizard of Oz Pet Costume, Dorothy, $22, Amazon | Adult Plus Size Kansas Girl Costume, $40, Halloween Costumes | Rectangular Basket Lined with Gingham Lining, $11, Amazon | Wizard of Oz Pet Costume: Wicked Witch, $20, Amazon | Lion Wig for Dog $15, Amazon
Party Animals
This one is pretty self-explanatory, but a good one none-the-less. I think if you need inspo, you can always reference Weekend At Bernies or Animal House, (Toga! Toga! Toga!), both of which are classics that I always like to rewatch around this time of year. Anyway, this one's great and also pretty affordable for both you and your pooch. All it requires are a bed white sheet tied at your shoulder and a wreath headband or crown. For your furry pal, you can always use a smaller sheet and wrap it around. In place of the crown you can use a wreath as a collar or loose fitting necklace.
You'll Need: Off White Dress Maxi Dress Empire Dress Long Off White Dress, $59, ETSY | Organic Sheets, $28, Amazon | Grecian Gold Metal Leaf and Flower Headband With Rhinestones, $34, ETSY