Easy Zombie Makeup — Braaaaaaiiinnsss Not Included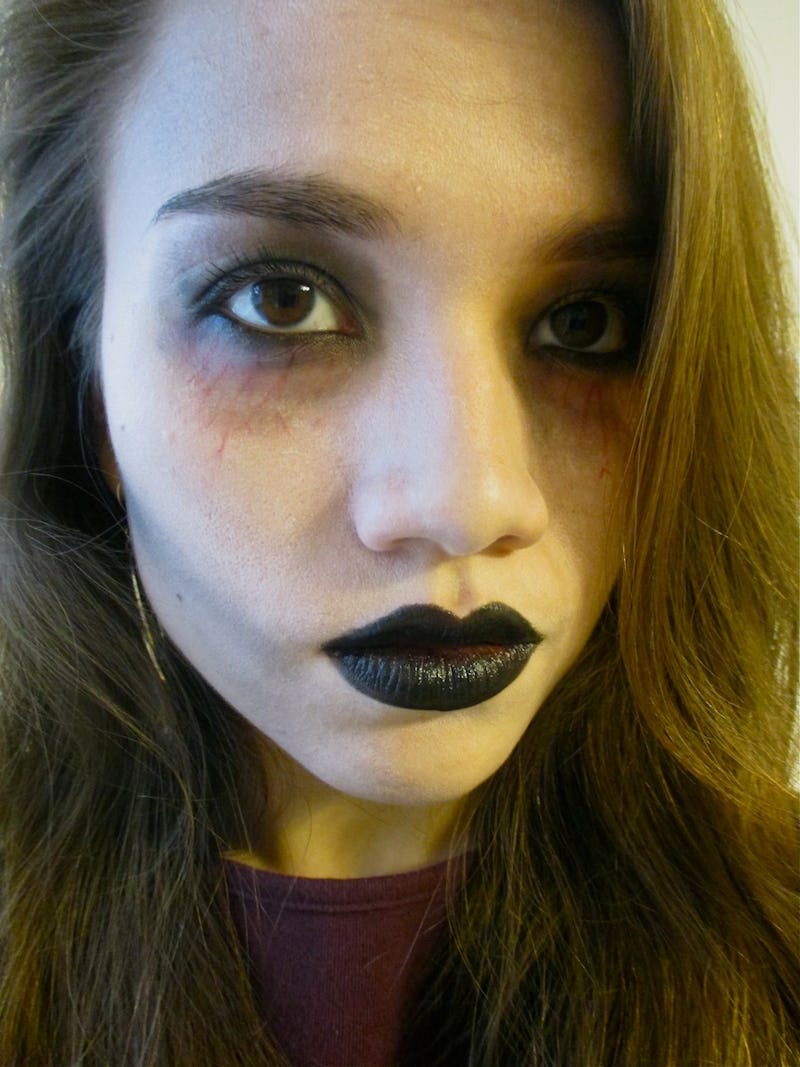 Mmm, Halloween: the time of vampires and ghouls and black cats and of course, zombies. What I love about zombies is that their look is almost completely up to interpretation; there's not really a staple you need to be a zombie. Vampires have their fangs, ghouls have their pallor, and cats have their ears. But what do zombies have? Well, brains, for one. But everything else can be as hardcore or as pretty as you want, because zombies do whatever the eff they want.
Of course, if you're really getting into the groove, you might have some open sores and rotting flesh. But if you're crunched for time, or just don't feel like shelling out any extra cash for makeup or special effects you'll only use once, here's a super-simple way to become a member of the undead.
Here's what you'll need:
White eyeliner/cream eyeshadow
Black eyeliner/cream eyeshadow
Red Lipstick
White eyeshadow
Black eyeshadow
Purple eyeshadow
Black lipstick (optional)
Since this zombie-look is pretty basic, it can be really fun to dress it up. Try some of these simple accessories to take you from run-of-the-mill zombie to zombie princess! Because let's be honest, the only thing better than being undead is being royally undead.
But first, the face:
The Base
Start by swiping your white pencil all over your face (I like NYX Jumbo Eye Pencil in Milk). Then just blend it in with your fingers. Keep adding layers until you are satisfied with the coverage. Once you're done, set it with white eyeshadow.
NYX Jumbo Eye Pencil in Milk, $9, Amazon
Time to contour. Grab your black eyeshadow and go to town in the hollows of your cheeks and sides of your forehead. There's really no such thing as too heavy a hand with this; you want your face to look sunken.
The Details
Take your black eyeliner and line thickly all the way around your eyes, including your waterline. Fill in your lid up to the crease. Then take some black eyeshadow and blend out the edges going as big as you want. Remember you're a zombie; this doesn't have to be neat or pretty (if you don't want it to be).
Next, take your red lipstick and a lip brush to draw tiny veins coming from the bottom of your eyes, branching them out at the ends. Take your purple eyeshadow and dust this on top of the veins, and blend it under your brow-bone, or wherever you stopped your black shadow. Purple shadow will help get that bruised-look.
Finally, take your black lipstick (or black eyeliner) and fill in your lips. Again, this can be as messy as you want. And voila! Zombie-fied.
Images: Miki Hayes (4)