Tracy Morgan & Chris Rock Showed Up For Eddie Murphy's 'SNL' Monologue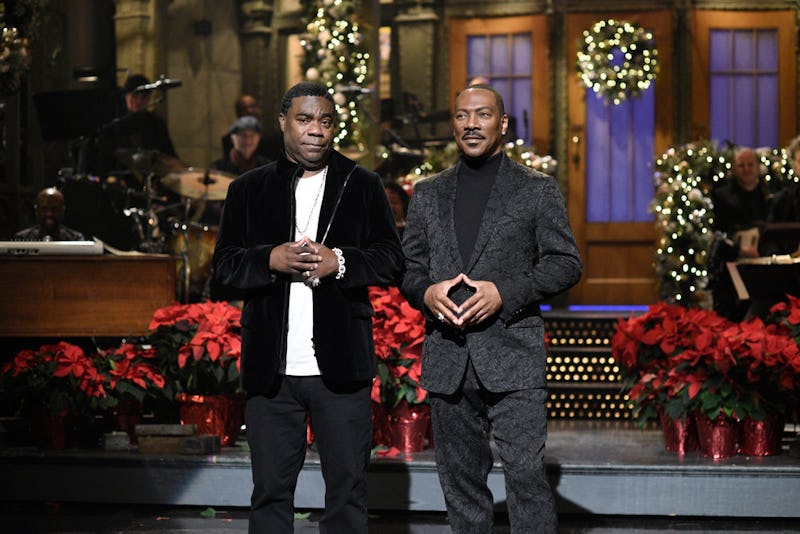 Will Heath/NBC
It's been 35 years since Eddie Murphy has graced Studio 8H, so the comic legend's Dec. 21 hosting gig was highly anticipated. Fortunately, he delivered. The episode started off with a bang when SNL alumni Rachel Dratch, Fred Armisen, Maya Rudolph, Jason Sudeikis, and Larry David all appeared as Democratic candidates in the cold open. Even more exciting were the people who appeared onstage during Eddie Murphy's SNL monologue: fellow comedians Tracy Morgan, Dave Chappelle, and Chris Rock. "What a moment we're having!" Murphy exclaimed, excitedly, as the audience cheered.
The men had appeared onstage one by one, greeting their friend before casually asking whether Murphy had received their sketches. It was bizarre seeing all of these comedians sharing a stage, since, as Chappelle said, "Right now, you're looking at half of Netflix's budget." Indeed, not only did Murphy just star in Netflix's Dolemite Is My Name, but since 2017, Chappelle has released three comedy specials on the streaming service.
"Not me!" Morgan interjected. "I made all my millions on the road."
"You mean touring?" Murphy asked.
"No, I got hit by a truck!" the 30 Rock actor deadpanned.
As several fans pointed out, it felt historic to have so many black, male comedians onstage simultaneously. "Only Eddie could bring the greats," Twitter user @_XODULCEEE wrote.
And nearly all of these men had been on SNL at one point or another: According to The Root, Murphy was the second black, male cast member on SNL: from 1980 to 1984. During the monologue, Chris Rock (who was on SNL from 1990 to 1993) joked that he planned to be the next Eddie Murphy.
Tracy Morgan, finally, appeared on the show from 1996 to 2003. And Although Chappelle was never an SNL cast member, he joked that he'd modeled his career after Murphy, saying, "I became the biggest star in television, and then I quit!"
These cameos reinforced Murphy's star power and set a high bar for the rest of the episode, wherein the comedian reprised famous characters like Gumby, Mr. Robinson, Buckwheat, and Velvet Jones, which had audiences in stitches. Because he's Eddie Murphy, dammit!