'Saved By The Bell's Elizabeth Berkley Shared How She & Tiffani Thiessen Still Stay SO Close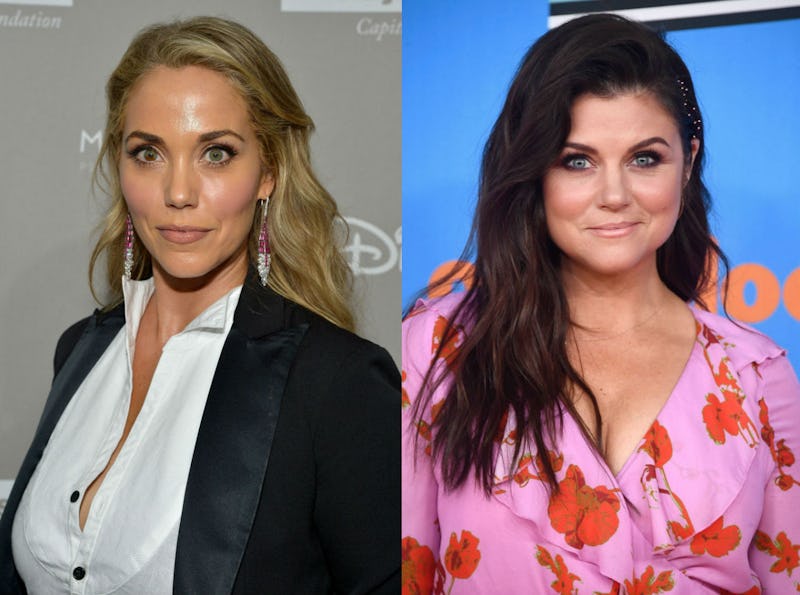 Charley Gallay/Getty Images Entertainment/Getty Images; Frazer Harrison/Getty Images Entertainment/Getty Images
They said they'd be friends forever. That's right, these former Saved by the Bell stars still like each other as much as Jessie Spano and Kelly Kapowski did. Elizabeth Berkley and Tiffani Thiessen are good friends, the actor who brought Jessie to life told Us Weekly on Oct. 19. They might not get to see each other as often as they'd like to, but that doesn't stop the former teen stars from staying in touch via text.
"We do see each other from time to time," Berkley admitted. "Both of us have very busy lives with children and work, but we love each other. We text all the time. We DM and text, we cheer each other on."
Seeing as SBTB premiered nearly 30 years ago, it's so great to hear these two remain in each other's lives. Berkley also revealed Thiessen was amazing when she was pregnant with her now 6-year-old daughter, Sky, who she had with her husband, Greg Lauren.
"When I was in the baby stage with Sky, she was such a great, trustworthy girlfriend to be able to ask anything. She's a real hands-on mom like me," Berkley gushed.
The Showgirls actor is also thrilled that she and Thiessen were able to grow up together and experience different stages of their lives side by side. Berkley said, "The trust is already there since we were kids, so to become women and mothers together is incredible."
Most recently, Thiessen reunited with Mario Lopez, who, of course, played A.C. Slater on SBTB. While Lopez served as a guest host on The Ellen DeGeneres Show in August, Thiessen showed up as a surprise for the audience.
The two reminisced over how long it's been since their beloved show aired, in addition to if their kids watch the show. "Oh my God, I can't believe I'm that old," Lopez declared to Thiessen about SBTB now being almost 30 years old. "I thought it was 20 years since Saved by the Bell," he said, before adding, "It's 30 years since Saved by the Bell!"
Thiessen responded, "We are old, we are really old." Lopez replied, "Yeah, but you look good, honey."
Of course the cast looks different today than they did when the show first premiered in 1989. Hello, Lopez had that famous mullet as Slater. And Thiessen? Yeah, she definitely looks fabulous today, just like she did back in the day as the beloved Kelly.
So do their kids watch SBTB? Well, even though Thiessen's 8-year-old daughter, Harper, "was into it" during the first season, she wants her to be a little bit older to watch more episodes. "I was OK with Season 1," Thiessen said, "But then after that when like kissing started happening, I was like, 'No, no, no we're done.' I mean, she's 8, you know?"
Lopez's kids, 7-year-old Gia and 4-year-old Dominic, however, felt differently than Harper. "My kids have given it a shot and [they're] not feeling it," he said. Apparently, they also don't understand Slater's hair. Lopez hilariously said that his kids will ask, "Daddy why is your hair like that?"
All of this definitely brings back good memories, doesn't it? Seeing actors from a show you grew up watching reunite never gets old. It's also a great feeling when you learn two of the female stars are still in each other's lives and continue to raise each other up.