Elizabeth Warren Calls Trump Out For Bullying "Every Woman Who Speaks Up"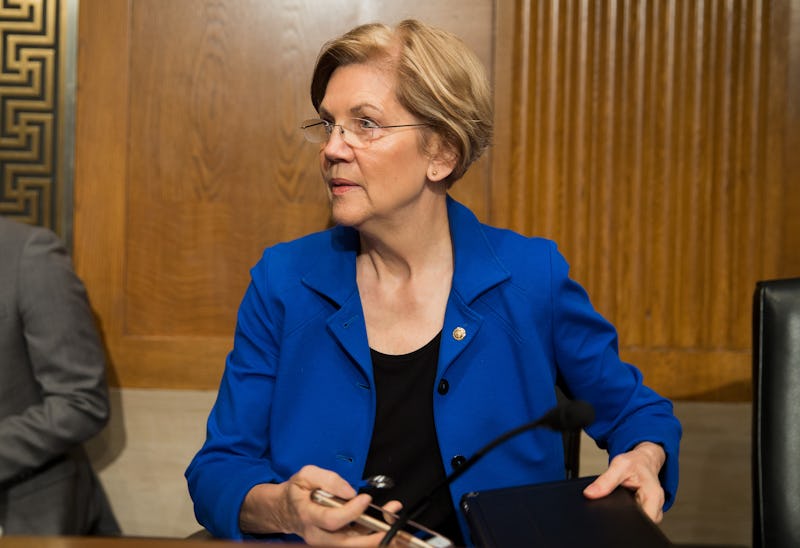 Tasos Katopodis/Getty Images News/Getty Images
The battle is back on between President Trump & Sen. Elizabeth Warren. He has repeatedly called her "Pocahantas" while she has called him a "loser" in return — one of his favorite jabs. Last week the president's attacks continued, and he even invoked the #MeToo movement. On Sunday, Warren responded to Trump and called him a "bully" who is going after "every woman who speaks up." And then she pivoted the conversation to his administration.
Warren made the comments at a rally in a Boston suburb. "He tries to bully me to shut me up, and he's also trying to bully women all across this country. He talks about MeToo. It isn't just me he is going after," Warren told the crowd of some 1,400 people. "It's every woman who speaks up. He thinks we should sit down and shut up. It's just not going to happen."
This was in response to what Trump had said at a Montana rally last Thursday. He said that if he debated her, he would throw her a DNA kit to prove she's Native American.
"But we have to do it gently because we're in the MeToo generation, so we have to be very gentle," Trump told the crowd. "We will very gently take that kit, and we will slowly toss it, hoping it doesn't hit her and injure her arm."
He continued, saying he would tell Warren, "I will give you a million dollars to your favorite charity, paid for by Trump, if you take the test and it shows you're an Indian."
On Sunday, Warren explained her thoughts for how to deal with Trump, too. "The best way to deal with a bully is to be strong, resolute, keep doing what you are doing," Warren told the crowd. "But don't take any guff."
She also made a point of keeping the conversation focused on his administration's policies. "Look, Donald Trump wants us to talk about anything other than what is going on in the Trump administration," Warren said. "I'm two weeks from having been down at the border, and Donald Trump's administration took children out of the arms of their mothers and is now too incompetent to reunite them. He doesn't want us talking about that."
And as for priorities of Democrats, such as making college more affordable, protecting the environment, and more, Warren made a point that Republicans keep turning her down. "You know what they say to me?" Warren said to the crowd. "'Great idea. But we can't afford it. Because we just gave away a trillion and a half dollars to giant corporations and billionaires.'"
This speech was the second time that Warren responded to Trump's Montana rally comments. She first did so on Twitter. Last week, she wrote:
Hey, @realDonaldTrump: While you obsess over my genes, your Admin is conducting DNA tests on little kids because you ripped them from their mamas & you are too incompetent to reunite them in time to meet a court order. Maybe you should focus on fixing the lives you're destroying.
This may not be the end of the back-and-forth between the two. Trump will attend many more rallies between now and the midterms. And there's always the chance that Warren will run against him in 2020, something that she denies, for now.
"I seem to be in his head," Warren said Sunday, explaining the latest attacks. "I get up every day in the fight for working families, and Donald Trump is not going to knock me off that. He is just not."
Warren is also running for reelection to the Senate this fall and is leading in the polls.