Trump Mocked #MeToo At His Latest Rally & What He Said Will Make Your Blood Boil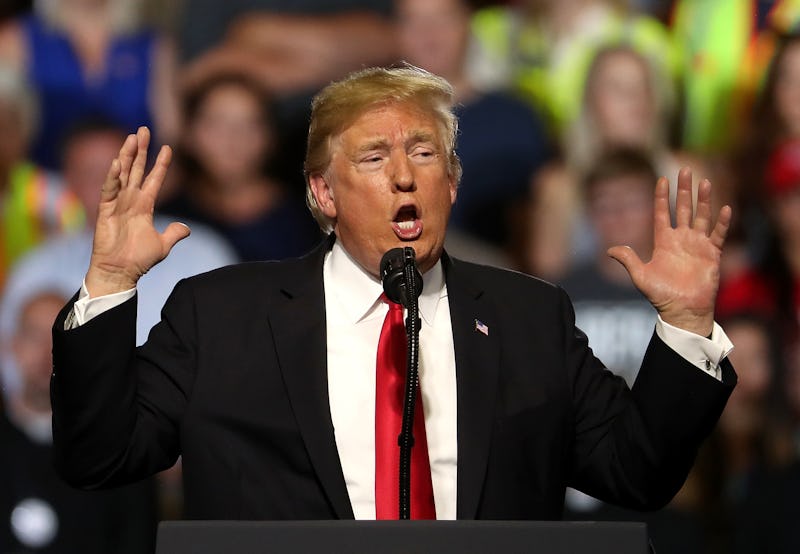 Justin Sullivan/Getty Images News/Getty Images
President Donald Trump drew criticism after a rally in Great Falls, Montana, Thursday night during which he appeared to make fun of Democratic Sen. Elizabeth Warren and the #MeToo movement simultaneously. Speaking to a rambunctious crowd in support of Montana's Republican Senate candidate, Trump seemed to mock the #MeToo movement as he told the crowd he'd get Warren to take a test that would prove she is a Native American, The New York Times reported.
Warren has controversially said she has Native American heritage, a claim that spurred Trump to call Warren "Pocahontas" in the past. Warren has called this offensive nickname a "racist slur," and Native American groups have echoed that criticism. But at Thursday night's rally, Trump took this insult a step further. In an NBC News video of the event, Trump explained his vision for what would go down in a debate against Warren if she chose to challenge him in the 2020 presidential race.
"I'm going to get one of those little kits and in the middle of the debate, when she proclaims that she's of Indian heritage — because her mother said she has high cheekbones, that's her only evidence," Trump said. "We will take that little kit ... but we have to do it gently because we're in the #MeToo generation, so we have to be very careful."
These insulting comments pointed at #MeToo are especially distressing coming from a president who's been accused of sexual harassment by multiple women, with claims of inappropriate behavior going back to the '80s. You'll also recall a certain Access Hollywood tape that featured the president bragging about kissing, groping, and trying to have sex with women, saying that "when you're a star, they let you do it." The Washington Post obtained video of the 2005 conversation with Billy Bush that was captured on a hot microphone shortly before the 2016 presidential election, unleashing the infamous Trump line: "Grab them by the p---y." (Trump has denied all allegations of misconduct, as CNN reported.)
Things started to change in the workplace for women last year when media mogul Harvey Weinstein was brought down by reports detailing decades of sexual abuse allegations. (Weinstein has denied all allegations of non-consensual sex.) This inspired thousands of women to share their own stories of abuse using the #MeToo hashtag on Twitter.
Now, Trump's Thursday comments are drawing criticism from commentators and users on Twitter alike. The New York Times' Maggie Haberman pointed out that Trump seems to have a history of using fear as a tactic, and his #MeToo insult was a continuation of this.
And while Trump's offensive comments insulted #MeToo, they were also a direct and racially-charged hit at Sen. Warren. Warren was quick to fire back at Trump on Twitter, making a point that the president should have bigger concerns than her genetic makeup.
"While you obsess over my genes, your Admin is conducting DNA tests on little kids because you ripped them from their mamas [and] you are too incompetent to reunite them in time to meet a court order," Warren tweeted. "Maybe you should focus on fixing the lives you're destroying."
Bustle left a phone message with Warren's office for further comment.
NBC News reported that DNA tests would be used to help reunite some of the thousands of migrant children who've been separated with their families.
Although Warren hasn't provided documentation to show that she is of Cherokee and Delaware heritage, as The New York Times reported, she has defended her Native American roots, which she has said she learned about from her family's oral history.
And the explosive remarks about #MeToo and the attack on a female senator at Trump's Montana rally are just adding to the mounting criticism about the decision to hire former Fox News Co-President Bill Shine as communications director, as Vox pointed out. Shine's been accused of covering up sexual harassment at Fox, which he has denied doing.
To sum up, these comments were the sour cherry on top of an already controversial week for the Trump administration when it comes to women.