Warren Reads The Scott King Letter Via Facebook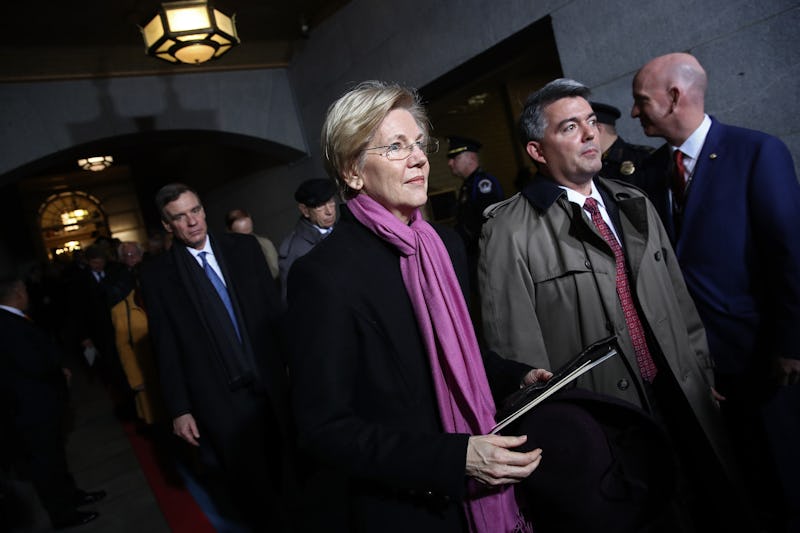 Win McNamee/Getty Images News/Getty Images
On Tuesday evening, Massachusetts Senator Elizabeth Warren found a way to read Coretta Scott King's letter opposing Jeff Sessions' 1986 federal judicial confirmation — and it wasn't on the Senate floor. Senate Majority Leader Mitch McConnell may have tried to silence Warren's recitation of the letter earlier that night, but that didn't stop her from taking it to social media.
In a Facebook post followed by a Facebook Live video, Warren explained the scenario during which McConnell silenced her by claiming that her recitation of the letter was "impugning the motives and conduct" of Donald Trump's attorney general nominee. McConnell used Senate Rule XIX, which bars any senator from cutting down a fellow congress member's character on the floor. Though it's incredibly rare, Senate Republicans voted to rebuke Warren as a result of her speech. Taking matters into her own hands following the debate, she wrote on Facebook:
During the debate on whether to make Jeff Sessions the next Attorney General, I tried to read a letter from Coretta Scott King on the floor of the Senate. The letter, from 30 years ago, urged the Senate to reject the nomination of Jeff Sessions to a federal judgeship. The Republicans took away my right to read this letter on the floor - so I'm right outside, reading it now.
After she was told to sit down, The Washington Post reported that Warren said, "I am surprised that the words of Coretta Scott King are not suitable for debate in the United States Senate." The late civil rights leader's letter dating back to 1986 was addressed to the Senate Judiciary Committee and asked it to not appoint Sessions as a federal judge.
In fact, Sessions lost that nomination due to allegations of racism, which he vehemently denied. And Warren clearly doesn't feel as though the upcoming confirmation hearing should turn out any differently. Sessions nomination to Trump's cabinet isn't the only one that has caused a tremendous amount of controversy since the president took office. Secretary of Education nominee Betsy DeVos, for example, squeezed by with only a tie-breaking vote from Mike Pence just earlier that same day. That type of opposition isn't normal for Cabinet nominees who in most administrations, are quietly confirmed.
The Senate is expected to vote on Sessions' confirmation as attorney general on Wednesday evening. Until then, Warren will not be allowed to speak on the Senate floor, according to The Hill. But as she's shown the nation, that doesn't mean she'll stay silent.