This Tool Shows How Much Money Elizabeth Warren's Child Care Plan Saves Families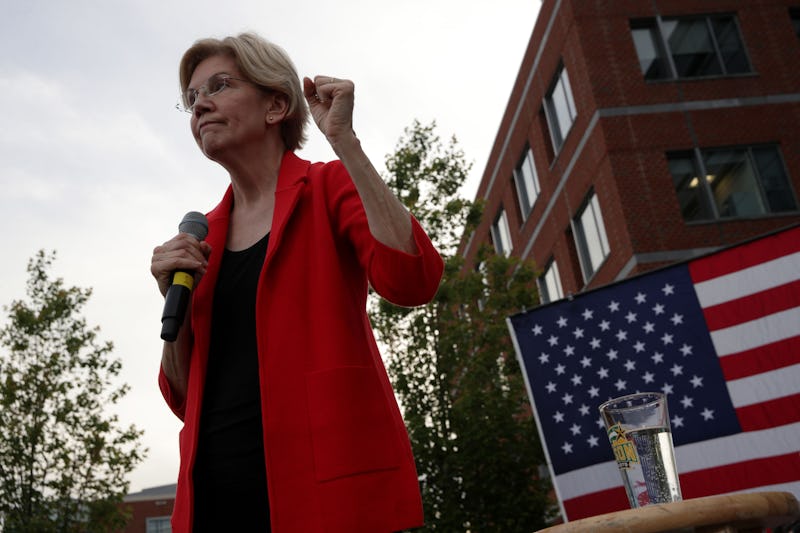 Alex Wong/Getty Images News/Getty Images
In a crowded Democratic primary field, Sen. Elizabeth Warren has distinguished herself as the candidate with the plans. Since launching her campaign for president, Warren has rolled out policy proposal after policy proposal, covering reproductive rights, student loan debt, higher education, child care, and more. During a Thursday appearance on ABC's The View, Warren unveiled her universal child care calculator to show how much money Americans could save with her plan for affordable and quality child care.
The calculator, available on Warren's campaign website, helps families with kids under the age of 5 find out how much child care could cost for them under her proposal. Those using the calculator are asked to log details like how old their children are, how much they spend on child care per year, and what their household income is.
"This fight is personal for me. I remember how hard it was to find affordable, high-quality child care for my two kids when I was a working mom," Warren tells Bustle, recalling her 78-year-old aunt who helped her raise her two children when she was teaching at law school. "My Aunt Bee rescued me but not everyone has an Aunt Bee. Child care should be a fundamental right, period. My universal child care and early education plan is a win for families and our kids."
Warren's proposal is meant to buoy low- and middle-income families for whom child care can be extraordinarily costly. According to her Medium post laying out the Universal Child Care and Early Learning Act, the federal government would partner with tribes, school districts, nonprofits, and more to create a network of care centers across the country. Families making less than 200% of the federal poverty level would be able to access free child care services. Those who make more than that would also benefit from her plan, with child care costing "no more than 7% of that family's income," according to her post.
But how would the government pay for this? Warren points to her signature proposal: an Ultra-Millionaire Tax, which would apply to the richest 0.1% of American households.
The tool released for Warren's universal child care proposal comes on the heels of her student debt cancellation calculator, which, according to her campaign, 250,000 people have used so far.
Warren has been releasing a steady drip of policy proposals over the past few months, from plans to address the climate crisis to outlines for combating maternal mortality. It's resulted in her increasingly being known as the 2020 candidate who "has a plan for that," and she's been climbing ahead in the 2020 Democratic primary polls, which is no particularly easy feat in a cluttered primary field.
As she unveiled her universal child care calculator on Thursday on The View, Warren emphasized that her goal was to make quality child care affordable for everyone, not just the wealthy. "It's a good investment for mamas and daddies, it's a good investment in our children," she said. "It's the best investment in our future.