Call The 49 Senators Who Silenced Elizabeth Warren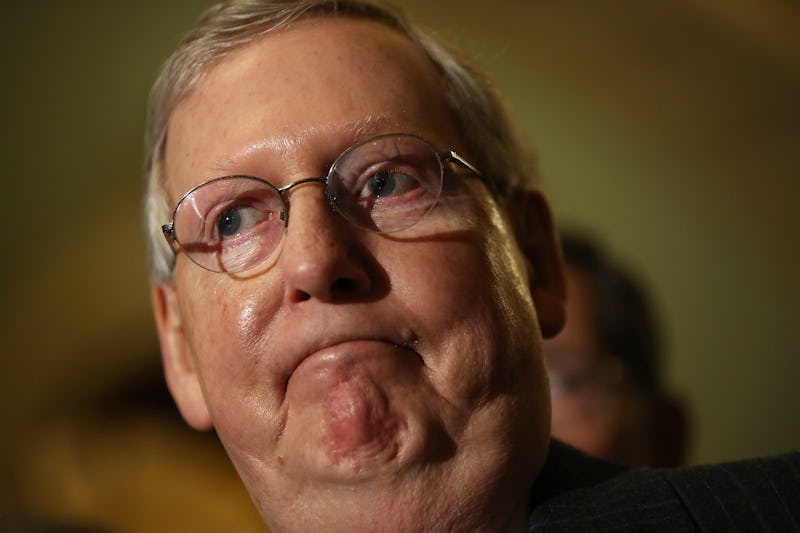 Win McNamee/Getty Images News/Getty Images
By now maybe you've heard that Sen. Elizabeth Warren was silenced by Senate Majority Leader Mitch McConnell for reading a letter from Coretta Scott King. "Sen. Warren was giving a lengthy speech. She had appeared to violate the rule. She was warned. She was given an explanation. Nevertheless, she persisted," McConnell said on the floor. His move backfired and resulted in "nevertheless, she persisted" being shared widely on Twitter with the hashtag #LetLizSpeak. But that does not make his actions OK, and it's important to note that 49 senators also voted to block Warren's speech. Why not call them and tell them how you feel?
Warren was reading the letter because Sen. Jeff Sessions is about to be confirmed as attorney general, but there are some questions about his past work as a United States Attorney. King wrote in 1986 to the Senate Judiciary Committee to tell them she thought he was unfit for a federal judgeship given his past actions, i.e., "intimidate and chill the free exercise of the ballot by citizens." He wasn't confirmed then; Republicans even voted against him in committee.
Technically Warren was lambasted for violating Rule XIX, which is meant to prevent senators from assigning another senator "any conduct or motive unworthy or unbecoming a senator." But there's proof that it has been applied inconsistently.
When Sen. Sessions is the topic of the debate, it's hard to decide which way to vote on the guy if you can't mention him. But 49 senators don't seem to value the debate.
That's every single Republican Senator except for Sens. Ted Cruz, Johnny Isakson, and Jeff Sessions himself. You can find the others' phone numbers on the U.S. Senate website. Tweeting #letlizspeak and #shepersists is great, but a phone call will make an even bigger impact. So go ahead and call. Make sure you call your senators' D.C. offices and your senators' offices in your district.
You can say whatever you like, but I think reading King's words would be just perfect. Make sure to attribute it to her and explain why you're calling. Give your name and address, and then tell them:
Anyone who has used the power of his office as United States Attorney to intimidate and chill the free exercise of the ballot by citizens should not be elevated to our courts. Mr. Sessions has used the awesome powers of his office in a shabby attempt to intimidate and frighten elderly black voters.
Thanks to the power of the media, and especially social media, King's words have reached a large number of Americans. Make sure they reach your senators, too.