Elle Fanning's Comments On Woody Allen's 'A Rainy Day In New York' Hint At The Film's Future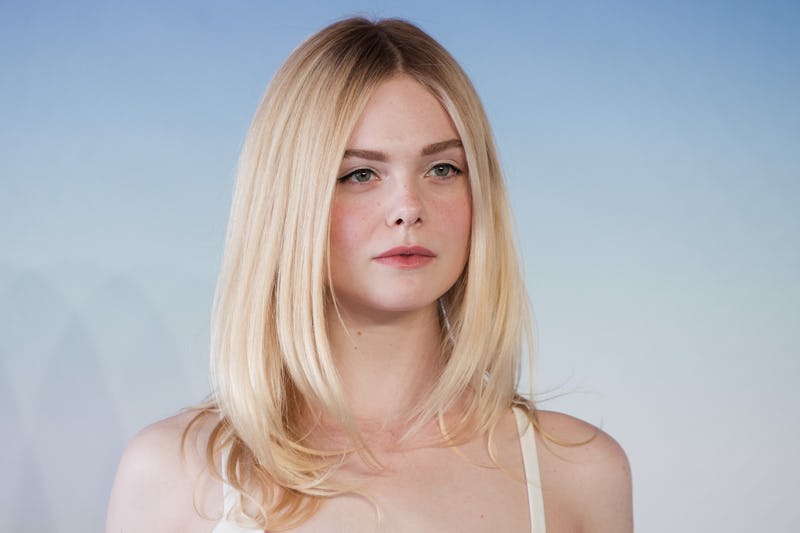 Francois Durand/Getty Images Entertainment/Getty Images
Last week Page Six reported that Amazon shelved Woody Allen's latest movie, A Rainy Day in New York, meaning that it might never be released to the public. Now, co-star Elle Fanning has responded to the reports about A Rainy Day in New York's release while appearing at the Deauville Film Festival where the 20-year-old received the Rising Star Award.
A Rainy Day in New York is Allen's latest work, reportedly bought by Amazon for $25 million. The film was originally expected to be released in 2018. However, as Page Six reported, there was never a set release date for the film — and there might never be one. Amazon's rep would not confirm the fate of the film, but did tell paper, "No release date has ever been set for the film," and various news outlets suggests that the movie may never get released by Amazon.
Fanning, who stars in the film alongside Selena Gomez, Elle Fanning, Jude Law, Rebecca Hall, and Timothée Chalamet, expressed her surprise at the report while at the Deauville Film Festival this weekend, but also noted that she had received no such news about the potential non-release of A Rainy Day in New York. According to The Hollywood Reporter Fanning said,
"There's a lot of news about this but they haven't told me anything. You just have to try to come to terms with it. I feel like the experience that I had matters the most at the end of the day, and you do some great work and literally no one is going to see it … but that's the way it is."
According to THR, Fanning didn't respond when asked if she would support Amazon's choice to keep A Rainy Day in New York from the public forever. And, based on her statements, it sounds like the actors involved with Allen's latest film know about as much as the public, which is very little.
A Rainy Day in New York, which wrapped last fall, had already drummed up a lot of pushback. After the #MeToo movement brought past sexual assault allegations made against Allen from his adopted daughter, Dylan Farrow, back into the spotlight, the director's latest project was brought into question. And though Allen has denied all allegations against him for almost two decades, and though he has never charged in this case, a few actors from the film have publicly spoken out against it.
Page Six reports that A Rainy Day wrapped before the resurgence of the #MeToo movement, ignited after the sexual assault allegations against Harvey Weinstein were made public in Oct. 2017. Following the surge of support for #MeToo, as well as the creation of Time's Up in Hollywood, a few actors from A Rainy Day in New York eventually spoke regretfully about their involvement in Allen's project. Last January, Chalamet posted a note on Instagram in which he pledged to donate his salary from A Rainy Day to charities which benefit victims of abuse.
According to Vulture, Chalamet's announcement came after Hall announced that she would be donating her A Rainy Day salary to Time's Up Legal Defense Fund.
Amazon has not yet commented on reports that it has definitively decided to keep A Rainy Day in New York from being released. The statement provided to Page Six only notes that the film was never given a set release date, not that it would never be granted one. That said, given the lack of star support for the film and the continued support for #MeToo and #TimesUp, it's hard to say that any decision to shelve Allen's latest work would be all that surprising.
The backlash to A Rainy Day in New York is not the first time Amazon Studios has felt pressure to abandon a Woody Allen project. In an op-ed that Farrow published in the L.A. Times in 2017, she questioned Amazon Studios' release of Wonder Wheel. The advocate for survivors of sexual abuse noted that Wonder Wheel was greenlit by Amazon Studios' former executive, Roy Price, a man who was accused of sexual harassment in an op-ed by producer Isa Hackett published by The Hollywood Reporter in October of 2017. Price subsequently resigned from his role as the president of Amazon Studios. Despite Farrow's op-ed, Wonder Wheel was released amid a flurry of award buzz. In the end, however, it failed to make an impact at the box office and at any major award shows.
And given Farrow's critiquing of Amazon for releasing Wonder Wheel, it's safe to say she would be equally vocal about A Rainy Day in New York. As the Me Too and Time's Up movements continue to gain momentum, it will be interesting to see what Amazon Studios decides to do with Woody Allen's latest film. Though it wouldn't be surprising if it decides the film isn't worth the trouble.
If you or someone you know has been sexually assaulted, call the National Sexual Assault Telephone Hotline at 800-656-HOPE (4673) or visit online.rainn.org.