Ellen DeGeneres' Halloween Costume Will Make 'Bachelor' Fans Laugh Out Loud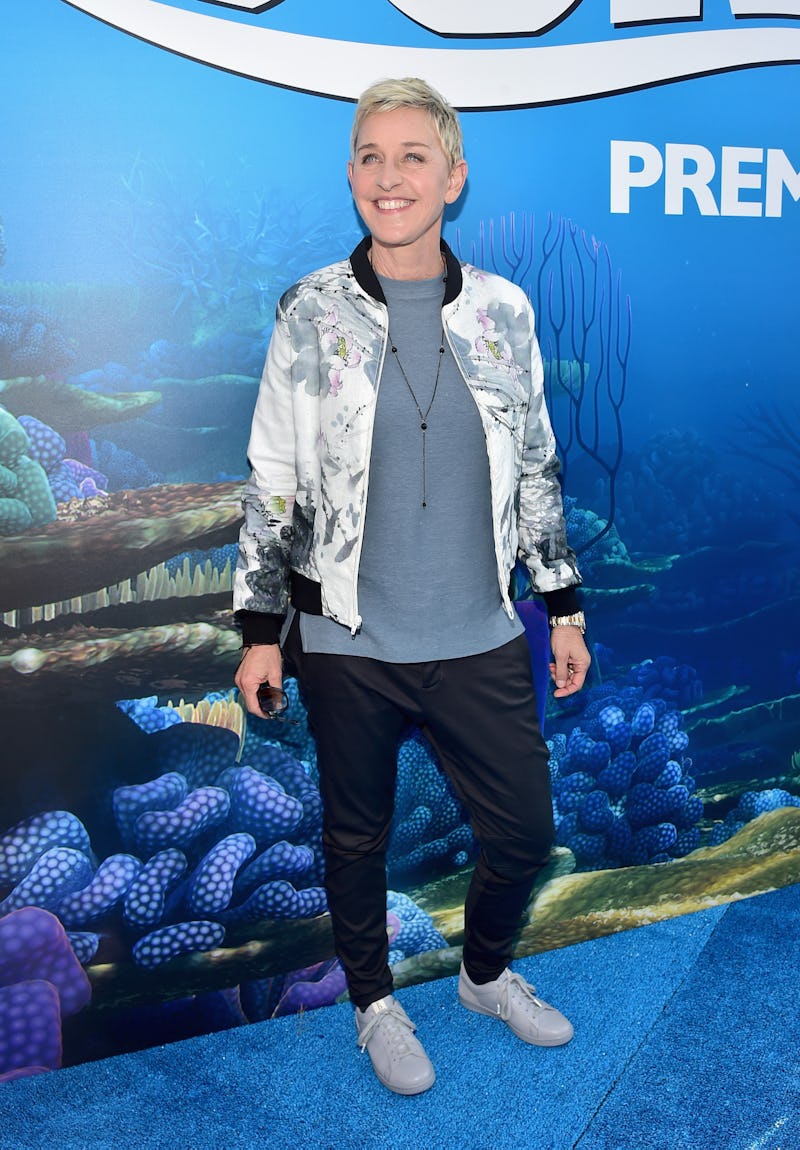 Alberto E. Rodriguez/Getty Images Entertainment/Getty Images
Think you've seen the most cringe-worthy contestant introductions Bachelor Nation has to offer? That might be true, though Ellen DeGeneres' Bachelor Halloween costume — and the hilariously clever parody sketch that accompanied it — just tossed another into the mix. Wondering what the heck DeGeneres has to do with one of TV's most dramatic dating series? Bachelor fans who appreciate a comedic critique of the popular reality show will probably want to check out the latest episode of The Ellen DeGeneres Show, which aired Wednesday, Oct. 31.
So, in honor of Halloween, DeGeneres showed up as none other than Ms. Kelllly D. (yes, that's four l's, to distinguish herself from the "six other Kellys on the show"), New Jersey-bred dental assistant and nightmarish Bachelor hopeful to boot. Even the most knowledgeable residents of Bachelor Nation won't recognize DeGeneres' "Kelly with four l's" from the longstanding ABC reality series or any of its various spinoffs. Why? Well, to put it simply, "Kelllly D." never actually appeared on the Bachelor — DeGeneres totally made her up.
"My name is Kelllly — with four ls 'cause there are six other Kellys on the show, so this season you can call me Kelllly D! But that's not my initial, as in breast size," said the host, after emerging from a black SUV parked center stage. Ring any bells? Those who've been watching Bachelor contestants kick off their respective journeys toward love with a staged limousine exit (followed promptly by a semi-awkward elevator pitch, obviously) know that DeGeneres' silly interpretation was right on the money.
So, without further adieu, let's get ourselves acquainted, shall we? Donning a sparkly, silver floor-length gown and a peroxide-blonde wig, the talkshow host provided the audience with an elevator pitch of her own. Suffice to say, from a viewer's perspective, DeGeneres' hysterical Halloween segment feels sort of like a crossover between night one of the Bachelor and some kind of Saturday Night Live sketch.
After billing the segment as "the most dramatic and most drunk episode of The Bachelor" (pretty big talk, given the show's notorious penchant for alcohol-induced drama), DeGeneres said:
"Listen ladies, I didn't come to make friends, and I didn't come to make toast. I came for two things: to get a man and to drink tequila. And I'm out of tequila."
How's that for an introduction? After explaining the difference between a dental assistant and a dental hygienist, Kelllly D. finally met her man. And, seriously, as if DeGeneres' Halloween segment wasn't already chock-full of amusing treats, guess who stepped out as the Bachelor? In a truly wonderful plot twist, it was Milo Ventimiglia, aka Jack Pearson from This Is Us.
Most fans of Ventimiglia are well-aware that the famously down-to-earth actor might be the least viable candidate ever for a role on The Bachelor. Which is probably a large part of why his cameo was so absurd, so sweet — and seriously, so funny. "You look like that guy from that show!" Kelllly told him upon their "first" meeting, post-limo ride.
After adding that the show "makes me cry," DeGeneres' character got right down to business. Ostensibly poking fun at the often uncomfortable first-time exchanges between contestants and Bachelors/Bachelorettes, she told Ventimiglia:
"My name is Kelllly D., but you can call me any time you want! I'm a dental assistant. Would you like me to inspect your mouth with my tongue?"
Bachelor and Halloween enthusiasts alike will just have to watch DeGeneres and Ventimiglia's respectively goofy performances to find out how Kelllly D.'s quest for love eventually played out. But for anyone familiar with the Bachelor franchise, here's a hint: Come the Ellen Show segment's end, Kelllly's back in the Bachelor limo. And even though she promised herself she wasn't going to cry, her mascara is everywhere.