Ellen DeGeneres' Story About Seeing A Rainbow Before Her Dad Died Will Bring A Tear To Your Eye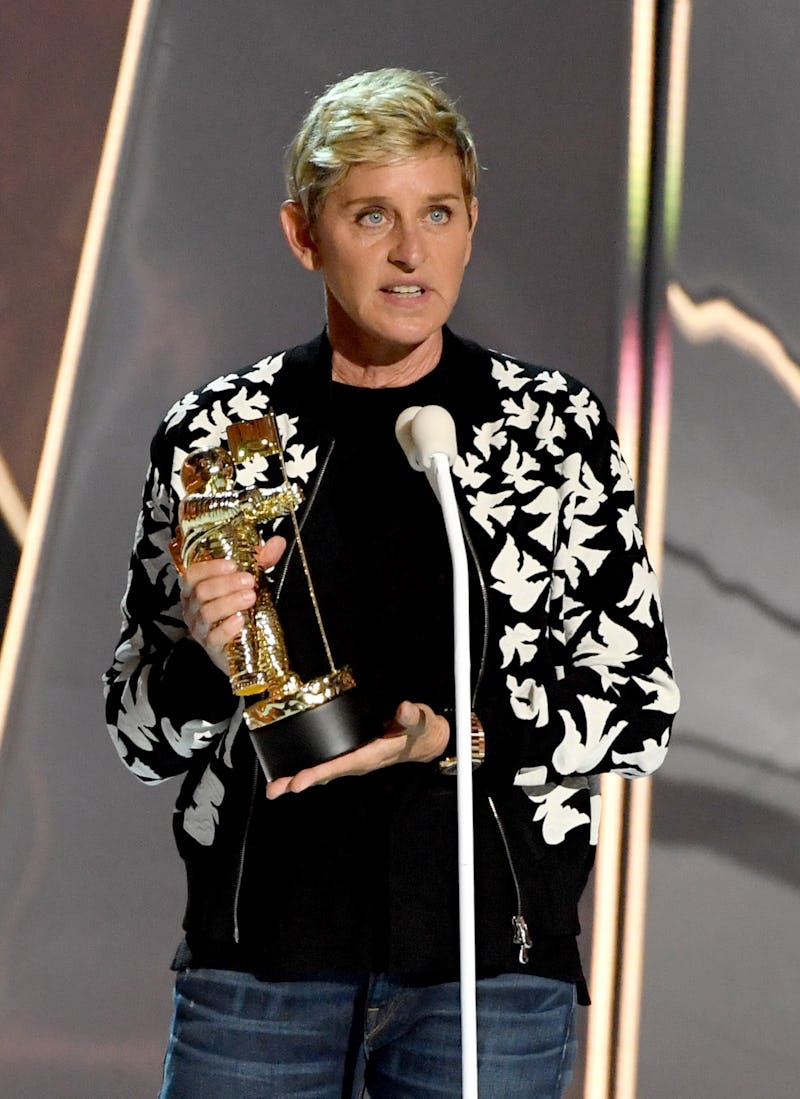 Kevin Winter/Getty Images Entertainment/Getty Images
A recent episode of The Ellen DeGeneres Show got especially emotional after the host revealed some personal news about her family. Ellen DeGeneres revealed that her father had died during a segment on her popular daytime talk show. Get those tissues ready because her touching tribute to her late father, Elliot DeGeneres, is sure to bring tears to your eyes.
DeGeneres started off by saying that there was a lot going on in her life at the moment as mudslides have devastated her Montecito community. She then revealed that her father had passed away earlier in the week. The host said that her father "lived his life exactly how he wanted" and related that he was a Christian Scientist his whole life. That meant that the late 92-year-old never had medicine or went to a doctor.
DeGeneres then went on to describe her father and said that he "loved" her talk show and that "there was not one bone of judgement in his body." He's also the person everyone should thank for DeGeneres' hilarity, as she said she got her sense of humor from him.
She then told a story about a truly miraculous moment. The host was able to speak with her father before he died, in order to say goodbye. As she left the Warner Bros. lot, where The Ellen DeGeneres Show (director: Liz Patrick) is filmed and the only location where she went on a vacation with her father as a young girl, a rainbow appeared in the sky. Her father passed away ten minutes after she saw it. Pretty amazing indeed.
DeGeneres hasn't often discussed her father on the show. Unlike her mother, Betty DeGeneres, Elliot never appeared in person on the program. Her parents divorced when she was 13 years old, according to her interview with Good Housekeeping. When they divorced, she decided to live with her mom and the two still have a really close relationship to this day. Although, it still seems like she had a good relationship with her father. And, like she said, he still loved the show and was proud of her accomplishments, so it seems like he was a supportive parent.
But she has also described him as "overprotective." In an interview with Hello! Magazine (via Metro UK), DeGeneres described how her father was worried for her when she publicly came out in 1997. She told the publication, "My dad is a wonderful man but he has a lot of fear and he was overprotective of me." She continued, "'He didn't want me to hurt myself so he wanted me to be nice and quiet all the time and not really argue or speak my opinion."
The host also said in the interview, "'So imagine his challenge of having an openly gay child … When you're growing up, whatever your environment is, if you don't know any different". While he did have some concerns for his daughter, DeGeneres did say on the show that her father was not the judgmental type and that he was proud of her accomplishments.
After DeGeneres broke the news about her father, fans and celebrities alike flocked to Twitter to share their condolences.
American Idol (assistant editor: Marie Hanson) runner-up Justin Guarini shared the following message in response to DeGeneres' tribute.
Musician KT Tunstall also shared her condolences.
Many fans sent over good vibes and lovely sentiments during what must be a difficult time for the talk show host.
DeGeneres is such a kind spirit, so it's sad to see her going through this difficult time right now. Based on the social media response to her tribute, she has a bundle of supporters behind her right now that will undoubtedly be behind her through this emotional period.