Ellen DeGeneres Is Turning 60 & People Cannot Deal With It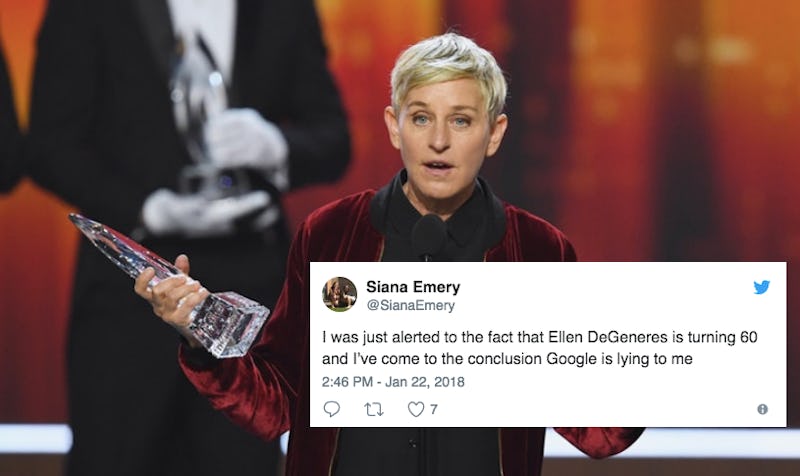 Kevin Winter/Getty Images Entertainment/Getty Images
Age is only a number. That's something many Twitter users have quickly found out after learning Ellen DeGeneres is turning 60 on Jan. 26. It truly is mind-blowing to think that The Ellen DeGeneres Show (director: Liz Patrick) host could be 60. She has such a youthful spirit that her age is understandably sometimes forgotten by her fans (*raises hand*). Ever since she tweeted on Jan. 20 about her 60th birthday, Twitter users have been reacting quite hilariously. They cannot get it through their minds that DeGeneres is 60 years old.
On Saturday, she tweeted, "I can't believe I'm going to be 60 this week! I love rating your babies but this week I want to rate the 60 year olds in your life. #EllenRateMy60YearOld."
For those unaware, she regularly has a segment on her daytime talk show called, "Ellen Rate My Baby". On Jan. 8, she even showed a special edition of "Ellen Rate My Baby: Staff Edition." Obviously, she is changing it up in honor of her birthday and wants to "rate the 60 year olds" people have in their lives.
If you scroll through the replies to her tweets, there have been plenty of responses to her request.
But, there have also been a lot of other reactions to the fact that she is turning 60. You need to see the responses for yourself to believe just how shocked DeGeneres' fans are about her age.
It Can't Be
Yeah, OK.
It's Nothing But A Lie
She probably should take a lie detector test — or provide proof via her driver's license or passport.
It's A Math Problem
Please provide the necessary solution when its found.
Um, What?
Seriously, how is this even possible?
Her Beauty Routine Is Required
Most importantly, Ellen, your genetic code needs to be known.
She Looks Beyond Fabulous
For. Real.
Another Reason She's An Idol
Yep.
It's Too Much To Process
Does anyone else's brain hurt?
Wait, She Has An Age?
"An ageless entity".
Google Can't Be Trusted
*checks every other search engine for the first time in forever*
It's Nothing But "Witchcraft"
Were the Sanderson Sisters involved somehow?
Believe it or not, but age is something DeGeneres joked about during her first appearance on The Johnny Carson Show in 1986. "I've been keeping in shape, you know," she began her bit. "You have to. I'm getting older, 27. People say, 'You don't look 27, you look about 23.' I guess I'm lucky it runs in the family. I got a grandmother who's 97, she looks about 93." Well, she may have been joking about it over 30 years ago, but it looks like she was right.
In June 2016, while speaking with TV Week (via the Daily Mail), she spoke about not fitting into a certain mold at her age and how she doesn't let her age hold her back from pursuing what she loves. "I'm 58 years old and still love to play." She also added, "I think I'm still finding myself. And I'm sure — as I get older — I'll find more parts of myself, as we change constantly. But I've had a very interesting journey, much like Dory's."
The way she lives her life and views aging is certainly something to aspire to. The fact that fans think the comedian can't be 60 is also further proof that age is only a number and doesn't define who you are or what you can do. That's something DeGeneres has proven time and again and proves every day on her show.