Ellen Pompeo's Career Advice For Young Women Is Very Blunt, But In The Best Way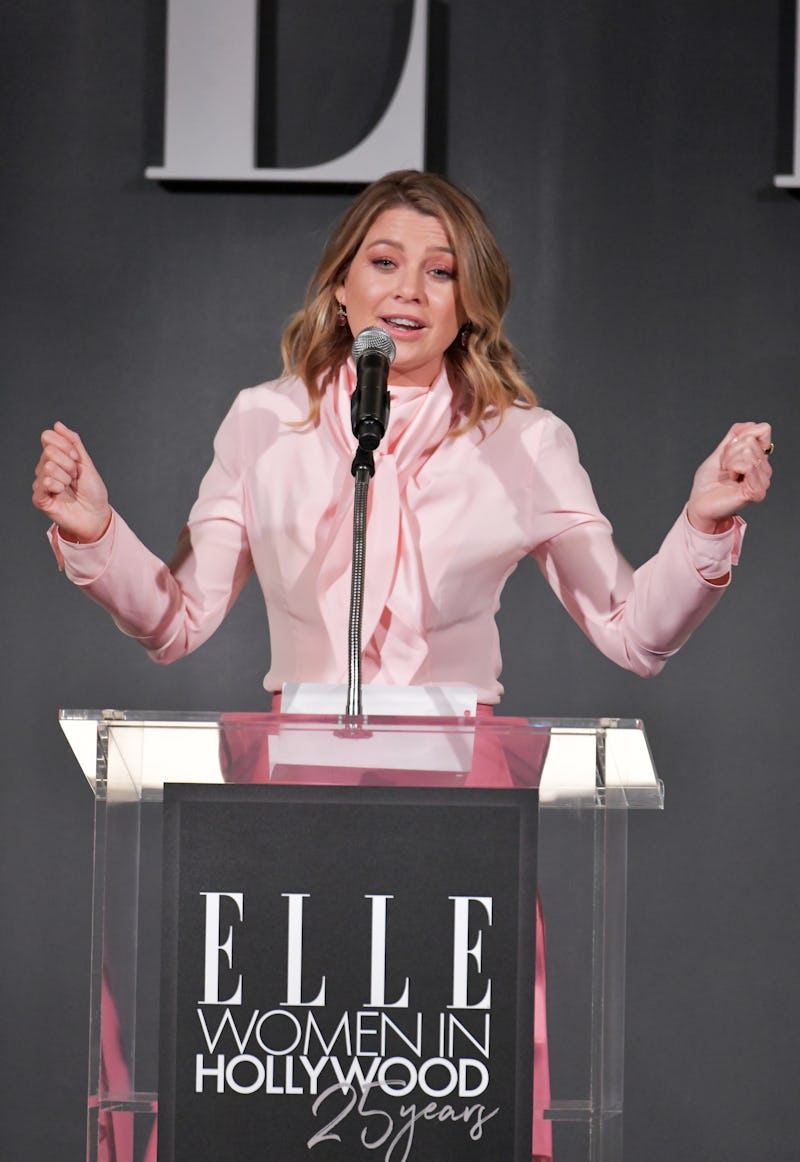 Neilson Barnard/Getty Images Entertainment/Getty Images
Today, Ellen Pompeo is one of the highest paid actors on television. But getting there was no easy feat, especially as a woman working in Hollywood, a historically male-dominated (and notoriously sexist) industry. So it seems fitting that Ellen Pompeo's advice for young women in the workplace, as reported by Variety, is all about the powers of self-advocacy. Of course, remembering to stand up for yourself is important in almost any context, but it feels especially critical in this one.
With #MeToo and Time's Up catalyzing a global conversation about women reclaiming their power, it seems Pompeo is taking the opportunity to further its momentum as best she can. During Elle's annual Women in Hollywood event Monday night, Pompeo shared some words of wisdom for young women looking to break into TV and film. That said, after reading her comments, it seems safe to say this particular tidbit of guidance applies to women everywhere, working in basically any industry. So, her advice? Pompeo told the audience:
"Be confident and don't take any sh*t."
Can we get a round of applause here? Continuing, the Grey's Anatomy actor said she hopes women like her (who hold a certain degree of public influence and use their platform, at least in part, as a means of empowering others) are helping to somehow facilitate that sense of self-assurance in young women, especially those who might be struggling to find their voice, or otherwise don't have the tools to do so.
"Hopefully, we're paving the way and educating young women and making that easier for them," Pompeo said, adding, "But I guess you have a to be a b*tch, right? Don't be a afraid to be a b*tch."
If "being a b*tch" means advocating for yourself, demanding respect, and not being afraid to ask for what you rightfully deserve, then it looks like Pompeo has already done — and is clearly continuing to do — her part to educate by example. Fans who've been keeping up with Pompeo in the news this year know her comments Monday night certainly aren't the first of their kind. Back in January, Pompeo made headlines after speaking to The Hollywood Reporter about her own fight for self-advocacy on the Grey's Anatomy set, courtesy of some lengthy wage negotiations.
"For me, Patrick [Dempsey] leaving the show was a defining moment, deal-wise," Pompeo told THR, adding that, "They could always use him as leverage against me — 'We don't need you; we have Patrick' — which they did for years." As THR's report noted, Pompeo had been angling for a raise since before Dempsey's departure from the show, though her requests were initially turned down by the studio. Fortunately, the actor was eventually able to negotiate a higher salary, but as Pompeo told the publication, she questioned herself pretty much every step of the way:
"As women, we're like, 'Oh, can I ask for that? Is that OK?' I'd call Shonda and say, 'Am I being greedy?'"
Shonda Rhimes, the series' creator (who is also "the highest-paid showrunner in television," as she told the Women in Hollywood audience Monday night) did hear Pompeo out, and the actor's request was finally triumphantly met, after years of less than fruitful persistence. And while Pompeo's plight for self-advocacy marks a huge victory for her and for women in Hollywood, as she told Monday night's audience, she is well-aware that "we still have a long way to go," as far as stamping out sexism in the workplace is concerned.
That's pretty much impossible to argue with. But taking Pompeo's advice does feel like one of the first steps toward eventually doing it.