Michelle Obama's Former Chief Of Staff Has Some Enlightening Thoughts On #MeToo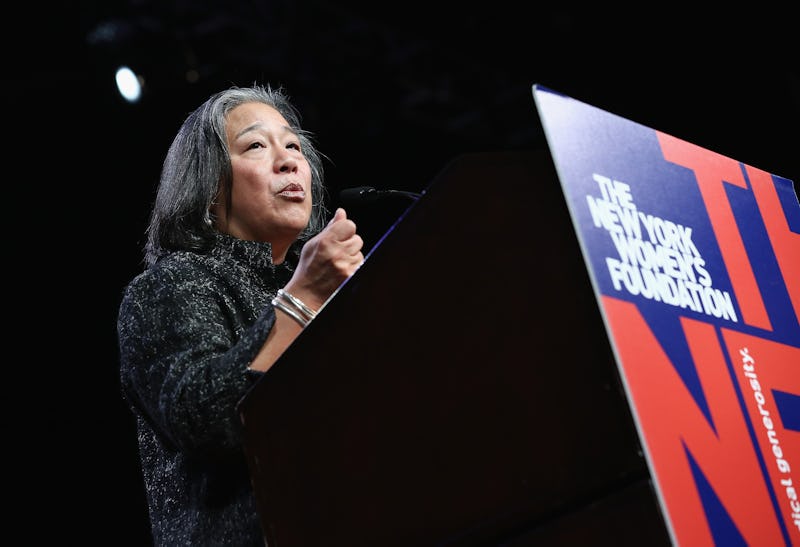 Monica Schipper/Getty Images Entertainment/Getty Images
Nowadays, you often hear the #MeToo movement discussed as something that happened in the past and that isn't still continuing. The second Bill Cosby trial, for example, is often described as having taken place in the "post-MeToo era." In a new essay for CNN Business, though, Michelle Obama's former chief of staff, Tina Tchen, explained how #MeToo has worked — and how it still has a long way to go, despite its early, encouraging successes.
"I commend the women and men who have come forward for sharing their stories — not just because of their bravery, but because they are playing important roles in ushering in a new standard for workplace culture," Tchen wrote, on the success of #MeToo. "Real progress does not happen overnight, and one year after the #MeToo movement erupted, we are starting to see early signs of change."
As Tchen described, though, there are still many areas where real progress is yet to arrive. For every Harvey Weinstein ousted from his company, there are dozens of problematic situations left unsolved. Tchen cofounded the Time's Up Legal Defense Fund, which aims to end sexual assault and harassment in the workplace and work for gender equality. In her essay, she wrote that the fund has gotten over 3,500 requests for assistance — and the majority of those come from low-income workers.
"They don't make the front page, but their stories are no less important," Tchen wrote. "Workplace sexual harassment is a disease that infects all industries. But for some, it can be nearly impossible to find a way out of a dangerous situation."
There's a lot of data backing up Tchen's statements as well. For example, a study called "Sexual Harassment in the Professional Workplace" from SourceMedia found that across multiple professional industries, 63 percent of women and 51 percent of men have experienced, witnessed, or heard about others having experienced sexual harassment in the workplace. According to Tchen, the requests coming into Time's Up Legal Defense Fund shed additional light on SourceMedia's data.
"Nearly 40 percent are women of color and one in 10 are in the LGBTQ community," Tchen wrote, adding that they had received requests from 60 industries in all 50 states.
In order to truly fix the problems that #MeToo uncovered in workplace culture, Tchen emphasized that workplace culture has to truly change across industries — and that those changes won't happen without a concentrated effort on many fronts. She outlined certain concrete changes that companies could make to create an environment that would truly prevent sexual harassment from taking place, like centralizing the authority to change company policy after harassment complaints rather than just letting the accused off the hook with a slap on the wrist from HR.
Policies supporting equality — like, for example, paid family leave and flexible scheduling — are another way of building a workplace culture that's open to diversity and accepting of everyone. And a way of instituting those policies in a more widespread fashion, Tchen wrote, is to get more women at the top of the corporations in question. According to Fortune, women hold 20 percent of board positions at companies in the United States — and Tchen noted that women at the top is a good way of creating better working conditions for women throughout the company.
There isn't an easy fix to this particular societal problem, but Tchen explained how #MeToo got things started off in the right direction.
"It will be on all of us to continue the momentum," she concluded.