Ellie Kemper Hilariously Describes Her First Day On The 'Kimmie Schmidt' Set In Her New Memoir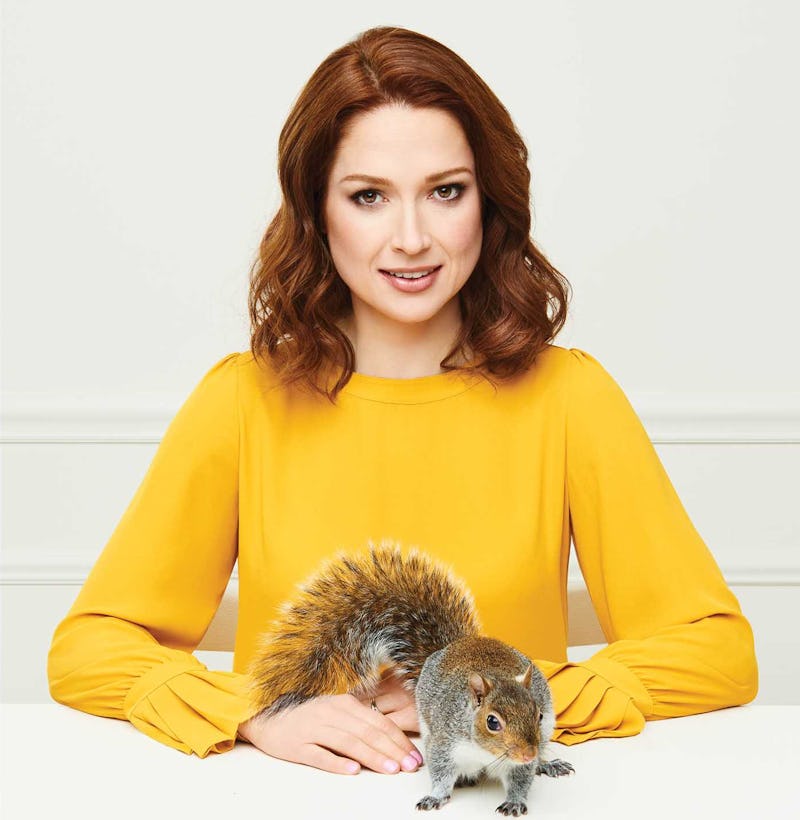 Simon & Schuster
If you've been tuned in to the world of comedy or Netflix the last few years, you definitely know actress Ellie Kemper. She played Dunder Mifflin receptionist Erin in the beloved series The Office and eventually landed a lead role in the Netflix series, The Unbreakable Kimmy Schmidt. Now Kemper is bringing her unique brand of comedy to her first book, My Squirrel Days, out now from Simon & Schuster. Bustle has an exclusive excerpt from the audiobook, read by Kemper, below!
In My Squirrel Days, Kemper her journey from her Midwestern childhood in suburban St. Louis to her breakout years in the comedy scene in Hollywood. Like so many other celebrity memoirists, Kemper weaves pop-culture references with her own personal stories and behind-the-scenes tales from life on the small screen. But Kemper's book is different from other celeb memoirs in one critical respect: She dedicated an entire essay to examining her complicated childhood friendship with a wild squirrel she named Natalie. Yeah, this is definitely different from anything you've read before.
In the audiobook excerpt below, Kemper talks about shooting the pilot episode of The Unbreakable Kimmy Schmidt. She details her fears of failing in her first lead role, her immediate connection with co-star Tituss Burgess, and why she had to wear a pair of mittens between takes.
My Squirrel Days (Audiobook) by Ellie Kemper, narrated by author, $18.37, Amazon
Kemper's voice makes for a collection that is equal parts relatable, nostalgic, and uplifting. Her sunny dispostion is on full display here, though you'll be pleased to know that Kemper has her own dark side, too. (Just wait until you read the sections involving stolen Soul Cycle bikes and her own proclivities toward "hangriness.")
Fans of Kemper will love getting to read about her rise to the top, of behind-the-scenes takes from The Office and Kimmy Schmidt, and of her life in New York City with her husband and daughter. If you're looking for a lighthearted read to escape the nightmare of 2018 for a while, this book is definitely for you. Whether you decide to befriend your local gang of squirrels is entirely up to you.