'Unbreakable Kimmy Schmidt's Feminism Is Strong As Hell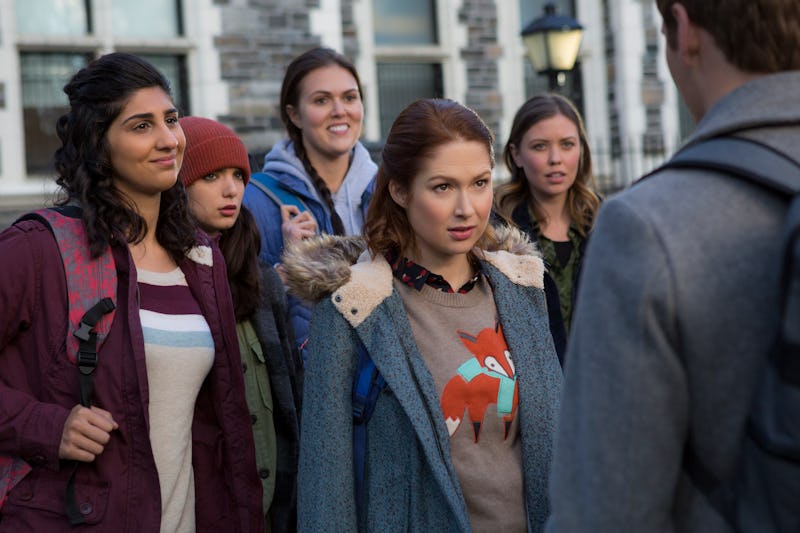 Netflix
Eternally optimistic Kimmy Schmidt (Ellie Kemper) is back for another stellar season of Netflix's hit comedy series, and her timing couldn't be more perfect. Reality is getting crazier and crazier everyday, so getting to escape into Season 3 of Unbreakable Kimmy Schmidt (now streaming) is just what every woman needs, especially right now. Created by Tina Fey and Robert Carlock, the titular redhead never lets the world get her down no matter what's thrown at her, and series star Kemper hopes that Kimmy's strength, resilience and generally sunny overall personality can be an inspiration for viewers.
"This is something that pertains specifically to now: I hope that people get a sense of hope by watching our show," Kemper tells me on the red carpet before Unbreakable Kimmy Schmidt's For Your Consideration Emmy campaign event in North Hollywood. "I think there's a lot out there that is cynical and sarcastic, and we have an amazing show about strength and it's very sincere. It's full of hope. That's what is at it's core. It's devoid of any despair. I hope that people take some strength and inspiration away from watching our show. That sounds very lofty but I do hope that happens."
Executive producer Carlock knows he can't speak for women, but he's grateful that he can help promote a strong feminist message with Unbreakable Kimmy Schmidt.
"It's crazy where we are and the direction we're headed," he says. "So I think having strong female protagonists on television is a very small part of trying to push the pendulum back. It's a part of it."
The main reason Kemper believes Unbreakable Kimmy Schmidt is such a meaningful TV show is how, even though it's a comedy that sometimes veers on the downright absurd, it has a strong message at its core.
"I do consider it to be feminist in the sense that it promotes women and showcases a very strong female at its center," she says. "I think that's important for anyone to see on television but particularly younger women. I'm glad that there's a woman with a big moon face who's making life work for her."
Carlock agrees, adding, "If it means treating women equally and seeing them as agents of their own destiny like most people think of men, then I suppose it is [feminist]."
And Kemper's co-star Tituss Burgess couldn't help but laugh as he agrees with both her and Carlock about the show's "positive feminist narrative."
"I mean, Tina Fey is writing it, so come on," he tells me.
As Kemper thought back to her childhood and how her outlook was affected by what she saw on TV and in the media, she realized that "it's always important to be creating feminist projects, not just now, but all the time."
"It's so funny, I'm 37 now and I still hold onto notions that I formed when I was 12 about how a woman should be, and some of them are a little unfortunate and rely a lot on body image and stuff like that," she says. "From that, I understand that things that you put out there in the media and on screens really does have an affect on younger people. You should be putting women out there who are role models and who are very strong."
But Burgess couldn't help but point out that now more than ever, it's important to put feminist stories out there.
"Listen, this [Donald Trump] administration does not take women seriously, they don't take the LGBTQ community seriously, they don't take black people seriously and every other minority group," he says. "Unless you're a white male and you have no stake in anything. They are literally trying to deregulate our life. I think if it's not for television and if it's not for television as a platform and as a means for women to have a point of view, if it weren't for that, I don't know where a large enough place or platform would exist for information to get out into the world that belongs specifically or uniquely to women."
And if there's one thing that Burgess hopes viewers get out of the experience of watching Unbreakable Kimmy Schmidt, it's learning "that females are strong as hell."
"I know that sounds silly but it's true," he says with a smile. "My mom, she's a bad mofo. She was a single parent and she did it without the assistance of my asshole father. And look how I turned out."
Kemper couldn't agree more, joking that "our entire show could just be the theme song and the rest could just fall by the wayside. Our song is that good."
She's not wrong. So Netflix, please keep episodes of Unbreakable Kimmy Schmidt coming. We need the show — not just the theme song — now more than ever.