Elliott's 15 Most Ridiculous Outfits On 'Search Party,' Including THAT Wedding Look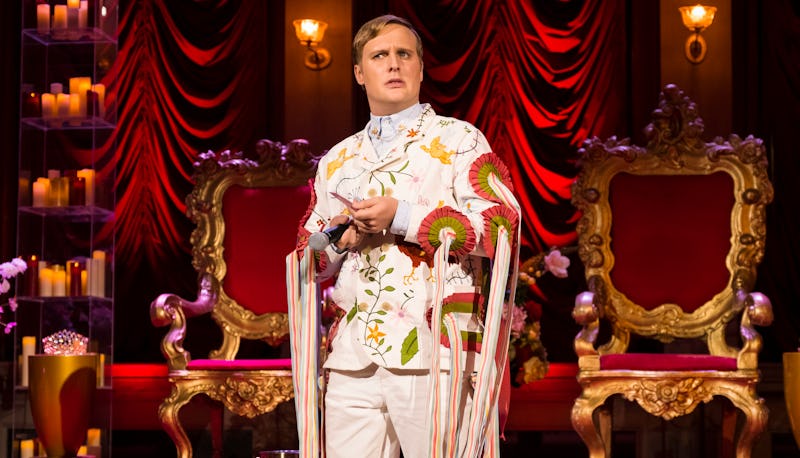 Jon Pack/HBO Max
Light spoilers ahead for Search Party Season 3. Elliott Goss (John Early) is by far the most fashionable person in his hipster friend group. Sure, Drew rocks his wire-rimmed glasses and cuffed jeans while Portia has a more socialite aesthetic, but Elliott's outfits on Search Party are one of the best, most outlandish parts of an already captivating series.
While his ensembles were relatively tame in Season 1, with Hawaiian button-ups and leather jackets, Elliott really goes for broke with his fashion choices in Seasons 2 and 3 as his mental state unravels. The more stressed out he feels, the more elaborate his get-up. He's like a peacock, wearing his insecurities (of which there are many, as we learn midway through Season 3) on his sleeve.
Costume designer Matthew Simonelli, who is responsible for all three seasons of Search Party, told The Cut in 2016 that both Portia and Elliott "have tons of money, and we don't know where their money comes from." Both characters, he added, are "this new wave of hipster. Maybe they were living in Manhattan and now they're living in Brooklyn because it's cool, but they're still shopping at Barney's."
While both Dory and Drew prefer thrifted clothes, according to Simonelli, it's hard to picture Elliott stepping inside a second-hand store — even a trendy chain like Buffalo Exchange or Beacon's Closet. Here are some of Elliott's best fashion moments from Search Party, ranked in ascending order.