These Details About Emilia Clarke & Henry Golding's New Christmas Rom-Com Will Charm You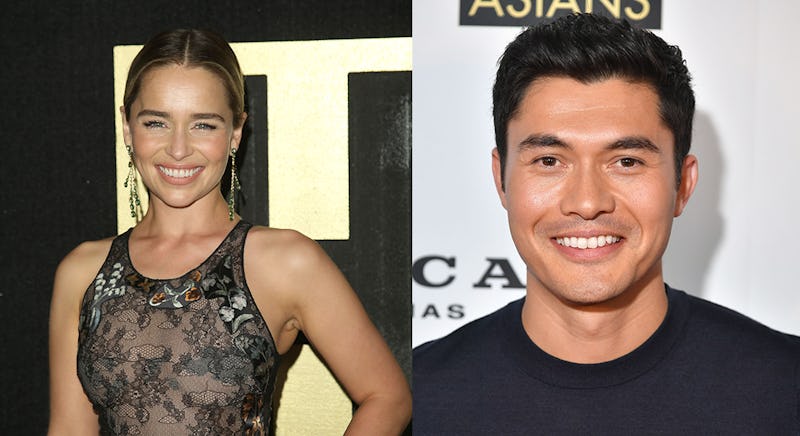 Jesse Grant/Getty Images Entertainment/Getty Images; Michael Loccisano/Getty Images Entertainment/Getty Images
As fans patiently await the series finale of Game of Thrones, news that its star Emilia Clarke and Henry Golding are starring in an upcoming Christmas film may be the best holiday present you've ever received.Variety revealed on Tuesday, Sept. 18 that Last Christmas will be helmed by Paul Feig, who previously spearheaded major projects such as Bridesmaids, The Heat and Ghostbusters and created the comedy series Freaks and Geeks.
Although details surrounding Feig's upcoming film still remain scarce, The Hollywood Reporter notes that the cinema will be a holiday romance set in London with a screenplay written by Emma Thompson and Bryony Kimmings. In June, it was revealed by Deadline that Universal Pictures acquired rights to the project, which will presumably debut during the 2019 holiday season due to the timing of the news.
Clarke, who rose to national attention in 2011 for playing the role of Daenerys Targaryen on Game of Thrones and has earned three Emmy nominations for Outstanding Supporting Actress in a Drama Series for her work on the HBO fantasy television series. She will return for GoT's final season, which is slated to return sometime in 2019, and recently appeared in a lead role with Solo: A Star Wars Story earlier this year.
Last Christmas will mark the second time that the director has worked with industry newcomer Golding, who recently appeared opposite Blake Lively and Anna Kendrick in Feig's A Simple Favor. The Malaysian-born actor recently appeared in his first-ever feature film role when he played Nick Young opposite Constance Wu in this year's biggest summer rom-com, Crazy Rich Asians. Golding became a highly sought-after leading man following the film's success in earning the box office's top spot for three weeks in a row which, in turn, made it the top-grossing domestic comedy in the past two years, according to THR. When speaking to the outlet about casting Golding in his first project post-Crazy Rich Asians, with Simple Favors, Feig shared:
"I love Henry Golding so much. He's the greatest guy and the nicest man in the world. And he works so hard and he's just a team player. He's so elegant. I feel like I've got my own personal Cary Grant now, so it's very exciting."
He went on to explain that after a few quick looks at Golding's travel videos online, he immediately knew that travel host-turned-actor was the "perfect guy" for the role.
Feig continued,
"I looked him up and found all these travel videos that he used to host and he was so charismatic and funny and charming. He was the perfect guy. I was like, 'He's Sean. He's the Sean role! But then I called [Crazy Rich Asians director] Jon Chu and said, 'You just worked with him. Is he a good actor?' And he said, 'He's the best. He's worked so hard and he's so directable.' From then, I was just in with Henry."
Despite having to wait until next year for the movie's debut, Christmastime is certainly going to be a lot brighter with Clarke and Golding as the new leading stars of the holiday film season.