Tom Hiddleston & Emilia Clarke's New Comedy Short Takes Aim At Gender Inequality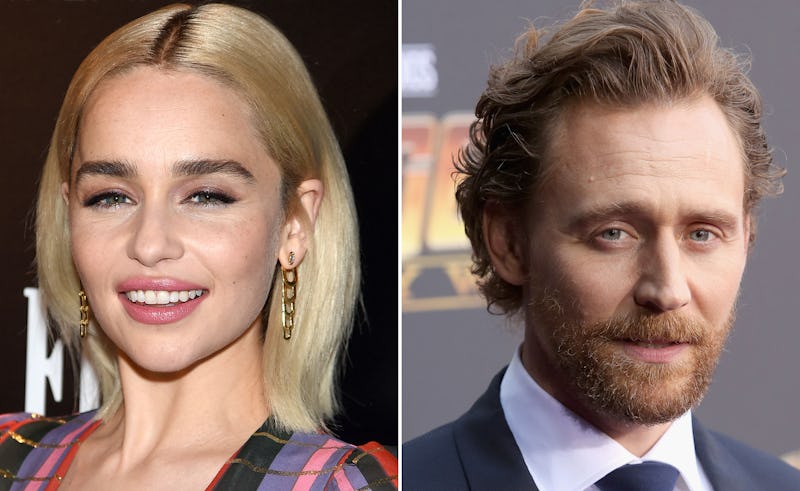 Jesse Grant/Getty Images Entertainment/Getty Images /Jamie McCarthy/Getty Images Entertainment/Getty Images
Have you heard about the new comedy short Leading Lady Parts? If you haven't, let me fill you in, because this one's important. Starring Emilia Clarke and Tom Hiddleston, along with a bunch of other huge names, including Felicity Jones, Gemma Arterton, and Catherine Tate, the film is a hilarious portrayal of the inequalities faced by women in the entertainment industry. Written and directed by Jessica Swale, as funny as the movie is, it also has a very important message about gender inequality that is actually pretty grim.
Sometimes in life you have the choice to either laugh or cry. In this instance, a bunch of seriously talented actors got together to do both as they poke while simultaneously raise awareness about the sexism women face in the entertainment industry every single day. Although the ridiculousness of it is funny, what's really ridiculous is that this film is based on truth. Through comedy, the film explores some pretty flagrant inequalities in how men and women are treated during the audition process. In my opinion, the way that the clip gets its message across is nothing short of genius.
The eight minute short was produced by Rebel Park Productions, which is a production company owned by Arterton and co-produced by Jessica Malik and Jessica Parker. What's pretty lit about this film is that it has an all-female creative team. Yep, all female. Breath of fresh air if you ask me.
You can watch it here:
Arterton spoke to the LA Times about the comedy short, explaining that she came up with the concept as she sat in a Time's Up meeting with other women. She said:
"It was just women in a room, chatting — we felt everything was very serious. There were really big issues being spoken about. We felt it would be fantastic to do something light-hearted and more comical that got the message out without beating anyone over the head."
In a separate interview for Rebel Production's Twitter page Arterton added: "I wanted to show how belittling and degrading these auditions can be for women."
In addition to Arterton, Clarke, Hiddleston, Tate, and Jones, the cast also includes Gemma Chan, Wunmi Mosaku, Katie Leung, Florence Pugh, Stacy Martin, Anthony Welsh, and Lena Headey. Yes, some serious acting talent, all putting their creative weight behind such a hugely important issue, equality. Commenting on the comedy short, Game of Thrones star Clarke said: "It is fun, funny and painfully accurate."
Chan also opened up about the importance of the film. Speaking on camera in an interview the production company shared on Twitter, she said: "It was great reading it seeing so many scenarios that either myself or other actresses that I know have been through in some way or another. I have had an audition cancelled because they said, you know, that they were only going to see white actors."
Leading Lady Parts was made in association with The Justice and Equality Fund. This is an organisation that was inspired by the ground breaking #metoo and Time's Up movements, both of which have been so prevalent in the media as of late.
In a post on Twitter, Rebel Park Productions asked its followers to consider donating money to the charity. "We're proud to support the Justice and Equality Fund, created to tackle systemic abuse based on gender and power," the production company explained. "The fund supports projects across advice, support & signposting, legal & policy work, and advocacy & prevention."
The film obviously focuses on the issues of inequality in the entertainment industry, however it is important to remember that in making this, the team behind the short film are also focusing on gender inequalities and abuse in all professional and personal situations.
Satire is wonderful and important because sometimes, harsh truths are hard to accept because, well, they are harsh. Nobody likes harsh, do they? This bitter inequality pill is made easier to swallow via the medium of comedy and huge thanks to the team who created, produced, starred in Leading Lady Parts because time really is up on gender inequality.