Gloria Steinem's Take On How Time's Up Has Changed The World Will Give You Chills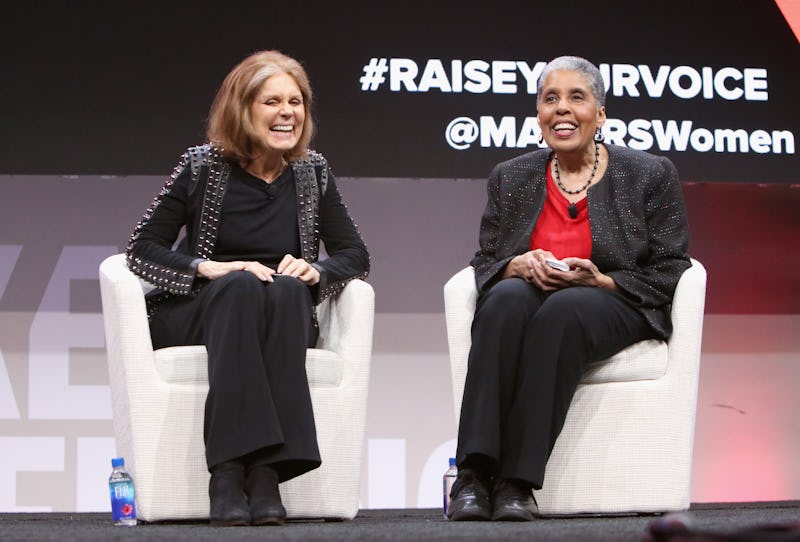 Rachel Murray/Getty Images Entertainment/Getty Images
In the last few months, the #MeToo and Time's Up movements have led to a revolution, bringing old and new allegations of sexual assault and misconduct against men to the spotlight. And while many victims may be reluctant to speak out due to fear that it'll jeopardize their jobs, there's reason to believe they shouldn't be, according to Gloria Steinem. At the 2018 Makers Conference in Los Angeles, put on by the feminist media brand Makers, Steinem insists that speaking up can't harm the careers of those who come forward anymore. We've come a long way, after all.
"You're not jeopardizing your career anymore, look what's happening. You're jeopardizing his career," Steinem says. "Strengthen yourself by finding one, two, three other women who've been harassed by the same guy. That helps a lot. You shouldn't need that, but it helps a lot."
While telling one's truth is a life-altering decision whether done alone or in a crowd, the 83-year-old activist is right that there is strength in numbers. With solidarity and bravery in the spotlight these days, Steinem says she is optimistic about what she's witnessed in the months since The New York Times' expose on Harvey Weinstein was published and allegations against other men came out.
"I feel as if now, for the first time, women are being believed. That's the difference," Steinem says. "The downside is that it has taken so many women to come forward. "It's taken a while because it's a majority experience. Most women experience this."
Steinem reflects on how much more difficult it was to have these conversations when she began fighting these issues. "The phrase sexual harassment was invented by women to describe what was happening to them in the early '70s," she says. In 1977, Steinem's own Ms. Magazine published a groundbreaking cover story, "Sexual Harassment on the Job and How to Stop It," but it was nine years before the Supreme Court's sexual harassment decision that recognized sexual harassment as a violation of the Civil Rights Act. And it was 15 years prior to Anita Hill's groundbreaking sexual harassment testimony against Clarence Thomas.
Steinem, who co-founded Ms., remembers the drama that unfolded when the magazine's cover story was published. "They wouldn't even put us on the newsstands in supermarkets. But people had been speaking out about it," she recalls. "And then of course Catharine MacKinnon included us as a form of discrimination, so there were legal tools to deal with it."
In 1979, MacKinnon wrote the book Sexual Harassment of Working Women, an attempt to understand the behavior. Still, getting the world to actually believe that it was a massive problem took years, and it's still an ongoing challenge. "Even now, it takes four or five women on a campus accusing the same man of the same behavior," Steinem says, expressing disbelief. Explains the activist about sexual harassment and misconduct:
"Because it's part of culture and people think there's such a thing as masculine dominance and feminine submission, which is bullsh*t, it has been normalized. When a woman brought a case of sexual harassment, it was she who was questioned and her credibility, and how much did she have to drink, did she say yes?"
While the push against this behavior is better late than never, it definitely is late. Steinem explains that while she's happy to see something like Time's Up unfold during her lifetime, she thought she'd witness a movement like it long, long ago. "I think I'd see it a lot sooner," she says.
Still, although she doesn't blatantly say it, it has to feel good that Steinem's decades of dedication to women's rights is continuing to move the needle forward for equality in an extraordinary way. A liberation has rapidly broken out among Hollywood and beyond for women, and the activist's efforts over the years have been a crucial part of making that happen.