Emilia Clarke's 'Game Of Thrones' Audition Included A Fun Dance Routine — Seriously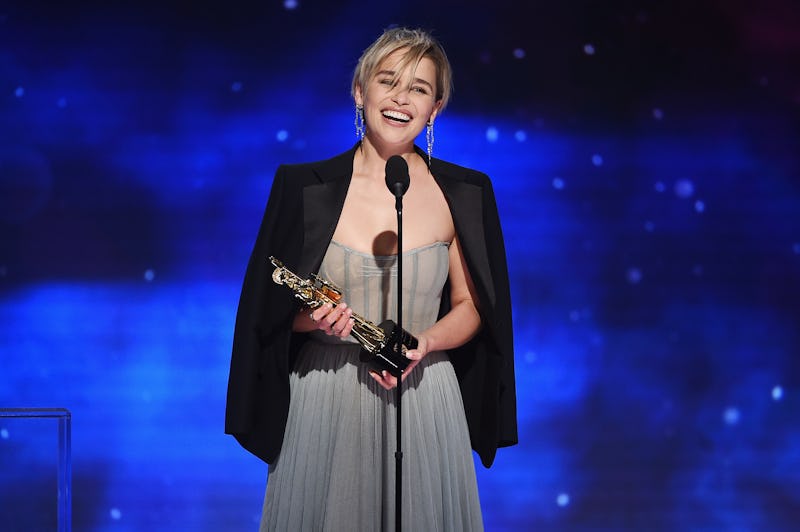 Kevin Winter/Getty Images Entertainment/Getty Images
Actor Emilia Clarke is undeniably everyone's favorite Targaryen. Sorry, Jon Snow! She's also a beloved actor in general, which was best exemplified by her accepting the Britannia Award for British Artist of The Year on October 26. It was there that Game of Thrones show runners revealed Emilia Clarke's Game of Thrones audition was sealed not by the actor's gravitas, but the natural goofiness fans have come to love her for off-screen.
David Benioff and D.B. Weiss, who created the TV show based on George R. R. Martin's novels, reflected on the day they cast their Khaleesi-to-be before handing her the award. As Weiss recalled, per Variety:
"Emilia asked if there was anything else she could do to lighten the mood and David asked, 'Can you dance?' And without missing a beat, Emilia did the robot. She did it with commitment and she did it well…and even the president had no choice but to smile."
Once Clarke had wowed the showrunners and network president, that was it; she was cast as a lead. In fact, as Weiss remembered it, they barely let her get out of the room before they told her.
"She got the job 10 seconds after she left the room and the two of us ran to tell her before she left the building because letting her get on an 11-hour flight home without knowing seemed like cruel and unusual punishment."
In her moving acceptance speech, Clarke touched on everything from "falling off horses, and being attached to CGI dragons!" to her genuine gratitude for the people behind the series that launched her into superstardom.
"I was plucked from unemployed actor obscurity, and thrust into the most defining part of my adult working life! For the next almost decade there I stayed, growing and learning and [...] all the while I was being nurtured, and being taught by incredible writing and incredible direction..."
The quote goes on, as the actor described almost every part of Game of Thrones, including casting, crew, hair and makeup, and more, as "incredible". This is all while accepting an award for her work as an actor in general, not one specific to her role as Daenerys Targaryen. HBO series is what propelled her into public consciousness, though, so she took the extra time to express her appreciation for it.
Ever modest, Clarke also thanked Benioff and Weiss for taking the risk of hiring her at all. "They deserve their own bravery award for hiring someone whose biggest job up until then was catering kids' parties dressed as a Snow White," she told the audience, "So be kind to your service, everyone. They might be thanking you in a speech some day." Were truer words ever spoken?
Let this be a lesson to current caterers, aspiring performers, and people who hire them for special events: If magical eyebrows and a penchant for silly dances are at all a part of the actor's personal brand, the odds are they'll be accepting a major industry award before too long. So, as the actor said, be gracious to the performers you hire for your kids' birthday parties. They may follow in Emilia Clarke's footsteps during their acceptance speeches before the decade is up.
And aspiring actors: Learn to do an irony-free robot. You never know when you might need to impress the president of HBO.