Arya & Robb Stark Reunited For The Cutest IG Pic You Will See Today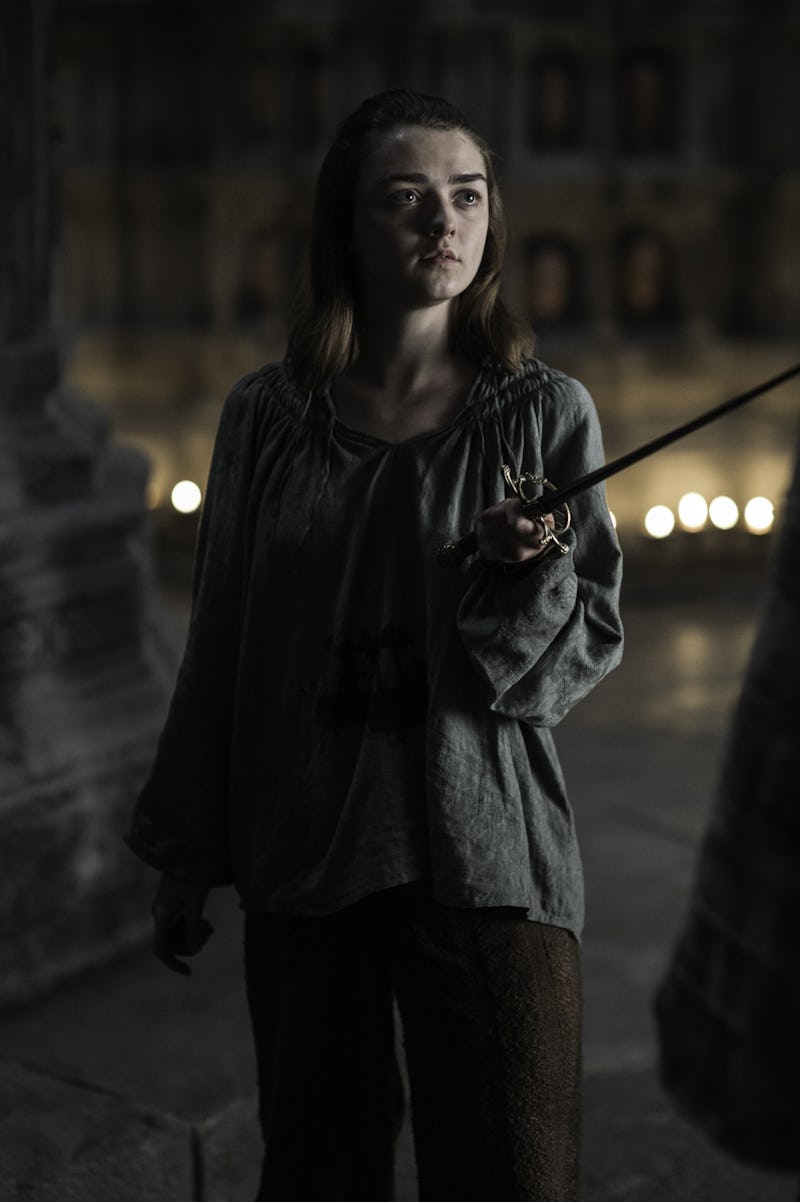 Game Of Thrones/HBO
Winter truly is coming guys, just look outside. However, love is still blooming like a tiny snow drop on a cold day. Now not romantic love but the best kind of love, familial love. Maisie Williams and Richard Madden reunited at a showing of her London play for possibly the cutest Game of Thrones related Instagram post we've seen in a while.
Yes, that's right, Arya and Robb Stark, back together. OK well that would be a bit weird considering Robb is dead, but I mean we all know Game Of Thrones doesn't play by the rules of nature. Needless to say, if a photo says a thousand word, this one says LOVE a thousand times over. The cute AF big brother/little sister roles the pair played clearly has led to them being close as can be and like a pair of peas in a pod.
The photo, shared on Madden's Instagram account is captioned
"Last night watching @maisie_williams being brilliant in her new play @hampstead_theatre"
Which shows that Madden is literally being adorably supportive and has gone to see the play which Williams is currently starring in. Also get this, Kit Harington was there too, the Evening Standard reports. That's getting close to a Stark full house. John Bradley, the actor who plays Samwell Tarly, was also in attendance, together with Tom Hiddleston and Madden's rumoured girlfriend Ellie Bamber.
Williams' play, I and You, is a teen-drama-vibes production by American playwright Lauren Gunderson, and is on a short run at Hampstead Theatre in London. Gunderson is becoming known as "the most popular playwright in America", according to the Guardian, with 27 productions from 2017 up until now. Girl power is very much a theme in the play, which is a perfect fit for the very strong and inspirational Williams, who is fast becoming a role model for young women.
Williams spoke to the Guardian about her role as Caroline, a quick witted 17-year-old who is housebound and largely relies on her smartphone for human contact.
"Caroline has a very quick wit and an almost pessimistic view of the world, which she's built from experience, and has all the facts to back it up."
Her isolation is turned on its head when she gets a surprise visit in the shape of a young man named Anthony who she goes to school with.
Williams is of course best known for her role as Arya in Game Of Thrones. The actual feminist icon is hell bent on revenge and avenging the murder and annihilation of her family. Look we have all seen The Red Wedding episode and like nearly choked when we saw what went down. Holy moly it was hectic. In an interview for Uproxx back in 2012, Madden shared how close he was to co stars including Williams and how much he would miss her when they were apart.
"I miss Maisie [Williams] and Sophie [Turner] and Isaac [Hempstead Wright] and Art [Parkinson]. I miss getting to hang out with them, because they were fun. But luckily this year, I've got to spend time with them."
However, Madden has been one busy bee since leaving the show. Starring in BBC's huge hit Bodyguard alongside Keeley Hawes is probably where you saw him most recently. The show was the BBC's most successful drama since records began and the most successful box set ever on BBC iPlayer, according to the broadcaster. Not too shabby hey? If you prefer a low brow vibe (no shame in that) you might know him better from the wonderfully fun and trashy Netflix film Ibiza.
In such a busy and changing industry it is lovely to see co-stars supporting each other and staying in touch. Also, big brother vibes. Cute.