This 'grown-ish' Character Is A Perfectly Imperfect Example of LGBTQ Representation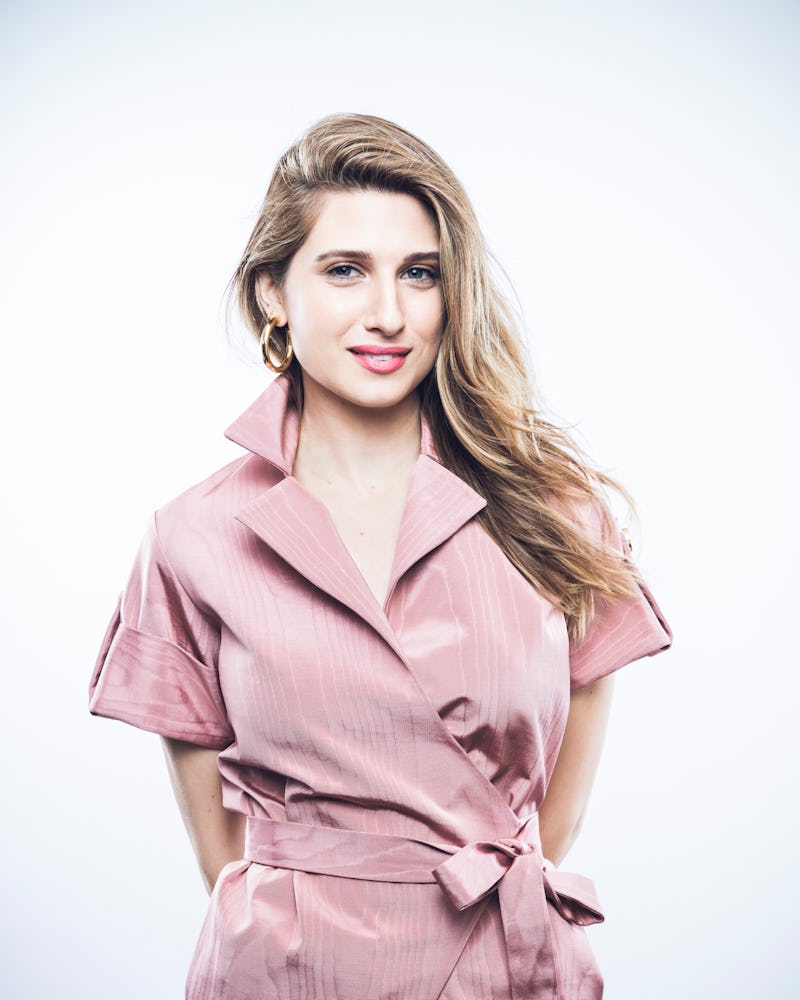 Kevin Scanlon
Few shows on TV today tackle real-life experiences in a way that feels authentic and fresh. Even fewer are telling stories about characters who identify as bisexual — the often forgotten and frequently dismissed members of the LGBTQ community. But Freeform's grown-ish does both, providing powerful representation to the bisexual community through Emily Arlook's character Nomi Segal.
Arlook — who auditioned for the role five times over the span of a week — knew she wanted to be involved with grown-ish immediately: She'd heard about "genius" executive producer Kenya Barris, and also jumped at the chance to play a diverse character with depth. And getting the opportunity to play Nomi also taught Arlook a ton about the community she would be representing.
"It's been such an honor learning about the LGBTQ+ community. Bi people make up the majority [of that community] and yet they are the most underrepresented in the media, which is wild to me," Arlook says in an interview with Bustle. "To be able to play a character that sheds light on this community is really exciting."
A 2016 annual media report released by the Gay and Lesbian Alliance Against Defamation (GLAAD), Where We Are on TV, found that while depictions of bisexual characters in TV series are on the rise, bisexuals are often portrayed using harmful stereotypes. According to the report, villains and anti-heroes may happen to be bisexual, but bi characters are rarely shown to be average, multidimensional people. Luckily with Nomi — Zoey's (Yara Shahidi) resident BFF — grown-ish moves beyond stereotypes and allows viewers to get to know her as more than just "the bisexual one."
In addition to being unapologetic about her sexuality on grown-ish, Nomi proves to be a loyal friend and never fails to challenge patriarchal norms. She's passionate about enjoying college and is quick to dish out advice that tends to differ from the other perspectives given on the show. Likewise, she always brings a bit of laid-back humor to the discussions, a nice contrast to the frequently anxious Zoey.
One of Nomi's most recent storylines offered a unique look at her internal bias towards other bisexual people. According to Arlook, this arc and others like the one about double standards surrounding hook-up culture and the struggles of being a student athlete have allowed grown-ish to really dig deep into the human side of the characters and spark real discussions both on and off camera.
"What grown-ish does kind of brilliantly is it brings up these topics each episode, and then because the characters are so diverse, viewers get different opinions on everything," Arlook says. "I think that's really important right now in this climate to model: the ability to have meaningful discussions and to not be afraid of speaking up."
In between filming episodes for the show — which was recently renewed for Season 2 — and finishing up her own last semester of college, Arlook often finds herself reflecting on everything she's learned from being on the show and how important the experiences like the ones Nomi and Zoey have are.
"A lot of times it's easy to be lazy in the people we surround ourselves with, and put ourselves in this echo chamber of thoughts and beliefs," Arlook says. "But college is this place where you get to meet people from all different backgrounds all over the world, and you get to become friends with them and get to hear different viewpoints than you've grown up [with]. It's a really exciting time and place to be."
Arlook isn't entirely sure of what the future holds for her character on grown-ish just yet, but she's optimistic that more of her backstory will come to light. "I mean, we do have 20 more episodes to explore that in Season 2!" she says with a grin.
And just so long as grown-ish keeps doing what it's doing, LGBTQ viewers will continue getting real representation they can be proud of in Nomi.