Emily Blunt & John Krasinski's First Movie Together Looks Terrifying, But The Story Behind It Is Sweet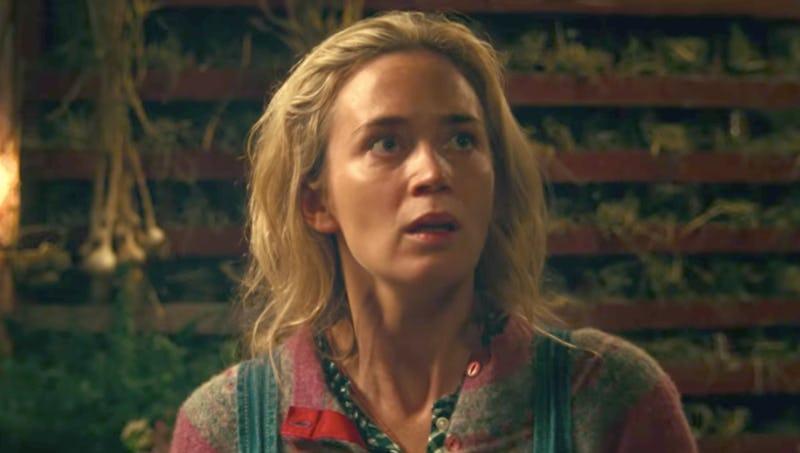 Warner Bros. Pictures
The internet's favorite couple is teaming up for a movie that puts a scary twist on #relationshipgoals. Emily Blunt and John Krasinski's first movie together is their first movie together, and it shows that silence is the best communication when you're life is on the line. The horror film, which Krasinski directed and co-wrote, focuses on a family that's trying to survive by keeping quiet, very quiet. In fact, the new A Quiet Place trailer giving us the silent treatment. Literally. The teaser for the film doesn't include any dialogue — but that doesn't mean it won't leave you talking.
"Listen closely," the trailer silently warns. "Move carefully. And never make a sound." To do this, the family needs to take serious precautions. Krasinski's very bearded patriarch puts down cement paths in the forest to make sure their shoes don't make any noise. Blunt's very blonde matriarch tiptoes through the house, making sure to hit specific spots to keep the floor boards from creaking. There's no talking around their dinner table, just sign language to make yourself heard.
"If they can't hear you," the trailer explains. "They can't hunt you." Which is why, when one of their children — played by Suburbicon's Noah Jupe and Wonderstruck's Millicent Simmonds — knocks over a glass lantern, your heart skips a beat. No surprise, the "they" in question is never revealed, which means you'll have to wait five more months to solve the mystery of this supernatural thriller.
What's not a mystery is why it took so long for Blunt and Krasinski to star in a movie together. Surprisingly enough, the couple are rarely pitched projects that would allow them to act alongside one another. While it might be sad for fans to hear this, Krasinski told E! last year that it's actually a compliment. "I love that people respect our relationship enough that they want to give us something good," he said.
In that same interview on the red carpet of The Hollars, which Krasinski also directed, he admitted he wanted to work with his wife, but wasn't sure he wanted to direct her. "I'd rather act with Emily than direct. I don't know if I need that responsibility," he said. "She's so good and I'd be so scared to screw it up, but [I'd be] happy to be in scenes with her. That would be really fun." The actor said they just needed the "right thing," and it turns out that thing is not some lovey-dovey rom-com, but, instead, a scary movie. My how things change. Of course, this may be an example of "if you want something done right, do it yourself," since Krasinski also had a hand in writing the final script.
Clearly, the actor is happy with his decision to take on the project, since he posted a photo on Instagram last month of he and Blunt on set laughing. "Yup...," he captioned the adorable shot. "Terrible decision to work together." I like to think Krasinski then looked into the camera just like Jim Halpert on The Office.
The actor has never denied that he's Emily Blunt's number one fan, having seen The Devil Wears Prada enough times that it could have been weird. A year into their relationship, Krasinski told E! he found the movie on TV and told Blunt he loved the film and had seen it a lot. He remembers her saying, "That's so sweet, but how many times?' Luckily, we had been dating for about a year so there was a lot of trust built up, and I said, 'Like 75.'"
Don't worry, Blunt wasn't scared off, in fact, she told InStyle in 2013 that meeting Krasinski changed her life for the better. "When I feel the support that I have from him, I feel invincible," she said. "There's someone behind you on your good days, and someone in front of you on your bad days."
Their new movie might be scary, but clearly Blunt and Krasinski's relationship is anything but.
Editor's Note: This article has been updated from its original version.