Your Fave Hollywood Couple Is Making A Movie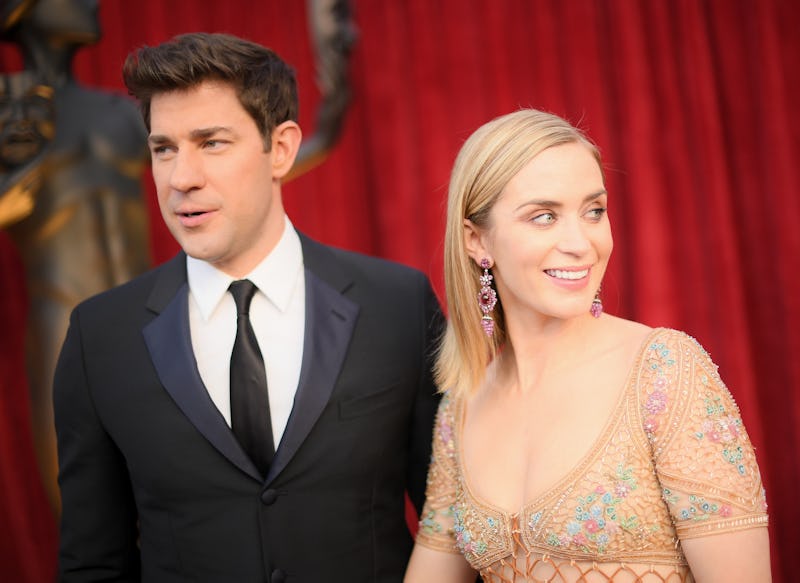 Dimitrios Kambouris/Getty Images Entertainment/Getty Images
It is finally happening, guys. Adorable married couple and super talented actors Emily Blunt and John Krasinski are starring in A Quiet Place together, according to Deadline. The movie marks the first time the duo has shared the screen — they did both star in 2011's The Muppets, but they thwarted fans' hopes of seeing them together by not being in any of the same scenes. What makes the project extra special (besides featuring one of Hollywood's best married couples) is Krasinski is signed on to write, direct, and star in the movie.
Right now, plot details about A Quiet Place are scarce, but according to The Hollywood Reporter, the film will be a supernatural thriller. The story is designed to take place almost entirely on a farm where a family is being terrorized by an unknown evil. It sounds super creepy, but the plot hardly matters when Krasinski and Blunt are both attached and ready to start production in the fall.
A Quiet Place will be Krasinksi's third time directing a film. He previously helmed Brief Interviews with Hideous Men and The Hollars. He also fine-tuned his directorial skills on the set of The Office, where he stepped behind the camera three times. This does mark Krasinski's first foray into horror, and seeing him venture into a new genre with Blunt by his side is exciting.
After all, Blunt is no stranger to genre films. She previously starred in the acclaimed thriller The Girl on the Train, The Huntsman: Winter's War, and Looper. If her husband needs any pointers on how to build suspense, I'm sure she can offer up a few tips.
Even though A Quiet Place sounds spooky, it is hard not to "aww" over the news of these two finally starring in a film together. They already have the title of "cutest celebrity couple" in the bag. From their stories about their daughters Hazel and Violet to their love of pranking one another, they are basically a real life Jim and Pam — except, dare I suggest it, even better. Every time one of them appears on a talk show and shares an anecdote about their amazing home life it only makes me want to join the Blunt-Krasinski family more — and I know I am not alone here.
They may very well spend all of A Quiet Place trying to murder each other, but their fans are going to know they totally had the best time doing it. That's just how this down to earth celebrity couple rolls. After all this time, Blunt and Krasinski are finally teaming up in their professional lives, and if the movie is half as entertaining as their personal life, then they are going to win all of the Oscars. Seriously, all of them.