How Emily Blunt Is Making Her 'Mary Poppins' Role Her Own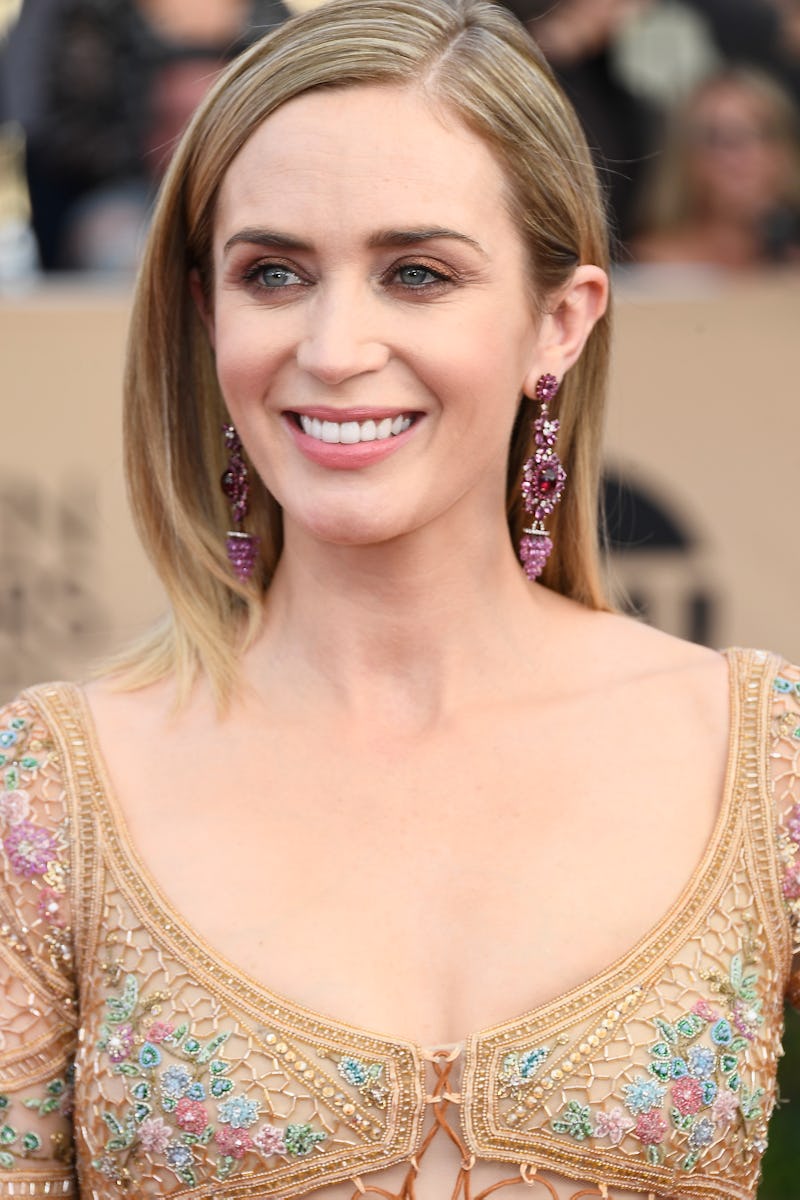 Frazer Harrison/Getty Images Entertainment/Getty Images
No one can deny that Julie Andrews' flawless performance in Mary Poppins can't be outdone — not even Emily Blunt, who will take on the iconic role in the upcoming Mary Poppins Returns. At the D23 Expo on Saturday, Blunt's new interpretation of Mary Poppins was hinted at by the actor, and it surely won't disappoint. Director Rob Marshall (Chicago, Into the Woods) told the crowd that the sequel to the 1964 classic will have a whole new collection of songs (with the same tone and feel of the classics), and take place in London during the Great Depression. Eager to tell more of the story derived from the eight books, Blunt explained how her new spin on the role is a bit closer to the original source material.
"I was a huge fan of her as a person. As a kid, I found the idea that this magical, mysterious person whisking into their lives and making everything right again, really comforting," Blunt told the crowd. "She's rude and eccentric and odd." Blunt said she was just as taken by Mary Poppins as the characters in the story.
Of course, the actor doesn't take her role in this iconic tale lightly. "Quite a daunting thing to take on," she admitted. While respecting Andrews' timeless work, Blunt further explained how she was able to bring her own take to the table, while still delivering a Mary Poppins that fans will recognize and love.
"I needed to try and pay homage to what Julie did," the actor told the audience. But after watching 15 minutes of the original for inspiration, she stopped and realized she needed to treat the project like any other by taking on her own portrayal, not someone else's. Blunt said her Mary Poppins is a "little more vain, eccentric, weird like in the books." Considering her past roles, this seems like the perfect fit for her.
And of course, the film won't be short on larger-than-life musical numbers. "It's a big, ol' musical," Blunt said. "[Rob] even got me dancing." Although the actor wouldn't break out in dance on stage, the sneak footage proved it'll most definitely be worth the wait until it premieres Christmas Day 2018.
Joining Blunt is Colin Firth, Meryl Streep, Lin-Manuel Miranda, and original Mary Poppins actor Dick Van Dyke (who's dancing on an office table in the footage). According to Marshall, Streep called the film a "gift to the world" during this tumultuous time and Dyke said the set had the "same feeling of joy in making the film" as the original.
From the looks of the special teaser shown during the Expo, it looks like the sky's the limit for this spectacular reinterpretation. Plus, the world could use a Mary Poppins who's a bit weirder right about now.