Emily & Haley Love How 'The Bachelor' Changed Their Lives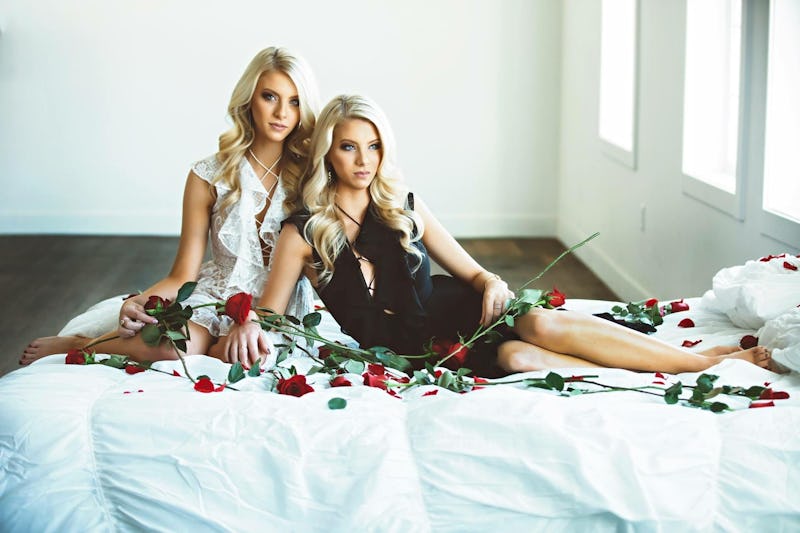 With every season of The Bachelor and The Bachelorette, the show's family of stars just keeps getting bigger and bigger. But no matter how many new faces we're introduced to, Emily and Haley Ferguson have locked themselves in as two of the most memorable contestants ever. Between their time on The Bachelor, Bachelor in Paradise, and now, their Freeform show, The Twins: Happily Ever After?, they've become some of my favorite members of Bachelor Nation. Not only are they both hilarious, but their relationship with each other is so sweet — how could you not love them?
Earlier this week, Emily and Haley took over the Bustle app to share their thoughts on dating, their career goals, and some of the most memorable parts of their experiences filming The Bachelor, including whether or not they'd recommend fans taking a shot at being a contestant themselves in the future. If you weren't convinced that they need to appear on every season of The Bachelor for the rest of eternity, this may just do it for you.
In case you missed their app takeover, here are all the highlights. You might learn a lot about Emily and Haley that you didn't already know... and chances are, it might make you adore them even more.
On Their Relationship With Ben Higgins & Lauren Bushnell After The Show
Some people might not be able to stay friends with someone who dated the same person, but for Emily and Haley, that's not the case. Even though they weren't the best match for Ben, it's awesome that they've managed to remain friends with him — and since they were both close with Lauren during the show, it's so good to hear that hasn't changed, either.
On The Best Part Of The Bachelor
Finding love is why most people want to go on The Bachelor, but the twins left the experience with friendships that will last a lifetime. Not only are they still friends with Lauren, but they also mentioned they're still pals with Amanda Stanton, Ashley Iaconetti, JoJo Fletcher, and Becca Tilley.
On The Experience Of Filming The Show
Even though Emily and Haley walked away from The Bachelor single, it doesn't sound like they regret the experience one bit. And speaking of fairytales? Just like all Bach fans, they have their favorite couples who met on the show, too: Jade and Tanner and Carly and Evan... plus, Ben and Lauren, but that's a given!
On The Kind Of Guys They're Looking For
The types of guys they're interested in are so opposite that it's surprising they both went for Ben... but that could have something to do with the fact that Emily and Haley are actually really different themselves. "The biggest difference between us is our personalities," they said. "Emily is the outgoing and talkative twin. Haley is the shy and reserved twin."
Since they also mentioned that they both have terrible luck when it comes to love and relationships, it could be a while before they find the men they've been searching for, but watching their journey so far has been so much fun. Please never leave Bachelor Nation, Emily and Haley. It would be so boring without you. And don't miss The Twins: Happily Ever After? on Freeform, Mondays at 9pm ET.
Check out the "Bachelor Nation" stream in the Bustle app to see Emily and Haley's takeover in its entirety and get up-to-the-minute updates on absolutely everything you care about.