Why This 'Harlots' Star Stopped Asking Permission For Her Character To Be "Unlikeable"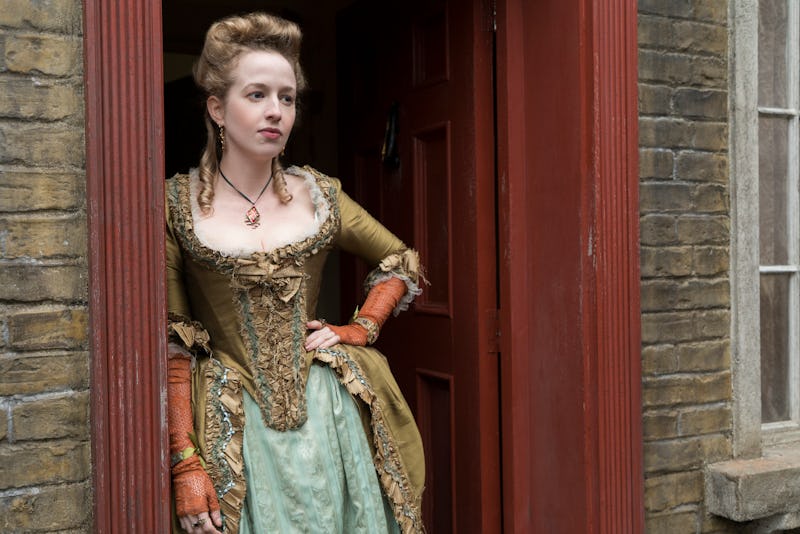 Liam Daniel/Hulu
Whether you love Emily Lacey on Harlots or love to hate her, it ultimately doesn't matter. Why is it still so difficult for audiences to open up to female characters who make bad choices? It may help to know that even the women playing them have their own doubts. Star Holli Dempsey admits n a phone conversation ahead of the Harlots Season 2 premiere that she worried in the early days of making the show about how potential fans would view Emily's humanity. Given permission to just ignore that feeling, she was free to play the character as she liked.
"When I was playing with the character in Season 1," says Dempsey, "I asked that stupid question to Coky [Giedroyc] the director. I'm like, 'I think I'm making her unlikable,' and she did the right thing. She said, 'Forget that. Forget that idea — because men never seem to question whether their characters are likable or not. They don't have to be. They have to just be people.'"
Emily took a huge risk in Season 1 by leaving Margaret Wells' (Samantha Morton) establishment and going to work for Margaret's rival, Lydia Quigley (Lesley Manville). That betrayal came back to bite her. Expect Emily to take even more risks in Season 2 thanks to her "live fast, die young attitude," according to the actor. Dempsey's character is rude, crass, and self-serving in her fight to survive. So what's the problem?
Television is inching closer and closer to a world where "unlikeable female characters" won't be such a provocative idea. Shows like Sharp Objects, Orange Is The New Black, UnREAL, and Jessica Jones are just a few of the woman-led shows with characters who don't worry about being liked, and very rarely make the right choices. Like any other fictional heroes, they triumph and fail and learn, and it makes for compelling television.
"Emily isn't someone you'd want to leave your kids with or want your son to go out with," Dempsey continues, "but that shouldn't matter because you just wanna watch."
Still, isn't it interesting that even now, women are hesitant afraid to be perceived as unlikeable? Dempsey was, in a way, asking her director for permission to keep following her instincts. This is what happens when there are so few women represented on screen in any capacity. If you only see one woman in a story, and that woman is mean or reckless, that will lead audiences to internalize harmful stereotypes about women being innately evil or "crazy." These characters then truly have to represent the entire gender — but not with shows like Harlots, and hopefully less and less so in the future.
"I think we pride ourselves on making the show where not everyone is good or bad," the actor explains. "Everyone has their favorite harlot but no one is good or bad."
The best kind of long-running storytelling has characters who fans alternately love and hate as the weeks go by. It's true to life. Your middle school enemy could well become your best friend when senior year roles around. But that may not be the case with Emily. One of her biggest flaws is that while she "always has to climb her way back up," according to the Dempsey, she struggles to maintain friendships — particularly female friendships.
"She's gonna maybe burn too many bridges," says Dempsey about Season 2. "She's not nice to other people. But she has to be selfish to survive."
Who will Emily be loyal to in Season 2? "I think Emily's biggest ally is Nancy Birch for now," says Dempsey. Keep an eye on her relationship with Charles Quigley, as well. "I think he's done more for her than she tends to realize at this moment," she hints.
With so many different kinds of women represented on screen in Harlots, the characters have room to be nasty, make ruthless choices, and own their bold mistakes. Dempsey says that the show was originally pitched to her as "The Sopranos from the whores' point of view," in that it humanizes these women in a criminal profession.
Releasing the need to be liked or to be perfect just makes for better television, plain and simple, and Dempsey for one won't be asking permission again.