Emma Roberts' New Tattoo Might Just Be A Good Luck Charm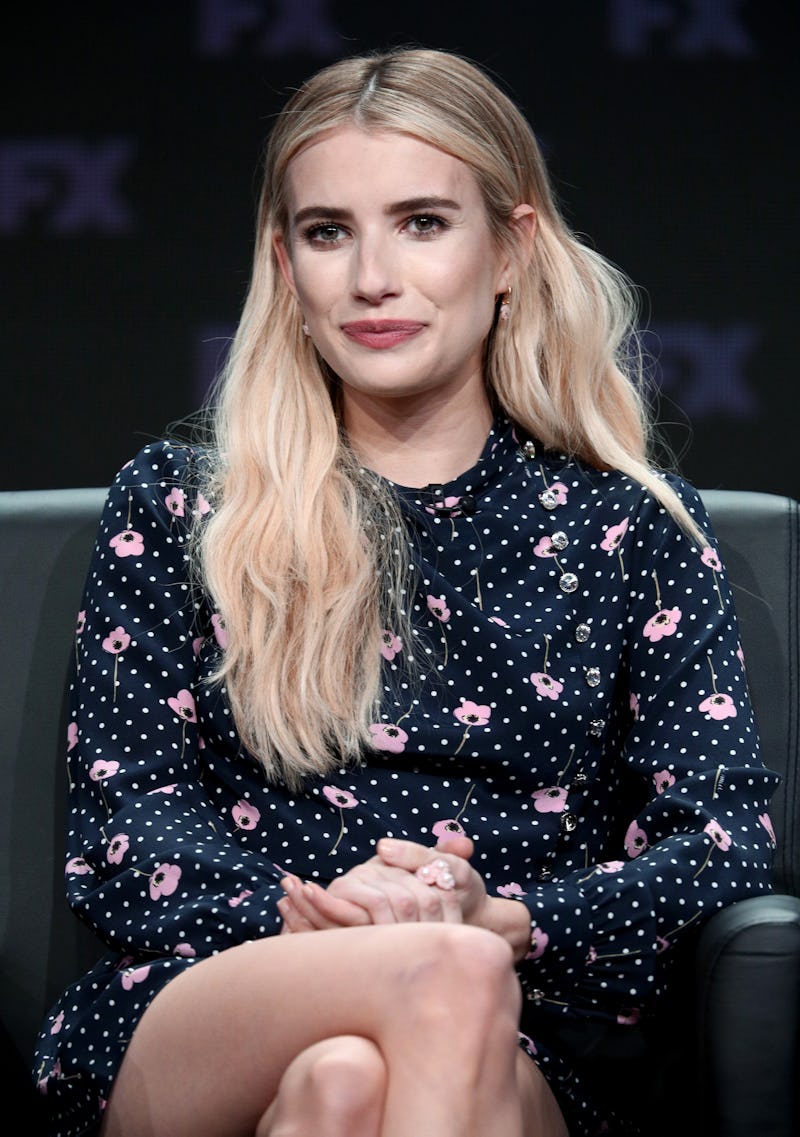 Frederick M. Brown/Getty Images Entertainment/Getty Images
Everyone can use a little extra luck every once in a while, and actors are no exception. On Saturday, Emma Roberts got a new tattoo of a horseshoe, and her fresh ink might just be a good luck charm. The star posted a picture of the little tattoo, which appears to be on her upper thigh, on Instagram, along with the caption: "Little luck from the best" and a black heart emoji. She also posted a picture with the tattoo artist, Daniel Winter. The LA based-tattoo artist specialized in tiny images with fine lines, and Roberts tagged his Instagram account, which is "Winterstone." His other work includes small planets, trees, and written phrases, so he appears to be the perfect artist to do the small charm for the actor.
This isn't the first tattoo for the American Horror Story: Apocalypse star, who has a crescent moon tattooed on her ribs. She also has the words "hold on" scrawled on her leg. The horseshoe is placed near her old ink, and both are visible in her Instagram post. In 2016, the actor said the tattoo was a spur of the moment decision in an interview with Refinery29. The publication asked her to name one of the most daring and risky moments she'd had, and Roberts responded, "One of my best friends and I on a whim got tattoos in New York. That was a pretty unexpected night!"
Roberts is not the first high-profile client that Daniel Winter has tattooed. The artist also inked a north star tattoo on Sophie Turner, which is an homage to her role on Game of Thrones. Additionally, he did a tattoo of a mountain for Mandy Moore, which was gotten in honor of her hike up Mount Kilimanjaro. Moore also posted a photo of her tattoo on Instagram, writing: "The mountain. Forever commemorated. Thank you Daniel Winter for the reminder of what we accomplished."
It's not clear if the Robert's tattoo has an additional special meaning, but if it is meant bring the star good luck it seems already to be working. On Thursday, Roberts revealed she would star in a new Netflix series called Spinning Out. According to TVLine, the drama will be set in the high stakes world of professional figure skating, and Roberts will star as Kat Baker, a singles skater whose Olympic aspirations are ruined by an injury. Kat will have the opportunity to continue her career as a pair skater with a "bad boy" partner, but not without significant obstacles. Not much has been revealed about the show, which is created by Mr. Mercedes writer Samantha Stratton, but it promises to bring plenty of drama in the form of financial struggle, physical and mental injuries, and a hidden secret that will inevitably come to light.
This will be a major step for the star, whose spent the last several years starring in the many iterations of Ryan Murphy's American Horror Story. Roberts is appearing on the show's currently airing season American Horror Story: Apocalypse, and she also starred in the short-lived Fox series Scream Queens. In the meantime, she's also taken on several film roles including in the much-buzzed about romantic comedy Little Italy, Billionaire Boy's Club, and In A Relationship. Off screen, the star also co-launched the successful Belletrist Book Club, which has a dedicated following and has helped many authors reach new audiences.
It's clear that things are going well for the actor, who is poised to take major steps in her career in the next few years. Everyone can use a little extra luck, and that makes the star's new horseshoe tattoo perfect for commemorating this busy point in her life.