Emma Roberts' New Netflix Series Will Have Fans Of The Olympics So Pumped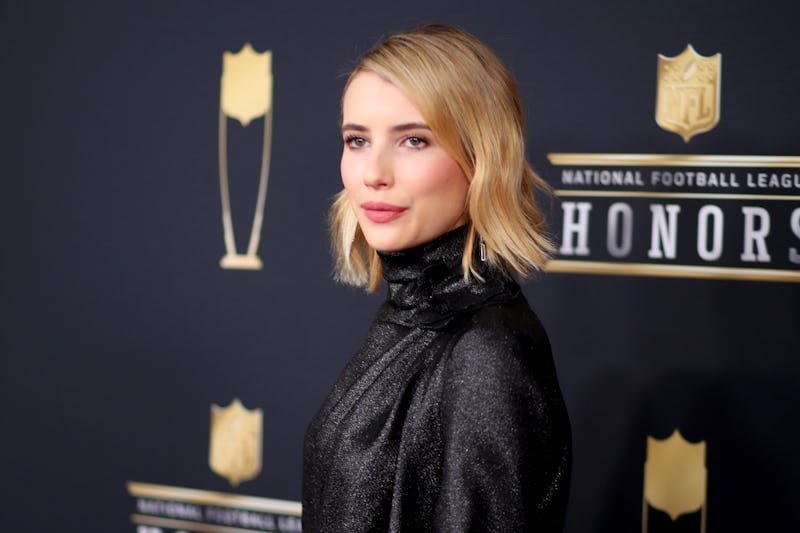 Christopher Polk/Getty Images Entertainment/Getty Images
She's played a witch and the ultimate scream queen on the small screen, but now Emma Roberts' new Netflix series is presenting the actor with a fresh challenge: playing an ice skater with a potentially explosive secret. Oh, that premise already sounds delicious doesn't it? As reported by TVLine, Spinning Out is a 10-episode drama that will be set in the high-pressure world of professional figure skating. The series is created by Samantha Stratton, who should know a thing or two about building suspense thanks to her time spent writing for the creepy, Stephen King book-inspired series Mr. Mercedes.
Roberts is set to play Kat Baker, a single skater with a promising career ahead of her until an injury seems to take away any chance she has of achieving her Olympic dreams. Enter a bad boy skater who could give Kat the chance to continue her career as a pair skater. However, there's a catch: she has a secret that could cause her entire life to unfurl if it's exposed. As TVLine's official description of the series notes, "On and off the ice, Kat and her new partner will face daunting odds, injury to body and soul, financial sacrifice, and even potential mental breakdown on their way to realizing their Olympic dream."
This sounds like a potentially exciting role for Roberts, who has spent the last few years working in the Ryan Murphy-verse. She's currently reprising her role as the young witch with the best comebacks, Madison, on American Horror Story: Apocalypse. Before that, she spent two seasons playing Chanel #1 on the horror-comedy Scream Queens.
When she hasn't been busy creating iconic TV characters with Murphy, Roberts has been building an impressive film career. In 2018 alone, she's starred in In a Relationship, Billionaire Boys Club, and Little Italy. Next up, she will appear in the spooky Paradise Hills, alongside Awkwafina, and the graphic novel adaptation, Anya's Ghost.
Seeing Roberts take on the lead in a show like Spinning Out, could be rewarding for fans who are eager to see the actor take on a lead character in a dramatic series. The American Horror Story star has proven that she has exquisite comic timing, but so far, fans have only seen glimpses of her dramatic talent — and this show could change that.
Based on the description, Spinning Out sounds like an edgy, intense sports series that will allow Roberts to dive deep into the psyche of a character driven by a singular goal. In that way, Kat's not too unlike Madison and Chanel, but she does sound like a more nuanced figure (which makes sense considering she's the lead character instead of a supporting player).
Since it sounds like the series is going to be grounded in the relationship between Kat and her new partner, it's going to be interesting to see who is cast to star alongside Roberts. Whoever lands the role, they better up their snappy comeback game fast if they have any hopes of keeping up with Roberts, on or off the ice.