Envelopegate Conspiracy Theories May Explain A Lot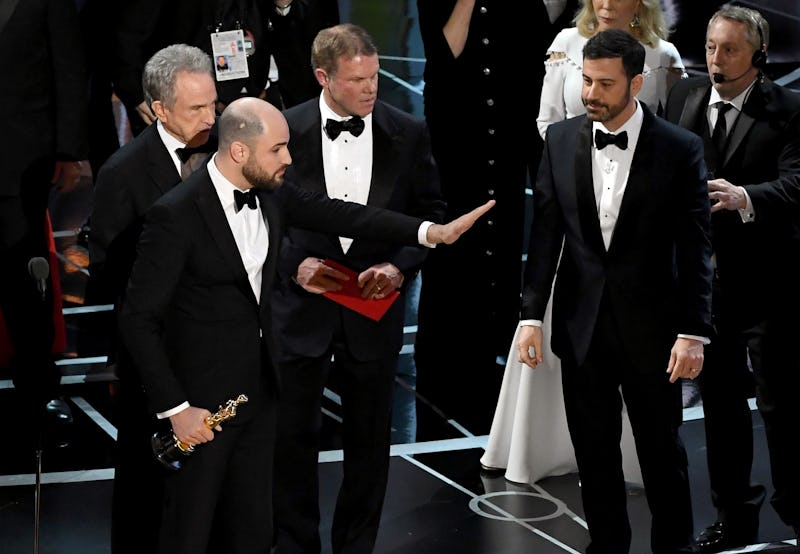 Kevin Winter/Getty Images Entertainment/Getty Images
Well, well, well — it wouldn't be an Academy Awards show without some surprises, right? The 2017 Oscars sure took the cake in terms of delivering the unexpected. Faye Dunaway, alongside Warren Beatty, announced that the winner for 2017 Best Picture was La La Land. But as the entire interwebs now knows, Moonlight was the true winner of the night's biggest award. So how could such a confusing and terrible mix-up even take place?
According to Marc Snetiker of Entertainment Weekly Emma Stone said she had her Best Actress card on her person the entire time. "I also was holding my Best Actress in a leading role card that entire time, so whatever story... I don't meant [sic] to start stuff, but whatever story that was, I had that card," she reportedly said backstage after the Oscars.
An explanation from The Academy could also explain some things. As Bustle's Lia Beck wrote: "There are two people who knew the winners before they were named, Brian Cullinan and Martha L. Ruiz, from the accounting firm PwC." Jarett Wieselman of Buzzfeed pointed out on Twitter that Cullinan told MarketWatch before the show:
From a security perspective, we double up everything. That's why there's two of us. We have two briefcases, that are identical, and we have two entire sets of winning envelopes. Martha carries one of those briefcases, I carry the other.
With two sets of awards, no wonder things got a little chaotic. But envelopegate, as it has now been dubbed, may require a more creative explanation. Because if Twitter is good for anything, it's showcasing the best — and worst, and craziest, and most unbelievable, and... you get it — conspiracy theories on the web. Take a look.
Moonlight Won (& Tupac Is Still Alive)
It Was All About The Ratings
It Was A Publicity Stunt
It Was Actually A Tie
It Was All Trump's Fault
It Was La La Land's Idea
The Academy Doesn't Like Emma Stone
...which seems unlikely, considering they just gave her an Oscar.
Whatever the true source of the mix-up may be, it's comforting knowing the internet will always come up with plenty of reasons for us to mull over. After all, digesting a four-hour award show shouldn't be easy, right?