Were There Two Best Actress Cards? What Happened?!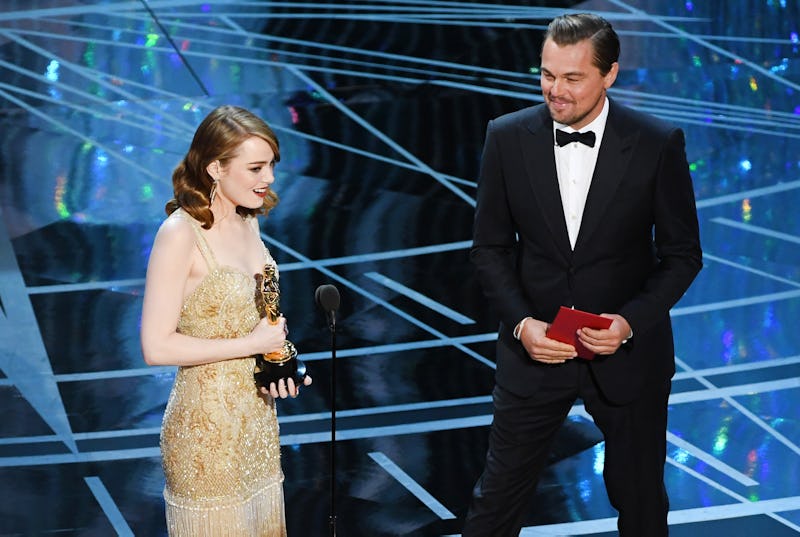 Kevin Winter/Getty Images Entertainment/Getty Images
The 2017 Oscars came to a truly shocking end when La La Land was named as the Best Picture winner — only for it to soon after be revealed that, in fact, Moonlight was the actual winner. During the broadcast, Warren Beatty, who was announcing Best Picture with Faye Dunaway, said that the mix-up occurred because he accidentally had the Best Actress winner card and saw Emma Stone's name with La La Land also listed, which threw him off and made him think La La Land won. This would explain why he paused for so long before announcing the Best Picture winner, but it does not explain why there may have been two Best Actress cards. (Bustle reached out to the Academy for comment, but did not receive a response at the time of publication.)
Guys, if you didn't watch this go down, let me just say, it was completely nuts. I still can't believe this happened, and neither can Best Actress winner Emma Stone, who commented on the whole mess backstage after the show. According to Entertainment Weekly's Marc Snetiker, Stone said that she had her Best Actress card the entire time. She reportedly said, "I also was holding my Best Actress in a leading role card that entire time, so whatever story... I don't meant [sic] to start stuff, but whatever story that was, I had that card."
The key here, that Stone (and the freakin' rest of the world, because literally this never happens) seemed to be missing is that there are second copies of all of the envelopes. There are two people who knew the winners before they were named, Brian Cullinan and Martha L. Ruiz, from the accounting firm PwC. As Jarett Wieselman of Buzzfeed pointed out on Twitter, Cullinan told MarketWatch before the show,
"From a security perspective, we double up everything. That's why there's two of us. We have two briefcases, that are identical, and we have two entire sets of winning envelopes. Martha carries one of those briefcases, I carry the other."
At this point, it's unclear exactly what went down, but it sounds like the duplicate envelopes were at play. In another interview, with Medium, Cullinan said,
As pointed out by Neil Patrick Harris (love that he's in on this, too), Beatty was holding an envelope for Actress in a Leading Role on stage:
There's no way this story is going anywhere, because this is a HUGE thing to have happen at the Oscars, so we'll likely be getting some more definite answers as time goes on. I need to know what happened!