The First CBD-Based Prescription Drug Ever Is Now Available In The U.S.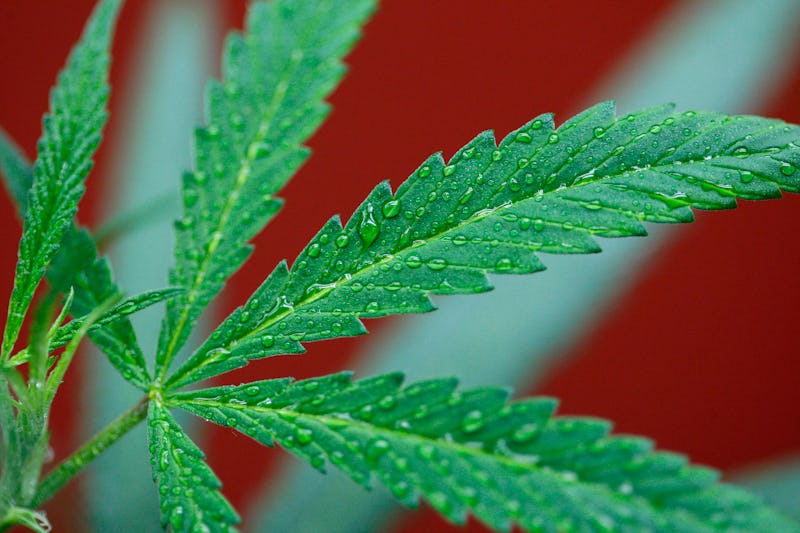 David McNew/Getty Images News/Getty Images
The cannabis compound CBD has been garnering lots of buzz in recent months for its potential to treat a veritable slew of medical conditions, from migraines to PMS, though much of the evidence for this is anecdotal. Now, the U.S. Food and Drug Administration (FDA) just approved Epidiolex, the first cannabis-based medicine for the treatment of epilepsy in children, and the move could be a game changer. According to a recent press release from the FDA, Epidiolex is a cannabidiol (CBD)-based drug, and is the first of its kind for treating two rare forms of childhood epilepsy, Dravet syndrome and Lennox-Gastaut syndrome, in patients age 2 and older.
UPDATE: On Nov. 1, 2018, Epidiolex became available by prescription in the United States, according to CNN. The average list price is $32,500 a year, according to the drug's maker, GW Pharmaceuticals, and the company anticipates that it will be covered by most insurance plans.
EARLIER: CBD is a compound derived from cannabis, or the cannabis sativa plant. While CBD boasts some of the many therapeutic benefits found in weed, such as stress relief, it contains no THC, the compound that's responsible for the "high" associated with cannabis. According to CNN, GW Pharmaceuticals, the British company that makes Epidiolex, said that the drug is the "first pharmaceutical formulation of highly-purified, plant based cannabidiol (CBD), a cannabinoid lacking the high associated with marijuana, and the first in a new category of anti-epileptic drugs."
CBS News reports that Epidiolex is a strawberry-flavored syrup given in twice-daily doses, and is a pharmaceutical-grade form of CBD oil that will be available by subscription. While studies do show that CBD is effective for reducing seizures in some folks with epilepsy, researchers continue to investigate why it works as well as it does for the treatment of epilepsy symptoms. CBS further reports that the new CBD-based drug was studied in over 500 participants with epilepsy and severe seizures, including both children and adults, and is effective particularly when combined with other, established epilepsy medications. NBC notes that FDA Commissioner Dr. Scott Gottlieb stressed that this isn't an overarching federal approval of cannabis, which is legal on a state-by-state basis and that all proposed cannabis-based drugs must prove their merit based in solid research moving forward. The FDA warns that some CBD based therapies sold in the United States are not thoroughly tested or approved for use yet.
But there's no doubt that the soon-to be-available drug is a "historic milestone," according to Justin Gover, chief executive officer at GW Pharmaceuticals. "These patients deserve and will soon have access to a cannabinoid medicine that has been thoroughly studied in clinical trials, manufactured to assure quality and consistency, and available by prescription under a physician's care," he said, according to CNN. Gover noted that there are potential side effects associated with Epidiolex, with the most common one being "sleepiness," but CNN further notes that reported side effects are most common when the drug is taken with other epilepsy medications, and that minimizing and avoiding these side effects is a concern for researchers.
As noted in the FDA's press release, both Dravet syndrome and Lennox-Gastaut syndrome are rare, genetic forms of childhood epilepsy, and can be tough to treat. Dr. Billy Dunn, director of the division of Neurology Products in the FDA's Center for Drug Evaluation and Research said in the press release that "The difficult-to-control seizures that patients with Dravet syndrome and Lennox-Gastaut syndrome experience have a profound impact on these patients' quality of life." Children coping with these forms of epilepsy may also struggle to develop language and motor skills, and may also struggle with relationships and social interactions.
Researchers are hopeful that the new CBD derived drug can improve upon the current therapeutic options available to children living with these life-altering conditions, and may prove especially helpful for those who aren't responding to other medications and treatments, the press release further states.
Update: This post was updated on Nov. 1, 2018, to note that Epidiolex is now available in the U.S. by prescription.