Everything You Ever Wanted To Know About CBD, The Cannabis Compound That Doesn't Get You High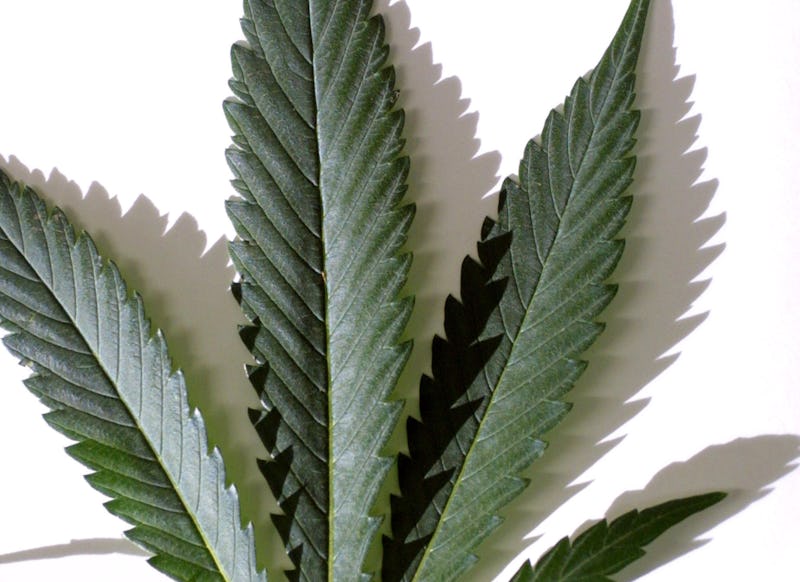 Michel Porro/Getty Images News/Getty Images
We're currently experiencing a golden age of stress-management. Whether in response to the results of a particular election, or ever-onward trudge of climate change, or just, like, everything, the market for effective, natural stress remedies is at an all-time high. You can access therapy through 500 different apps; you can buy adaptogens at Trader Joe's. But one particularly hyped stress-management approach is still hovering slightly under the radar, thanks to its sorta-association with the other side of the law: CBD, aka cannabidiol, is a substance derived from the cannabis sativa plant that's credited with all sorts of major health benefits, in addition to alleviating stress. Though it's legal in over 40 states and Puerto Rico, and available in everything from capsules to tinctures to oil you're supposed to put on your salad, the supplement everyone's talking about is still mired in mystery.
"Only in the recent years have people started to see the medicinal benefits of the cannabinoid CBD," Kimberly Dillon, VP of Marketing of cannabis company Papa & Barkley, tells Bustle. "Research has shown that CBD acts as an anti-inflammatory, anticonvulsant, antioxidant, antiemetic, anxiolytic [aka, anti-anxiety], and antipsychotic agent," says Krista Whitley, CEO of Altitude Products. Limited research has suggested that it can relieve migraines, insomnia, and potentially PMS symptoms.
"There's a lot of buzz around [CBD]," says Cindy DiPrima, co-founder of CAP Beauty, which makes the bestselling CBD- and adaptogen-infused oil The Daily Hit. "What's going on is people are curious, people are trying it, [and] it's working."
And how does it work for all those things, exactly? "Simply put, CBD works with your endocannabinoid system" — aka, the system of neurotransmitters in your brain that's responsible for things like pain sensation, mood, and more — "to make things happen," says Whitley. The science-y version is that it "binds and activates receptors in the brain called 'cannabinoid receptors 2' (CB2) and selectively blocks other receptors in the brain – the CB1 receptors," Dr. Richard Kaufman, Chief Science Officer of NanoSphere Health Sciences and Evolve Formulas, tells Bustle. "The underlying function of these CB2 receptors is protecting your body against inflammation and tissue injury, which is why it is so beneficial for CBD to activate them."
CBD's effects are subtle, but effective. Because there's little to no THC, the psychoactive compound in cannabis, present in plants that are cultivated for CBD, you're not going to feel high from a dose, but, as with other adaptogens, you may experience the sensation that you body is adapting to stress (which, BTW, is all "adaptogen" means). "Anything that affects my state of stress or anxiety, that does produce a physiological boost," says DiPrima.
Some CBD products, like Papa & Barkley's Releaf collection, are formulated with some THC for consumption in places where medical or recreational cannabis is legal, but many are made with CBD alone — which, for many people who are wary of cannabis, can be a selling point. "A lot of people who are hesitant to [use] cannabis […] love that it's all natural, but there is no psychoactivity," says Dillon.
CBD may feel like it's everywhere and nowhere right now — many companies (even beauty companies!) are selling products infused with the compound, but there's still a lot of confusion over if it's even legal. Short answer? Yes, it's legal in states where the cultivation of cannabis is legal, thanks to a 2014 bill that legalized growing industrial hemp for research purposes, though, as Forbes notes, the interpretation of that law is somewhat disputed. Long answer? It's difficult-ish to find thanks to a series of different regulations.
"Domestically grown CBD cannot be sold across state lines," DiPrima explains, "but if the CBD is sourced from plants grown abroad," as The Daily Hit is, "then that becomes a legal commodity." DiPrima also shares that CAP Beauty will be creating a website just for purchasing CBD-containing products; currently, these orders need to be placed through a separate payment-processor, due to federal banking institutions' continued wariness around money earned from cannabis, which is still only legal on a state-by-state basis. (The Drug Enforcement Agency's official position is that all cannabis-derived products are still illegal, though a spokesman for the DEA told Indianapolis, Indiana's NBC affiliate station that "it would not be an appropriate use of federal resources" to prosecute people for using CBD for medicinal purposes.)
And the "murky" legality on the federal level is an issue that's impeding research around CBD as well. "There are federal bills being proposed which will specifically reclassify CBD derived from hemp allowing it to be easily researched and used in product development," says Dr. Andrew Kerklaan of Dr. Kerklaan Therapeutics. "As it stands however, research in the United States on CBD is very restrictive." Researchers need to obtain a Schedule 1 license to work with substances scheduled on this level (including LSD or MDMA), which can be incredibly difficult, BuzzFeed Health reported.
But for many potential consumers, further research isn't going to impact whether or not they take the plunge — they're already sold. "Many of the women in my life aren't waiting for research studies to be completed. They're busy trying CBD for migraines, menopause, and to minimize pain," says Whitley.
"CBD is powerful," DiPrima says. "If you have bad insomnia, and you have a product that's fixing it, that becomes a non-negotiable in your life."
Though you're probably not going to find CBD-infused products at Target anytime soon, you can purchase the compound in different forms from individual companies (which, incidentally, supports small businesses). Multiple people interviewed for this story stressed to be careful about ascertaining what ingredients are used and where the product is sourced when buying CBD, as there are many products available on the internet that don't contain what they're advertised to (and don't have to, due to the lack of FDA regulations). And as with any new supplement, it's important to ask your doctor before incorporating a new treatment regimen into your wellness practice, no matter how insignificant-seeming the ailment. But for many people, CBD is just what they're looking for to manage the stress of being out in the world in 2018.
Readers should note that the regulations and data surrounding marijuana, CBD, and other related products are still developing. As such, the information contained in this post should not be construed as medical or legal advice. Always consult with your doctor before trying any substance or supplement.