Eric's Instagram Reveals All You Need To Know About 'The Bachelorette' Star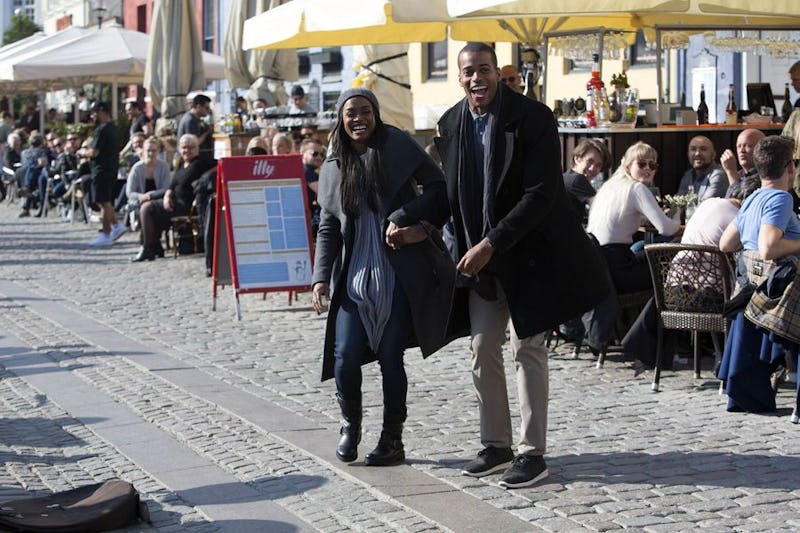 Thomas Lekdorf/ABC
Rachel is whittling down her suitors on The Bachelorette, which means fans will finally be able to remember some of their names. (It's much easier when there are only two Kyles and not six.) One of the guys on The Bachelorette that I'm most drawn to is Eric Bigger, whom I feel like fans haven't really gotten to connect with yet. Obviously, filming is over and Rachel is engaged to her new fiancé (whomever that may be), but what has Eric been doing after The Bachelorette?
Eric was pretty quiet during the beginning of the show, and I feared that that could be detrimental to his staying as a suitor. While it's nice to not be involved in drama, it's also a little "out of sight, out of mind." Luckily, Eric and Rachel had one solid one-on-one date in Copenhagen, so here's hoping that he made an impression on America's favorite (well, she's my favorite) Bachelorette. According to his ABC bio, Eric is a personal trainer (aren't they all?) who says he's the "life of the party" and a "neat freak." He wants to go to Mardi Gras, he likes to drink green juice, and he wants to find love. Who am I to begrudge him of all that?
In any case, filming is over and The Bachelorette is wrapped. Single or betrothed to Rachel, here's a look at what Eric is doing now.
He's Big On Motivational Quotes
This totally fits Eric's job and his bubbly, positive personality.
He's May Be Making A Play For The Bachelor
Listen, pretty much any guy who makes it far enough on The Bachelorette is going to try and get that Bachelor job. It's just a fact. Eric is promoting #TeamEric pretty hard, and he's definitely trying to extend his 15 minutes of fame. (No shame in that game.)
He's Showing Us Why He Should Never Shave
I'm not a fan of the clean-shaven man, so if you have scruff, I'm into it. Eric's Instagram inadvertently shows how amazing he looks with some facial hair, and judging by the comments, plenty of people want him to bring that sexy back.
He's Embracing His Faith
Eric's Instagram shows that he's Christian and very involved in his church in Baltimore — he does a lot of public speaking, giving back to the community and inspiring others. Cute AND selfless.
He's Hanging Out With The Bachelorette's Best
I don't know if I could hang out with Lucas for more than five minutes (that's Whaboom to those of you who watched the season), but Eric can! He can, and he does.
He Is Also Seeing His Friends & Family
Part of going back to life after a reality show ends is… going back to life. Seeing friends. Hanging with family. You know, the good stuff. Eric is back with the people he loves.
Looks to me that Eric is embracing the important things in life after The Bachelorette — his passion, his faith, and his personal relationships.