Erika Jayne Responds To Eileen Davidson's 'RHOBH' Remark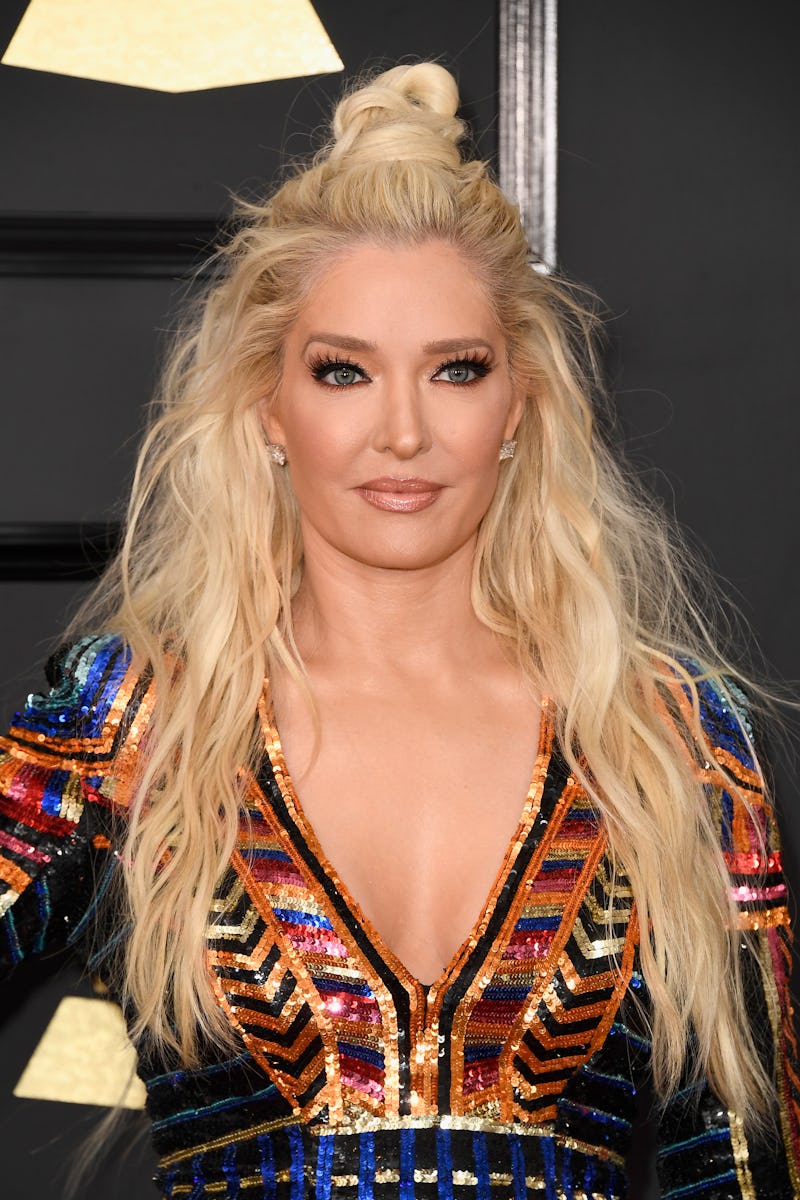 Frazer Harrison/Getty Images Entertainment/Getty Images
Tuesday's Real Housewives of Beverly Hills episode was like nothing I have ever seen. It made for one of the best RHOBH episodes, well, probably ever, and mainly thanks to Erika Jayne standing up for herself against Dorit Kemsley. It also featured a few other uncomfortable moments, but allow me to clear up one matter. During Tuesday's Watch What Happens Live, Erika Jayne admitted Eileen Davidson's remark was "innocent."
Host Andy Cohen said that there were a lot of questions about how Jayne feels now about Davidson and her comment. A brief recap: In attempt to diffuse the extremely tense situation between Jayne and Kemsley, who once again discussed "Pantygate," The Young and the Restless star said to Jayne, "It's not like she killed your son." To which the Dancing With the Stars contestant emotionally replied through tears, "You don't know what keeps me awake at night," in regards to her police officer son's life always being on the line.
It was a non-malicious comment from Davidson, which spiraled out of control. But thankfully their friendship is still going strong. As Jayne told Cohen, "[Eileen's intent] was so innocent. Her intent was innocent. I overreacted."
Thank. Goodness. They are so close and even shared such a sweet moment earlier in the episode after the turmoil that transpired on the junk boat between Jayne and Kemsley. I don't know about you, but I was afraid for a moment that Davidson's comment would lead to a real-life soap opera fight between them.
As for the "XXPEN$IVE" singer's "overreacting," can you blame her? She was holding in so many feelings and just exploded.
If you need further proof all is good with these pals, Davidson attended the DWTS Season 24 premiere to cheer on Jayne. As you can see below, she thought her friend was "incredible," and she's absolutely right. So yes, their friendship is still going strong. Whew!
Like former Real Housewives of New Jersey star Greg Bennett, I wouldn't be able to deal if Davidson and Jayne were on opposite sides. Their friendship is something to be admired and, really, why wouldn't you be rooting for them as BFFs? "Eileen was in the audience at DWTS last night cheering for Erika, which means they are still friends, which means I can sleep peacefully," Bennett tweeted Tuesday. I couldn't have said it better myself.
Now you can rest easy knowing Erika and Eileen remain besties.