Erika Jayne Once Employed Kim Kardashian's Assistant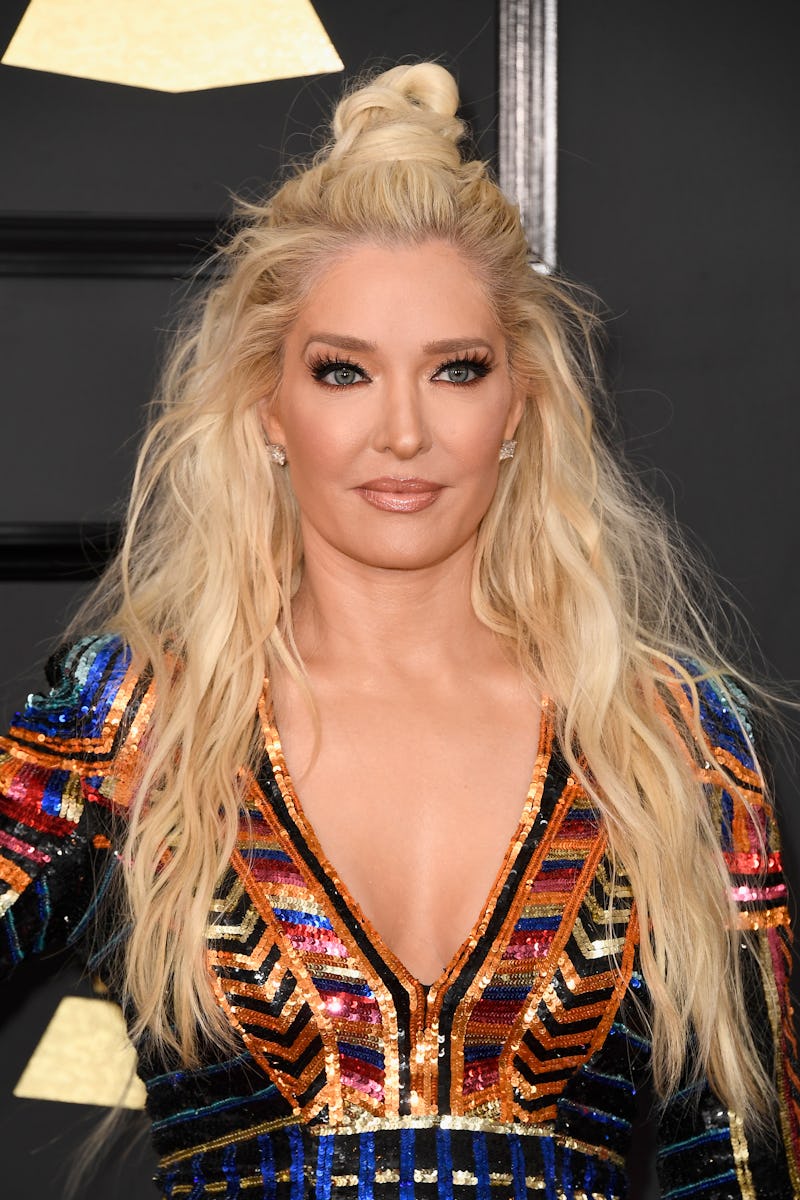 Frazer Harrison/Getty Images Entertainment/Getty Images
It's no secret that the Real Housewives of Beverly Hills and Keeping Up With the Kardashians are connected. For one, Kyle Richards is friends with Kris Jenner. That said, did you know there is another RHOBH star who has quite the connection to someone from the E! reality series? Kim Kardashian's assistant once worked for Erika Jayne. That's right, as she revealed to Refinery29, Stephanie Shepherd got her start as an assistant with the singer/actor/the best Housewife of all time.
In 2009, Jayne's choreographer, Mikey Minden, hired Shepherd to assist him and the "XXPEN$IVE" artist. Minden has appeared multiple times on the RHOBH and is now famous for the routines he's created for Jayne. Clearly, he will now also be known for hiring and once working with Kardashian's well-known assistant. "Mikey and Erika took me under their wing and taught me everything," she said. "We traveled the world together. They both opened my eyes to so much, about being a hard-working, meticulous assistant, yes, but also just all the things life can offer."
Shepherd grew up in an extremely small town, so Los Angeles was an entirely new world to her. Luckily, she had Jayne and Minden to help guide her. I can only imagine the life lessons Jayne has to offer. Maybe this is just because I admire the "Pretty Mess" singer greatly, but, yes, I am beyond envious of Shepherd and the fact that she got to work side by side with my favorite Housewife.
Obviously, Jayne's badassness rubbed off on Shepherd. For anyone who's watched KUWTK, you know her job as Kardashian's assistant isn't easy. Plus, you should take time to read Refinery29's piece with Shepherd, "A Day In The Life Of Kim Kardashian's Right-Hand Woman, Stephanie Shepherd." Working for one of the most high-profile people in the world comes with a lot of pressure. I'll admit, I don't know if I'd want that job. It seems to take a special kind of person, especially one who is going to give 110 percent. Enter Shepherd.
She definitely knows what she's doing, and she even has advice for other assistants. "I get a lot of young girls asking me how to be a great assistant," she said. "I tell them three things. One is if you mess up, take responsibility and own it." Does that sound like something Jayne would say or what? It's unclear if that's what Shepherd learned from the Bravolebrity, but it's a strong possibility. As for the other two items of advice, she said it's important to be "resourceful" and to always "take notes."
Whatever she took away from working with Jayne, Shepherd walked away with not only knowledge, but a great experience and even a friend. As you can see below, she posted this photo for Jayne's birthday and wrote next to it, "happy birthday to my day one the love I have for you everlasting."
I think it's safe to say that Jayne left quite the impression, which isn't surprising whatsoever. One might even say that Jayne shaped Shepherd into an amazing assistant. Basically, Kardashian should send a huge thank you Jayne's way.