Erika Jayne Really Needs Her Own Show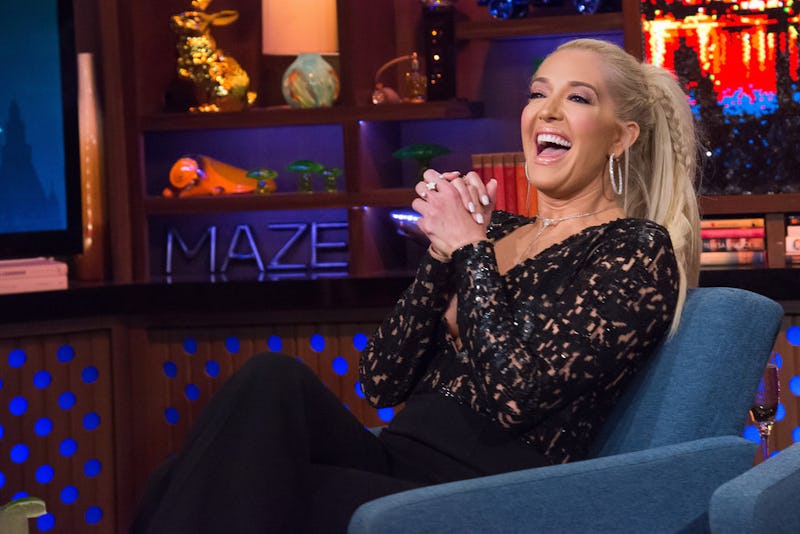 Charles Sykes/Bravo
Everyone needs a little Erika Jayne in their lives. What better way to achieve that than by granting the Real Housewives of Beverly Hills star her very own television series? If Lisa Vanderpump can get her own RHOBH spinoff in the form of Vanderpump Rules, then Erika Jayne needs her own show too — and stat.
Ever since she joined the Bravo franchise in Season 6, Jayne has been a fan-favorite. Admittedly, she's the main reason I now tune into RHOBH. With her no bullsh*t attitude, free sexual spirit, and hardworking nature, the 45-year-old has shaped Housewives in magnificent ways. She makes the series worthwhile and has turned Beverly Hills (not my favorite out of the entire franchise) into a show that I'm excited to watch. If she never gets her own show, maybe they should just rename RHOBH, "The Erika Jayne Show." Let's face it, at this point, the "Painkillr" artist is a big reason viewers continue to tune in.
When you have someone like that on a reality show, why wouldn't you want them to have their own series? It's something I hope both Bravo and Andy Cohen are seriously thinking about. I'm not sure whether or not that's what the "XXPEN$IVE" singer wants for herself, but it's definitely something to think about while she's patting the p*ss and putting PK in his place. Now allow me to explain why.
1. More Performances
Don't get me wrong, I appreciate all of Jayne's concerts and music videos showcased on RHOBH, but I could do with a lot more. Can you imagine a show that follows her around on tour? I would be in heaven.
2. Insight Into Her Personal Life
Fans are well aware that Jayne is married to Tom Girardi, that she loves her son very much, and that she's close with her mom. However, there isn't a huge spotlight on her personal life compared to the other Housewives. It would be nice to get to know Jayne even more.
3. Her Glam Squad
She doesn't do anything or go anywhere without her glam squad. They are a huge part of her life. Besides seeing them in action, knowing their names, and that Jayne flies them business class, there isn't a whole lot known about them, including who they are as individuals. If she got her own show, this could alleviate that problem.
4. The Chance To Uplift Women Even More
Jayne is an empowered woman who loves empowering other women. She believes in women following their desires and passions. Can you imagine how much more she'd inspire her female fans to get out there and make their dreams a reality? Plus, Jayne isn't one to bring women down, but would rather show support. To have a show with a leading woman who uplifts others would be amazing.
5. Her Other Friends
Fans don't really know any of Jayne's friends outside of the Housewives. As much as I love Jayne and Eileen Davidson's friendship, it would be nice to meet her other friends and see how they interact.
6. Fans Would Love It
Jayne already has a ton of fans who worship her, so of course they would tune into her show and help make it a huge success. Plus, the more Erika Jayne, the better.
7. A Different Side Of Her
Viewers are used to seeing Jayne on RHOBH, but by having her own show, they would most likely see a different side of her. That's not to say a new Erika Jayne would be presented, because what you see is what you get with her, but it would be refreshing to see her on her own rather than surrounded by other Housewives.
8. Honest Reality TV
Let's face it, sometimes reality TV is just trash and filled with unrealistic material. Admittedly, even Real Housewives can be too much drama with too many lies. But, if Jayne scored her own show, she would make honest reality TV. She is 100 percent real and that's what reality TV should be all about.
9. She's Relatable
She is one of the most relatable Housewives. Who doesn't want to watch someone like that on TV? It's great to have role models, and Jayne is an individual many, including myself, look up to.
10. Faces Like This
Give me all of the Erika Jayne faces. She doesn't even need to speak, but can say exactly how she's feeling with one facial expression.
11. Her Other Career Aspirations
She is an extremely talented individual. In addition to her singing career, her own TV show could be a chance for fans to see her pursue other opportunities, including more soap opera acting with her bestie Eileen.
12. She Deserves It
Just give it to her already. Everyone knows she deserves it.
Raise your hand if you'd watch a reality show focused solely on Erika Jayne. Yeah, I absolutely would, too.