The 'Real Housewives Of Beverly Hills' Season 9 Drama Has Already Begun For Erika Jayne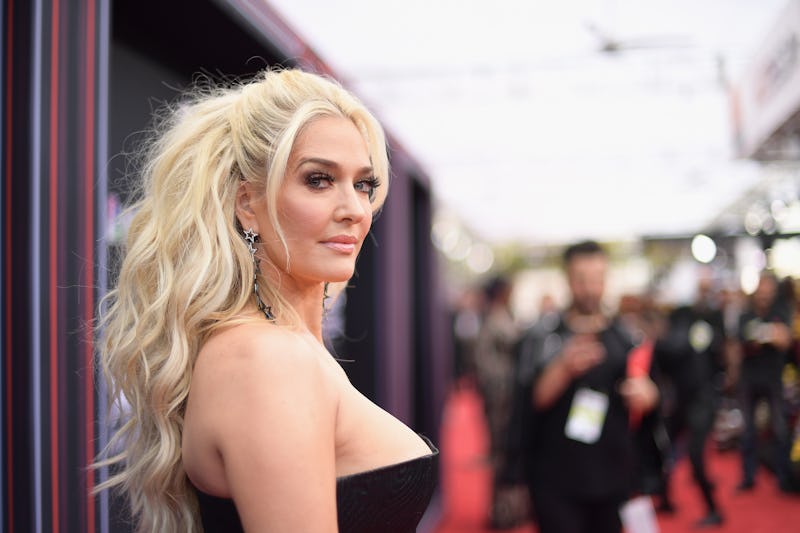 Matt Winkelmeyer/Getty Images Entertainment/Getty Images
Of all the Real Housewives franchises, Beverly Hills has always been one of the most glamorous, and that's largely thanks to pop-diva Erika Jayne. While New York's Ramona might wear an all-red latex catsuit for Halloween while dressing up as Britney Spears, Erika wears a similar outfit just for going out to a dinner in Berlin — as herself. Well, it's not exactly herself seeing as Erika has two personas: Erika Jayne and Erika Girardi. Fans love both iterations of the 'housewife,' and they'll love her even more after hearing about everything Erika Jayne teased about Real Housewives of Beverly Hills Season 9 during an interview with Entertainment Tonight.
According to Ms. Jayne, Season 9's juiciest drama will revolve around — you guessed it — Dorit Kemsley. "Does anything not have to do with Dorit? I love Dorit, but damn!" Jayne told ET while rehearsing in Jersey City during the electro-pop singer's first headlining tour around the U.S.
As busy as Jayne is, what with her national tour and a new shoe line, the Pasadena princess had time to stir up some pre-season drama with fellow Housewife Lisa Rinna. Earlier in September, Rinna posted a live Instagram video in which she and Jayne appeared, talking about an unnamed RHOBH cast member. "We're here shooting, the whole cast is here," Rinna said while Erika posed in the background, before adding. "Rumor has it that one of the cast members won't shoot with us." Then, Rinna said,
"They won't do a group shot with us. So, we're sequestered in a room, but somebody's holding out and won't come out and shoot with us. Can you imagine? Who is that? Like, we're all doing a group shot together and someone is sequestered in a room, she won't come shoot with us. They're gonna have to, like, put her in a computer-like way. Who could it be?"
While talking to ET, Jayne wouldn't name the person who allegedly wouldn't take the group shot, instead she simply explained, "We were reporting the facts." Regardless of whatever did or didn't happen, it's clear that drama of Real Housewives of Beverly Hills Season 9 has already begun, and the show hasn't even started airing yet.
Pre-Season 9 "fact" reporting aside, Jayne's interview with ET also hinted that a lot of sweet bonding moments might take place as well. "I have to say this, because it's really true," Jayne said. "For the first time in four years, I care about these women, like, I have friendships with these women, and I don't like it when I see them hurt and I don't like it when I see someone hurting them."
That doesn't mean that the cast member whom people have dubbed an "ice queen" will suddenly turn all mushy on her friends. "I'm an iceberg," Jayne told ET. Then she added, "Remember, the iceberg sunk the Titanic. Remember that."
Season 9 of RHOBH just sounds more and more interesting with every report on the upcoming season that comes out. First with Denise Richards joining the mix of women and now with Jayne hinting at some Dorit-centered drama, it sounds like 'housewives' fans have plenty to look forward to — including Jayne's over-the-top fashions, of course.