Estee Lauder's New Try-On Feature Is So Fun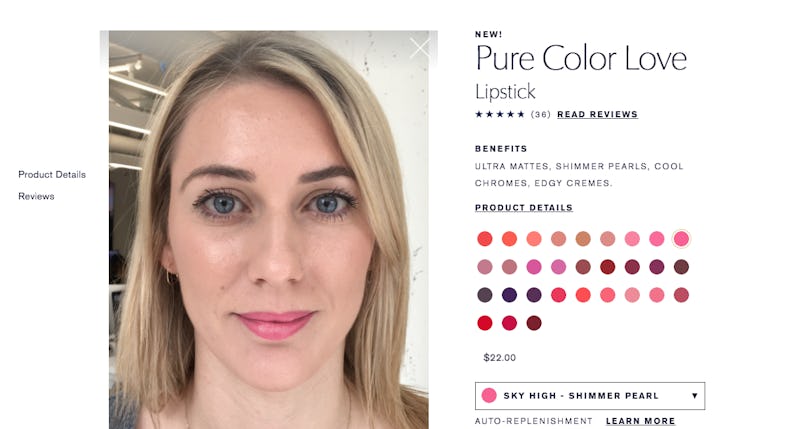 Testing out different makeup shades can be a fun way to play with product, but the moment you bring one too many options into the mix, the back of your hand can go from a pretty palette of Kylie Lip Kit-worthy swatches to a confusing mess of which-is-which colors. But now, there's an easier way to do it – and you don't even need to leave your couch to take advantage. Launched today, Estée Lauder's new try-on feature allows you to experiment to your heart's desire without the color chaos.
The new feature on the product pages of Estée Lauder's web and mobile website uses augmented reality technology from ModiFace to make the magic happen. You can either try products on a photo of yourself, or in real-time with live video by using any webcam. The tech can apparently account for the level of light, texture, and shine in the photo or video.
The technology also promises to actually model the textures and finishes of the individual products (for example, say, a matte lipstick versus a glossy one). Plus, the latest and greatest in facial tracking also allows the tool to map the contours of your eyes and lips in live video, so you don't end up with virtual eyeshadow on your cheeks.
Here's a look at the try-on feature in action, in GIF form.
Fun, right? I mean, just look at all of the options...
So many shades, so little time? Not really, when it's as easy as clicking the trackpad on your laptop.