Eva Longoria's Tribute To Her Late Dog Will Make You Sob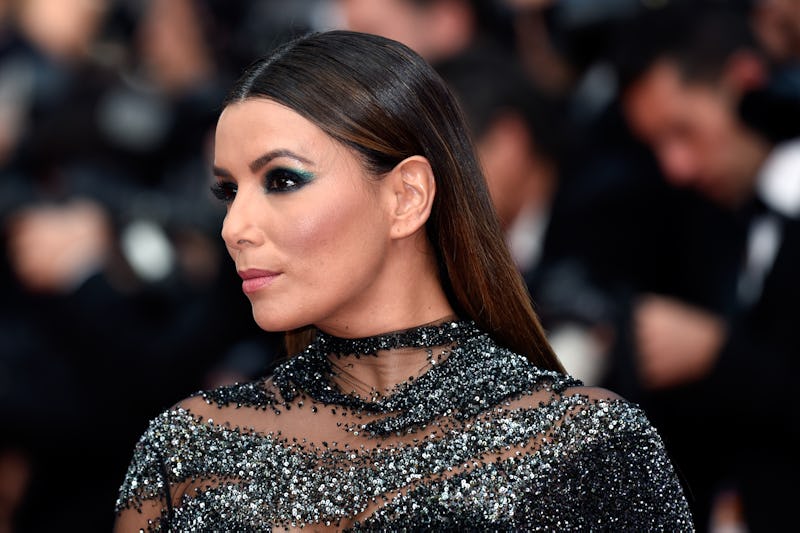 Antony Jones/Getty Images Entertainment/Getty Images
Here, take this box of tissues. You're going to need it. On June 15, Eva Longoria paid tribute to her late dog Jinxy, who'd passed away in her arms the night before, the actor revealed on Instagram (as reported by People). The whole thing is heartbreaking, and her post will for sure make you feel some seriously heavy feels. The way she talks about her love for Jinxy is incredibly touching though, too, and is something that every pet owner will undoubtedly understand.
Longoria started her tribute with an all-too-relatable statement: "So the day I've been dreading happened last night," the actor wrote in the caption. "Jinxy passed away in my arms at the vet." She went on to reveal the circumstances around Jinxy's death, explaining that, "[he] had a stroke that he just couldn't come back from." Here come the waterworks.
Longoria then expressed to her fans exactly how much her dog meant to her, writing,
"He was 15 years old (96 in dog years) and he filled those years with lots of love and laughter. He was my baby before this baby in my belly came along. I'm so sad but know that he's out of his suffering. Anyone who knew me, knew Jinxy. He will be missed by many. I love you Jinxy."
Please feel free to take a moment to sob, because that photo of Longoria with her pup has the power to turn anyone with a stone-cold heart into a puddle of non-stop tears. What a terrible thing to have to go through. It's inevitable, of course, but still so, so, sad.
Longoria — who is currently expecting her first child with husband Jose "Pepe" Baston — has long-been outspoken about being a proud dog parent. Her Instagram is filled with sweet photos of her and Jinxy, and the actor recently shared a snap of the late-pup resting on top of her pregnant belly. "Big brother on baby bump watch! Thx Jinxy Baby!" she wrote. Does anyone have any tissues left?
In another post from May 13, Jinxy is sitting in Longoria's lap during a trip to the beach in Malibu, California, and they both look so super blissful and at ease. "Sunday Funday in Malibu with both my babies!," the expectant star captioned the snap.
Much like his famous mom, Jinxy was a star in his own right, too. For People's 2015 "World's Most Beautiful" issue, the fluffy Maltese "interviewed" Longoria, and — fair warning — the video is almost too cute to bear. It opens with the two of them sitting side-by-side on a couch, after which Jinxy gets down to business.
"Obviously, I'm named after the cat in Meet the Parents," he "said" to Longoria, and follows up by asking, "How are my toilet flushing skills?" Longoria shakes her head and replies, "Jinxy, you don't know how to flush the toilet, and I'm very disappointed that you haven't learned that trick. I mean, that's your namesake."
The camera then pans to Jinxy — who is straight-up lounging on the couch — and "says" to his mom, "Let's see how well you know me. What's my favorite snack?" Longoria laughs and replies, "Anything. Your favorite snack is anything." The cuteness is real, and you can watch the whole thing above (that is, if your heart can take it).
Jinxy appeared with his mom in the photo spread of that 2015 People issue, too, and even snagged the cover of Parade with Longoria in January 2018. The pup was clearly loved so dearly by Longoria and her family and will be missed.