John McCain Admits Obama Was A Better Leader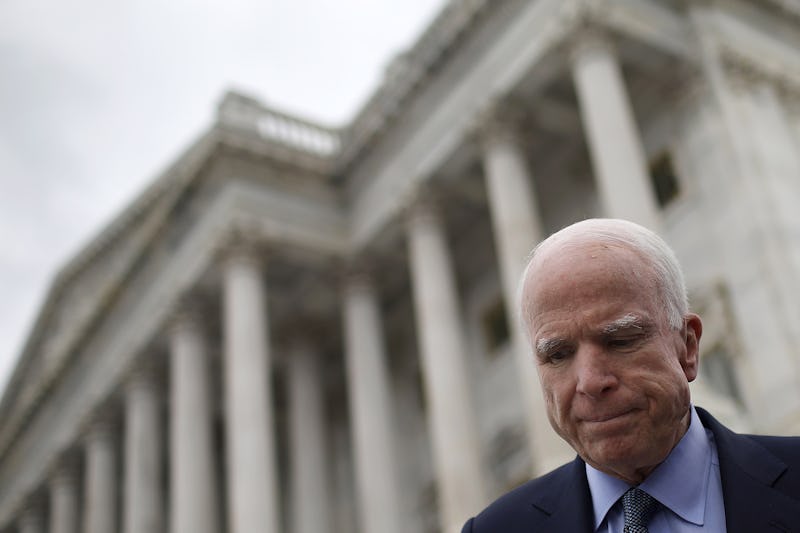 Win McNamee/Getty Images News/Getty Images
Donald Trump's presidency has ushered in a new type of foreign policy for the United States and, according to John McCain, Arizona's senior Republican senator and 2008 presidential candidate, that's not a good thing. In an interview with The Guardian on Sunday, McCain noted that Obama was a better leader for America than Trump and lamented the unfavorable lens through which much of the world is now viewing the United States.
The Guardian's piece focused on how Trump's presidency has altered U.S. alliances and global perceptions of the nation. The article centered on the notion that world leaders believe that the U.S. is no longer willing to or capable of providing the global leadership it has been recognized for much of the modern era.
As one of several examples of how Trump's foreign policy is damaging global alliances, The Guardian cited Trump's criticism of London Mayor Sadiq Khan in the aftermath of the London terror attacks. On June 5, Trump tweeted, "Pathetic excuse by London Mayor Sadiq Khan who had to think fast on his 'no reason to be alarmed' statement." Trump's tweet was not only an inappropriate response as a close U.S. ally was experiencing a terror attack, but also constituted a mischaracterization of Khan's words.
As one can imagine, Trump's Twitter criticism was not at all well-received by both American and global politicians, including Sen. McCain. When asked what message Trump had sent to the United Kingdom with his tweet, McCain replied:
What do you think the message is? The message is that America doesn't want to lead. ... They [the world] are not sure of American leadership, whether it be in Siberia or whether it be in Antarctica.
The paper then asked McCain whether he believed America had a better standing in the world under former president Barack Obama, as opposed to under Trump, to which McCain replied, "As far as American leadership is concerned, yes."
To be fair, McCain has not hesitated to criticize Trump in the past. Indeed, at a security conference back in February, he very explicitly detailed his concerns about Trump's "America First" mentality and about the president's apparent disdain toward the North Atlantic Treat Organization (NATO), a long-standing and highly respected U.S. military alliance.
However, McCain's words to The Guardian particularly resonate, as they appear to be the first time in which the senator directly compares President Trump's and former President Obama's foreign policy. This comparison is striking: McCain was also a sharp critic of Obama's foreign policy, though it is now something which he now appears to praise — at least when it comes to comparing the former President's international leadership to Trump's.
Overall, it is deeply concerning that a member of Trump's own party, let alone world leaders across the globe, perceive that the United States can no longer be relied upon for global leadership. Trump should strongly consider the ramifications of diminished U.S. leadership on the world stage before it is too late to turn back.